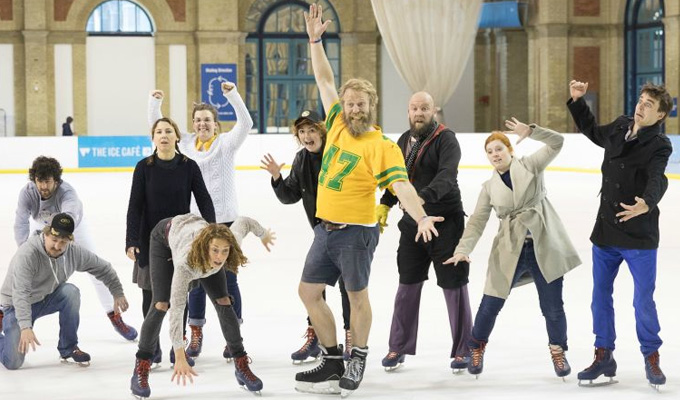 See comedians - on ice!
It's being described as 'the most idiotic show ever' as comedians stage an epic musical play… on ice.
Now we can bring you exclusive photographs from rehearsals from The Battle for Icetopia, the extravaganza being held at Alexandra Palace next month.
And we also have a trailer made from GoPro footage from the North London rink.
Tony Law leads the cast, which is drawn from the Weirdos collective and comprises: Ali Brice, Marny Godden, Joz Norris, Helen Duff, Elf Lyons, Eleanor Morton, Matthew Highton, Ben Target, Kathryn Bond, Bob Slayer, Michael Brunstrom and Matt Tedford.
Details of the plot – scripted by Adam Larter from an idea by Law - remain largey under wraps, but last month Larter told tChortle: 'In the world of Icetopia, Tony has to keep his life on track while facing extreme weather, an extreme love story, the most extreme villains... all while trying to pull off the odd pirouette and triple salchow.
'Tony's got skating skills that Bolero-era Jayne Torvill would envy - let's hope that's still true after the show on October 14. If we all survive the performance, there's an ice disco afterwards.'
Tickets are available here.
Here's the trailer:
And here are the images, courtesy of photographer Claire Haigh. Use the icon top right to expand to full-screen view:
Published: 21 Sep 2017
What do you think?