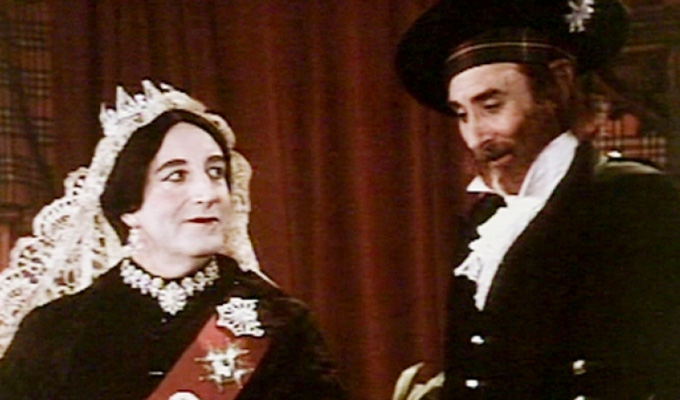 Win Peter Sellers' weirdest films
Four of Peter Sellers' oddest comedy movies have been released as a DVD box set this week – and we have four copies to give away.
The collection comprises The Great McGonagall, The Magic Christian, Ghost in the Noonday Sun and The Prisoner of Zenda and is priced £29.99.
The Great McGonagall, from 1975, stars Sellers' Goon Show cohort Spike Milligan as the real-life poet William Topaz McGonagall, widely considered writer of the worst verses in the English language. Both stars were obsessed with McGonagall, and are said to have read his work to one another frequently.
Sellers steals the film in drag as a sexually voracious Queen Victoria, playing the role entirely on his knees wearing roller skates.
Made in a couple of weeks at Wilton's Music Hall in London, and plot is abandoned somewhere in the middle of the film in favour of unrelated sketches.
The DVD extras include audio commentary by director Joe McGrath and comedy historian Robert Ross.
The Magic Christian is a 1969 comedy in which Sellers plays the world's richest man, Sir Guy Grand, who adopts a homeless hobo called Youngman Grand, played by Ringo Star. Setting sail on luxury liner The Magic Christian, Sir Guy sets out to test the limit of human avarice.
The film is loosely adapted from the 1959 comic novel of the same name by U.S. author Terry Southern, who also claims he wrote the script to Easy Rider – to which star Dennis Hopper says he 'never wrote one fucking word.'
Yul Brynner plays a chanteuse transvestite, along with notable star appearances from John Cleese as the director of Sotheby's, Raquel Welch, Roman Polanski, Richard Attenborough, Spike Milligan, Graham Chapman and Christopher Lee.
Paul McCartney wrote and produced the song Come And Get It for the film, performed by Welsh rock band Badfinger.
When the book The Magic Christian came out in England, Peter Sellers loved it so much he bought 100 copies to give to his friends for Christmas and birthdays.
But he thought his performance was so bad that the film should be cancelled. After watching rushes from the first day of filming, he leaped to his feet and said: 'Thank God we caught it in time!' But was eventually persuaded to continue.
The documentary Will The Real Mr Sellers Please Stand Up was made to promote The Magic Christian which included appearances from Ringo, Paul and John Lennon with narration by Spike Milligan. It was never repeated by the BBC as Sellers thought he came across as depressed.
Ghost In The Noonday Sun, in which Sellers plays a pirate, had one of the most notoriously blighted shoots in film history.
Problems hit from the start. The Greek captain delivering the pirate ship in to the harbour for filming in Cyprus was so drunk that he crashed in to the quay.
When Sellers arrived on set in 1973, his already mercurial temper was not improved by his recent split from Liza Minnelli. Said to be in the 'deepest catatonic depression' Sellers lost confidence in the film shortly after filming began and tried to get director Peter Medak taken off the production. Unsuccessful, he did everything to prevent the film being finished.
Although rough seas caused the cast and crew to get seasick, even on days when Sellers wasn't sick he would often pretend to be, only to be later spotted water-skiing. He faked a heart attack so he could fly back to London to have tea with Princess Margaret. And he took time away from filming to shoot a cigarette commercial only then to refuse to hold the cigarette packet as he claimed he was the President of the Anti-Smoking League.
There was even a conspiracy theory that the film was a 'front' for the Turkish invasion of Cyprus a few months after production wrapped.
Unsurprisingly the film fell behind schedule and Sellers un-cooperative behaviour derailed the $2 million production. A semi-complete version was released on VHS in ten states after Sellers's death in 1980, but it never received a full cinematic release.
Finally on the collection is Seller's 1979 comic remake of Anthony Hope's classic 1894 adventure novel The Prisoner of Zenda. While on a publicity tour, the star told anyone who would listen: 'Do NOT watch this.' Producer Walter Mirisch was outraged, cancelling the two remaining films in Sellers's three-picture contract and stating that he wanted nothing to do with the star ever again.
Sellers had three roles in the 1979 film – London taxi-driver Sydney Frewin, King Rudolph IV, and King Rudolph V (The Prisoner of Zenda) – but he caused his usual trouble on set: directors were fired, the film went over-budget and over-schedule He was married to his co-star Lynne Frederick at the time, but filed for divorce shortly after the film was finished.
The four films are released as a DVD package today by Fabulous Films, rated 15.
But to stand a chance of winning, answer the following question by 5pm on September 30, when we will select the winner at random from all correct answers received. Good luck! Usual terms and conditions apply.
Published: 20 Sep 2017
What do you think?