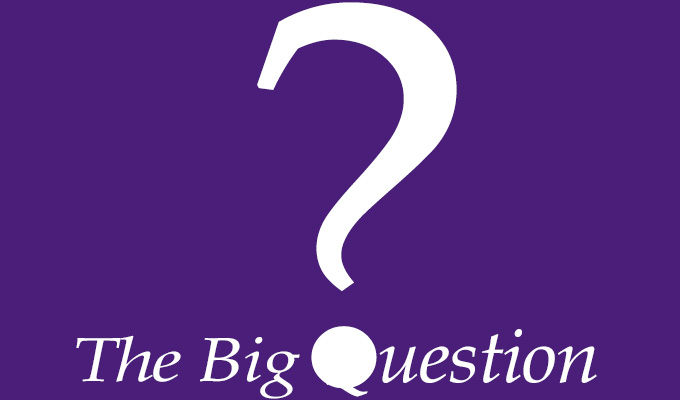 What's the worst Fringe review you ever had?
I was in a show that received one star from the Metro. The reviewer 'Lost the will to live and could only look on in envy as the rest of the audience left'
Damien Slash: Demographic, Just The Tonic - The Wee One, 21:20
Not The Fringe but I once got a scathing review bemoaning the fact that I wasn't Bernie Clifton. She'd gone expecting a bloke on an ostrich.
Bernie Keith - Life Without Sat Nav, Gilded Balloon, 20:45
Fife Today was a bad review, purely because I don't understand it. I got three stars, which is fine. But out of 7 (?) which is 2.2 stars, despite the review being very positive. The journalist took photos of me during my show on a Snappy Snaps disposable camera, the blurry product of which where distributed throughout the review including spoilery details. And they then took great pleasure tweeting this review to me every few days. Bizarre.
Tom Neenan: Attenborough, Underbelly, 15:55
When I first started out: 'Ian Smith substitutes telling jokes with just standing on tables and shouting at people.'
Ian Smith - Snowflake, Underbelly Med Quad
One star from Chortle. The next time they reviewed me I got a glowing four-star review. I'm basically in an abusive relationship with this website.
Joe Wells: I Hope I Die Before I Start Voting Conservative, Sneaky Pete's, 12:05
I have had all sorts: really great ones and average ones. I had one where the reviewer had a pop at me for saying the word 'guys' to the audience after a joke: 'Isn't that right, guys?' The reviewer was female and she did not like to be called a 'guy'. I just laughed it off.
Andrew Ryan: Did You Get Here Alright?, Assembly Studios, 18:45
One reviewer gave away 12 of my jokes. That's not a review that's a water cooler office recap where you screw up the delivery. In his defence I spoke to him about it in the street the next day and he changed it to take out most of the jokes. He was a student and didn't really understand what it was to write a review.
Chris Betts: Bewilderbeest, Pleasance Courtyard, 21:45
It was in Three Weeks, and it was clearly heading towards being a one-star review, but due to a printing mix-up it got combined with the review of a show about dinosaurs, which got three stars.
Jane Hill: Cow, Laughing Horse @ The Counting House, 13:05
I was told my mermaid puppetry lacked truth.
Eliot Salt from Deadpan Theatre, Third Wheel, Gilded Balloon Teviot, 14:00
Chortle, 2013, my actual friend (haha) Julia Chamberlain gave me 3 stars but then wrote a piece saying that over the course of time I appeared to be getting worse at comedy. I had comedians stopping me in the street to say they were so sorry for me about the review – repeatedly, which is the only reason I read it. I cried for a year. When I think about it now I still cry. I am still friends with Julia.
Jessica Fostekew: The Silence of the Nans, Just The Tonic At The Caves, 16:00
The silence of a full room punctuated by a solitary fart.
We Are Not Afraid, Just The Tonic At The Caves,18:45
Being called middle-class which I now laugh at because… of course! When I started doing stand-up and being surrounded by comedians from Oxbridge and posh schools, because I am red brick and comp, I had myself firmly inked in as a man of the people. But nearly 30 years on, I realise that this review was bang on. No hard feelings Colin Donald of The Scotsman. Wow, I can even remember his name. But 'bland' I still take exception to, you bastard...
Dominic Holland: Eclipsed, Voodoo Rooms, 16:40
It's like they don't know their lines.' Said by an audience member as they were walking out of our (completely improvised) show.
Bright Lights, Big City Impro, Laughing Horse @ Moriarty's, 15:45
Myself and Jellybean Martinez once received a one star review for our show Britain's Got F*ck All Talent. I was under strict instructions not to Jellybean see reviews, sensitive soul that he is. Shame we were facing each other in a rap battle that evening... I pulled the review out and he stormed off stage. He's never forgiven me.
Liam Withnail: The Immigration Game , Heroes @ Monkey Barrel, 17:20
I got a one-star review in 2012 but that wasn't my worst one. The worst review was a review from 2011 which contained the statement, 'Rik Carranza was excellent'. Followed by, 'at first...'
Rik Carranza: I'm a Fan, Laughing Horse @ Counting House, 21:00
Probably a two-star review in Chortle for a sketch show I did in 2008 that was on our first preview on day one that knocked team moral so low the rest of the fringe got progressively worse. Though it did include the phrase 'normally sparky Douieb' which was nice.
Tiernan Douieb: Miserably Happy, The Waverley Bar, 14:30
I got a review from Chortle in which the reviewer came to the conclusion I'm not my dad and we must be two different people. Astonishing discovery.
Elliot Steel: Near Life Experience, Gilded Balloon, 20:15
I had sex with a reviewer who later gave me a three star review. She then told me she was originally going to give me four stars but it would be a conflict of interest! Just my luck to find the only principled reviewer in Edinburgh. So you know if I get anything less than a four star, it's because the reviewer sucked my dick.
Leo Kearse: I Can Make You Tory, Laughing Horse @ Free Sisters, 19:30
Published: 5 Aug 2017
What do you think?