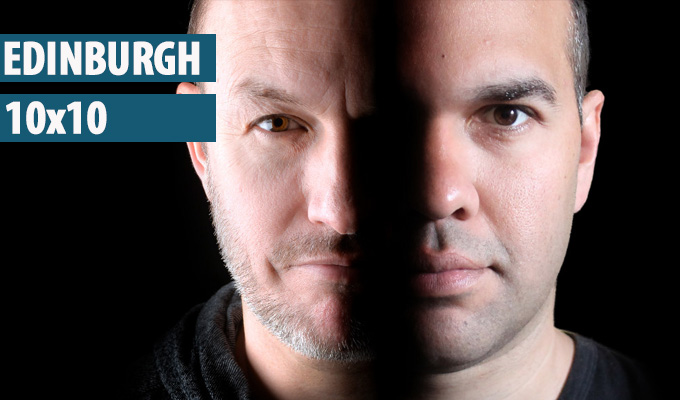 Edinburgh 10x10: 10. Double acts
The Fringe brings together so many performers from so many backgrounds, it's inevitable they team up to see what alchemy they can create. So here are ten collaborations in this year's festival:
1. Brendon Burns and Craig Quartermaine: Race Off
At the end of last year's show, Burns told a story about one of the few Aboriginal Australian stand-ups, Craig Quartermaine, only to slyly introduce him at the end of the show.
This time around, there's no such secrecy and the pair share level billing, for a show that explores Burn's favourite subjects, race, and try to get to the heart of why black and white are so divided, especially in Australia, and what can be done to fix it, given that well-intentioned liberal gestures seem to be no solution.
Gilded Balloon Teviot, 18:45
Ventriloquist Conti has long been in a double act with her unconscious, with her right-hand Monkey giving voice to the things her higher mind would filter.
Well, now she's in a very different partnership to vent those base thoughts, with therapist Adam Meggido instead.
The result is this show which Conti's described as both unscripted and unethical. Or it would be if Meggido was a real therapist, Instead he's an established improviser, with Showstopper! The Improvised Musical, among others.
Nonetheless, the results could be very revealing.
Pleasance Courtyard, August 23 to 27 only
3. Mae Martin and Nick Coyle: Show Party
Acclaimed British-based Canadian stand-up Mae Martin teams up with Aussie stand-up Nick Coyle for this improvised hour, in which they come up with a variety show based on audience suggestions. Beyond that, it's not quite clear what this show will be… if they even know themselves.
Laughing Horse @ City Cafe, 22:30
4. Holt and Talbot Can't Stand the Sight of Each Other
That's Rosie Holt, a ukulele-strumming comic doing her third fringe, and Christian Talbot, who's previously brought four solo stand-up shows to the festival.
The premise is that they have been thrown together through both financial necessity and artistic bankruptcy (they haven't got enough material for their own solo shows) so perform stand-up, sketches and music while barely concealing their mutual contempt for each other.
Sweet Grassmarket, 20:10
Furious man and peculiar woman do a show described as 'a joyful, angry carnival of wrong'. They've been performing this double act on the London circuit for a while, on-and-off. Now it's Edinburgh's turn, again.
Laughing Horse @ The Free Sisters, 15:45, from August 16
6. Trygve Wakenshaw & Barnie Duncan: Different Party
This is in the theatre section, but there's plenty of laughs to be had thanks to the move-perfect physical comedy of its creators.
Trygve Wakenshaw is already known for his mime-based pieces such as Nautilus – and will be performing another show this year with his baby (Assembly Roxy, 15:00). Meanwhile Barnie Duncan is can often be seen in the guise of his comic alter-ego, the Venezuelan calypso DJ Juan Vesuvius (Assembly George Square Theatre, 23:00)
Together they have produced this absurd satire on the mundane office life of a couple of salesmen working for Rucks's Leather Interiors – and it was one of the word-of-mouth hots of the Melbourne International Comedy Festival earlier this year.
Read our review from down under here.
Assembly Roxy, 20:30
7. The Bear Pack
Another antipodean import. The Bear Pack is Steen Raskopoulos – who starred with John Kearns in BBC Three's Top Coppers – and Carlo Ritchie, who perform long form improvised storytelling, spinning an hour-long yarn based on the barest of instructions from the audience.
8. Another Political Comedy Show
Scot Rick Molland and Kiwi Sully O'Sullivan are frequent comedy sparring partners – and last year their showdown got so heated that an audience member was ejected for hurling abuse… which allows them to put 'arrested in connection with three counts of assault' (Daily Record) in their blurb.
This year's show promises more of the bruising exchange of vehemently held political views, but hopefully fewer run-ins with the constabulary.
Scottish Comedy Festival @ The Beehive Inn, 17:45
9. Harry & Chris Show 2
A lot of musical comedy is weak on either the music or the comedy element (or, let's face it, often both). But former World Poetry Slam champion Harry Baker, and jazz muso Chris Read hope to combat that, with both well-considered lyrics and skilled musicianship.
They're old friends who often played together casually, but only formally teamed up to make an act for last year's Fringe. Now they're back to build on that.
Just the Tonic at The Mash House, 14:20
10. Cat FM
A collaboration from a real-life couple. Stand-up and improviser Chris Turner met Alice Winn while performing at the Fringe in 2013 and have been romantic partners ever since.
But when they were snowed in together in Colorado during Christmas 2016, they started writing a silly sketch show. This one.
Cat FM is the only radio show that's 'for cats, by cats'. The world is ending and zombies are everywhere, but our feline hosts Elodie and Jacques have control of the airwaves.
Just the Tonic at the Caves, 18:00
Published: 29 Jul 2017
What do you think?