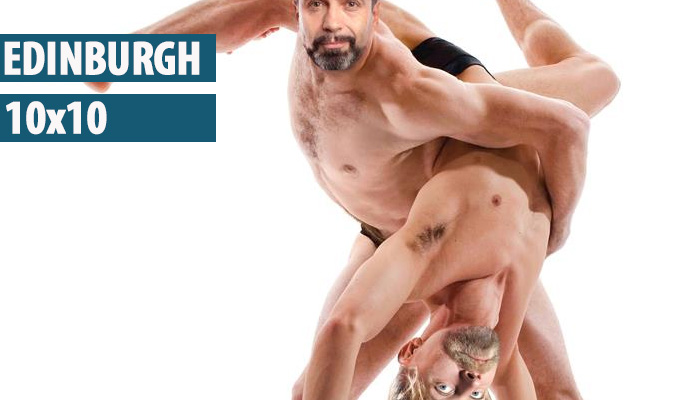 Edinburgh 10x10: 9. For one night only
1. NightDanger: Dance Hard
Titans of movement as an art form, Antoine and Phillippee bring their notorious 'leg-rock, politics and motion-sensored emotional vicissitude' to the Fringe.
Comedy fans might know them better as Phil Nichol and Tony Law, dipping into a different section of the programme to 'do for dance what Richard Gadd did for comedy'.
All money from this performance goes to help the NightDanger Movement Training Centre in their fight against the council housing refugees in the empty flats above the NightDanger Movement Training Centre.
Stand 1, 15:30, August 14
2. Amusical
Hosted by Jayde Adams and Kiri Pritchard-McLean, this celebration of West End and Broadway classics is an occasional night in London – and comes to the Fringe for one night only. Comics perform their favourite numbers, aided by a house band.
Pleasance Courtyard, 23:20, August 23
3. For Robin Williams
There are, as always, plenty of one-off charity gigs this Fringe, and this one –  three years after the death of Robin Williams – will be especially close to comedians' hearts.
Among those on the bill, raising money for mental health charities Mind and the Scottish Association for Mental Health, are Ed Gamble, Tom Ballard, Sofie Hagen, Butt Kapinski, John Kearns and Iain Stirling.
Assembly George Square, 00:15, August 11
Giving its Fringe debutants a boost, the Pleasance is staging a late-night extravaganza of rookies on the first Saturday of the Fringe. What's more, it's free, so a perfect sampler of shows you might want to see more of.
Pleasance Courtyard, 23:15, August 5
5. World's Best MC Award Grand Final
To be honest, we have no idea what this is… but we seriously suspect it's not all it appears.
Allegedly organisers have scoured the world looking for the best MCs who will compete for a £5,000 prize. Somehow funded from an unsponsored Free Fringe show.
The MCs will be MCed by an NC, Nathan Cassidy, who has some form when it comes to stunts, and the finalists have not yet been named. But when quizzed, producer Poppy Hillstead insisted: 'there is absolutely a 5k prize… it's a real competition.'
Who the hell knows..?
Laughing Horse & The Free Sisters, 19:45, August 14
6. BBC Radio New Comedy Award Final
Many a new act competition reaches its apex at the Fringe – most notably the Gilded Balloon's So You Think You're Funny on August 24 and the Chortle Student Comedy Award on August 14.
But this is probably the one that opens most doors, not least because getting in with the BBC radio comedy folk is all part of the prize. And since contestants can have been performing comedy for up to five years, the quality at the final is usually high, with the acts having been whittled down over regional heats and semi-finals (which will be held at the Fringe on the 5th and 6th)
Mark Watson hosts the final, at the BBC tent in George Herriot's School at 18:00 on August 13
Mr Lycett is making only a fleeting visit to the Fringe this year, just to take part in this fundraiser for The Buzz Project, which helps young people in the Highlands.
New Town Theatre, 19:20, August 17
8 Crosstentatious
It's a gender-fluid version of the improvised Jane Austen story, as for one night only, the Austentatious troupe swap around their bonnets and breeches, in a cross-dressing version for Waverley Care.
Underbelly George Square, 23:45, August 17
9. This Arthur's Seat Belongs To Lionel Richie
This awkwardly named event, a hangover from a similarly-titled show from comedian Barry Ferns a decade ago, has become something of a Fringe tradition. On August 19, sturdier Fringe-goers will make their way to the summit of Arthur's Peak for the one-off stand-up show, which has featured the likes of Arthur Smith, Josie Long and Simon Munnery in previous years. You need to have got there by 2pm.
10. The Wrestling
And last but by absolutely no means least, the most mental night of the festival… and each reincarnation has to be bigger than the last, right?
Comedians and real wrestlers clash in the ring, as producers carefully check the small print of their insurance policies, and the crowd bays for violence. And this time there are ladders involved as a title belt hangs above the ring. There will be blood.
Pleasance Courtyard, 23:00, August 15
Published: 27 Jul 2017