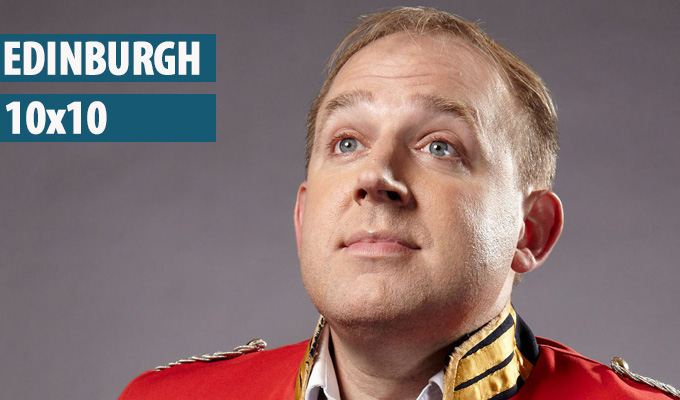 Edinburgh 10x10: 7. Ten old newcomers
The best newcomer prize at the Edinburgh Comedy Awards produces mixed results. It's a keenly contested accolade among those trying to make their mark, but doesn't always guarantee fame and fortune. For every Sarah Millican (2008) or Tim Minchin (2005), there's a Wil Hodgson (2004), still gigging but hardly a media darling, or a Garth Cruicksank and Eddie McCabe (2001), vanished from the circuit completely.
Here are some of the comics hailed in the award's earliest days, when it was still called the Perrier, who are returning to Edinburgh in 2017:
Nominee? Dominic Holland won the bastard, in only its second year. The newcomer strand had been added to the main Perrier award in 1992, to hail Harry Hill. The following year, Holland took the honours for his debut show, Red Hot Dutch with Dominic.
After something of a sabbatical, he's back in Edinburgh with a show entitled Eclipsed, about how his son is outshining him. Who is his son? Only Spiderman actor Tom…
At the weekend, Dominic told The Sun: 'Tom is hopefully going to come over for a couple of shows. He's filming a movie in Montreal with Daisy Ridley from Star Wars called Chaos Walking. But I think he has a little window of opportunity to come over to Edinburgh for a break, which would be amazing.'
The Voodoo Rooms, 16:40
Following Holland to the accolade was Scott Capurro, followed in 1995 by Tim Vine, above, for the Tim Vine Fiasco. But fear not, the ensuing 22 years has not made his act any less shambolically stupid.
Pleasance Courtyard, 16:00
If Britpop was the music of the mid-1990s, wordplay seems to have been the defining comedy genre, as Vine was followed on to the winner's rostrum by Milton Jones, for his show The Head.
He's back at the Fringe (at least until August 20th) to unveil his new tour, titled both figuratively and literally, Milton Jones Is Out There.
Assembly Hall, 19:30
1998 was the first year that nominees were announced in the newcomer category. So while The Mighty Boosh hoovered up most of the glory for their ambitious debut, crumbs of recognition were also left for the nearly-theres.
They included one Jason Byrne, who has returned to the festival every year since and is now one of the Fringe's most bankable stars thanks to his energetically engineered lunacy.
Assembly Hall, 21:00
The other nominees in 1998 were Chris Addison, who's clearly gone on to bigger and better comedic things, Jon Reed (now a screenwriter and author) and one Paul Foot.
He, too, has been plugging away at his one-of-a-kind oddness, building up a fan base yet still able to split a room into those who think he's an inspired genius, and those left to shrug at what everyone else is laughing at.
Foot is returning with the same show as last year, at least in title: 'Tis a Pity She's a Piglet.
Underbelly Cowgate, 19:10
In 1999, sketch ruled the newcomer roost. Arnold Widdowson and Ben Willbond won, with Infinite Number of Monkeys (Tim Fitzhigham and James Cary) and The Arthur Dung Show: (Dave Lamb, now the voice of Come Dine With Me, and Jim North) nominated along with Aussie stand-up Wil Anderson.
That takes us into 2000, where avant garde Kim Noble and Stuart Silver took the crown, with newcomers including Dan Antopolski. He's not done a solo show in Edinburgh for seven years, though he won Dave's joke of the Fringe in 2009 for 'Hedgehogs - why can't they just share the hedge?', and has appeared as part of sketch trio Jigsaw. Now he returns with a new hour of quirky stand-up.
Assembly George Square Studios, 21:15
7. David O'Doherty
In contrast, you couldn't keep fellow 2000 newcomer nominee DOD away from the Fringe, although this year is just a flying visit, with three nights at Assembly Hall (August 25-27 at 19:30) and one afternoon at Assembly George Square (28thm, 12:00)
2001 best newcomer Garth Cruicksank may have vanished from the scene (he now runs pub quizzes in Edinburgh),the Perriers still found lots of top talent among the runners-up.
Among them were the Cambridge Footlights team that included Mark Watson. He is – of course – back at the Fringe with an ambitiously large number shows: a work in progress at The Stand from the 13th; a limited rerun of last year's well-received I'm Not Here at the Pleasance Courtyard; his Festival Of Bad Ideas, as mentioned in a previous 10x10; and one-offs hosting the finals of both the BBC New Comedy Award and the Chortle Student Comedy Award.
Also in the 2001 Footlights line-up was Tim Key – who blagged his way into the society despite not being a student at Cambridge – who's also returning for two weeks of work in progress gigs, at the Pleasance Dome.
That year's show, Far Too Happy, also starred Day Macaskill, now an agent for directors and choreographers; Edward Jaspers, who went on to run Birmingham's Teasel Theatre Company; and James Morris, who punched up Ed Milliband's speeches with jokes. Oh, and one Sophie Winkleman, Big Suze of Peep Show fame and now proper nobility (as the wife of Lord Frederick Windsor, son of the Queen's first cousin Prince Michael of Kent, she is formally Lady Frederick Windsor)
Zaltzman took on the Dog of Doom in his 2001 newcomer-nominated show. And to great success as there's now clearly no threat of doom hanging over civilisation whatsoever. He's back in Edinburgh with a shortened run of his latest Satirist For Hire show.
The Stand 3, 15:00, August 15 to 27 only
10. Reginald D. Hunter
2002's best newcomer was won by sketch group The Consultants (Justin Edwards, Neil Edmond and James Rawlings) with nominees Natalie Haynes, Hal Cruttenden and Reginald D. Hunter. Only Hunter's at Edinburgh this year, with his current tour show Some People Vs Reginald D Hunter. Judging from the set he performed at Latitude earlier this month (Review), the emphasis is more on his family dynamics than being deliberately provocative. But don't worry, his dubious taste hasn't entirely deserted him… Assembly Hall, 22:30
We previously listed him here as one of the 2002 newcomer nominees. Our mistake, it was the main award he was up for that year.
However since it was Nichol who pointed out the error, it would seem ungrateful to bump him from the list. He was on an unofficial 'best newcomer' shortlist in 1996 with Ed Byrne, so that seems good enough to keep him here.
Nichol returns to the Fringe in 2017 with the pedant-bating show Your Wrong, at Heroes @ Monkey Barrel at 9pm, as well as weekend late-nights runs of his alternative comedy cabaret The Asylum at the same venue. Plus his one-off collaboration with Tony Law in the dance section, Night Danger, which will be in Stand 1 on August 14.
Published: 25 Jul 2017
What do you think?