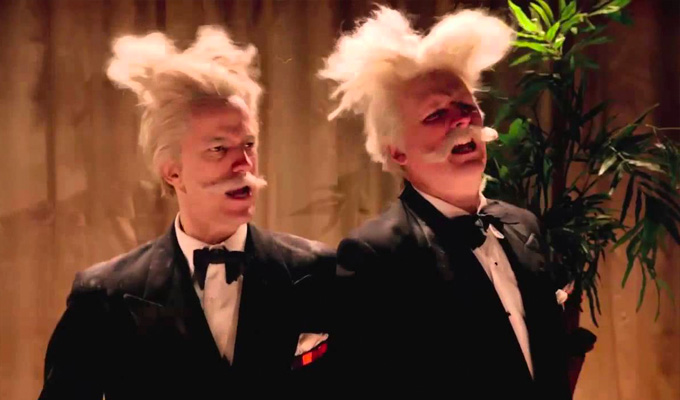 Win This Is Jinsy series 2 DVD
The second series of surreal sketch show This Is Jinsy has been released on DVD – and we have six copies to give away.
Originally shown on Sky Atlantic in 2014, this seasons includes a raft of top guest stars, including Stephen Fry, Greg Davis and Jennifer Saunders.
This Is Jinsy was created by the largely unknown Chris Bran and Justin Chubb, who were inspired by their Guernsey roots to set the show on a fictional island known for fabulous knitwear, folksong and high-tech surveillance.
From the vantage point in their Great Tower, Arbiter Maven (Chubb) and his long-suffering assistant, Sporall (Bran), attempt to run the island in strict adherence to Jinsy law and its unseen overlord, The Great He.
The first series was nominated for a British Comedy Award and likened to alternative comedies such as Monty Python's Flying Circus, The Mighty Boosh or the work of Spike Milligan.
Musical interludes from the cast are supported by the Jinsy choir. Tracks include Female Badger, performed by Rob Brydon, Onion Song, featuring KT Tunstall; and an unmistakable tribute to David Bowie and Mick Jagger in Fruit Suit.
Other guest stars in series two include Derek Jacobi as the island's oldest man, who is a baby; Olivia Colman as Maven's buck-toothed wife and Katy Brand as the local psychic that specialises in rat-bum reading.
It has been released today on Simply Media, with an rrp of £19.99. But to stand a chance of winning one of our six copies, answer the following question by midday on May 29, when we will select the winner at random from all correct answers received. Good luck!
Usual terms and conditions apply.
Published: 15 May 2017
What do you think?