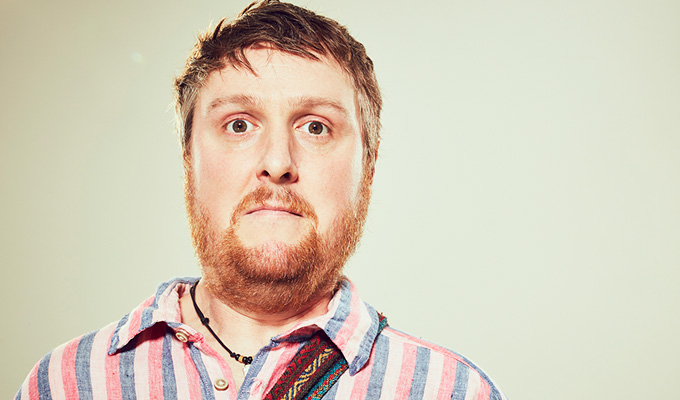 I found myself making deep explorations of my mind...
In the new E4 comedy-drama Gap Year, Tim Key plays the relentlessly upbeat Greg, touring the Far East with four much younger travellers, trying to relive his glory days of the late 1990s while refusing to deal with his crumbling marriage, business and life in general. Here the comedian and actor talks about his role and some of the highs, and lows, of filming in such exotic locations…
Can you tell us about your character, Greg?
There are two strong relationships in Gap Year, which are Sean and Dylan, and May and Ashley. They are both friends from home; there is a lot of 'will they, won't they' stuff floating around. Meanwhile Greg is very much a fifth wheel. That is the dynamic – four people travelling together… and Greg.
They have this begrudging love for him almost, otherwise they would literally sling him out. They try to sling him out a few times at the start and realise that he's not really that sort of person that you can sling out, so they make the best of it.
I am fond of him; he's quite resilient and he's a softie. In every episode everything goes wrong for him – not in the sense of having to transport a vase somewhere and smashing it, but more having to reflect on where he is in life.
There are bits where he's voicing it, there's a line in Episode 6 where he says: 'To be honest I've lost my way a little bit.' It's been very enjoyable to play on that because there is a lot of stuff that's kind of silly and he's a bit of a klutz. The stuff I enjoy a lot more is where there is some pathos there and you feel like he is like a person and he's having a bit of a difficult time.
The idea of going on holiday is a way of escaping, but you're not really escaping from yourself. Is that what we're seeing in the show?
I guess you are, I can mainly speak for Greg, I suppose that's what he does. No matter where he gets a plane to or gets a bus to, or a train to, he still takes himself with him. He still has the same battles and the same crises, the same dead ends, cul-de-sacs and vortexes in his life that he must battle against, so I think this is right, yes..
How did you first get involved with Gap Year?
I was involved in the writing a bit to start with, so it was interesting to see what it would become. I felt like it was quite exposing, I told a lot of anecdotes about when I was travelling that made me come off really badly.
So, I don't quite understand why they aren't in it. I feel like I went through quite a lot and none of it is on the screen! But Tom Basden - who is the main writer - a lot of his life and travels are in there.
It was interesting being involved in the writing but I came out of it and now I just see myself as an actor who just reads the scripts as they come in and works out how to do it.
How were your fellow cast members?
I think it was quite important that the five of us get on in real life and we do. We met up in London for dinner the Friday before we flew to Kuala Lumpur – I think there is always a bit of trepidation that you are going to meet up with four idiots. It would have been miserable to be at that dinner, looking at those four people and thinking 'Oh dear'. Luckily it was the opposite – the main conclusion was that there was probably too much chemistry.
In Vietnam, me and Anders [Hayward, who plays Dylan] went out to a bar. We were sat outside on these plastic seats and some guys swung their chairs round and we were suddenly sat there drinking with these Vietnamese milkmen.
They obviously mistook me for being Anders' dad and we accepted that that was quite a good thing to run with. Every time Anders drank, I would get a bit of a pep talk from the older milkman, and I was saying 'Come on, he is on holiday'. Then he smoked and I said, 'He can have one, it's fine'.
It was really very enjoyable; it was quite funny going from something like that back to your hotel, it's weirdly euphoric and you think 'that was a good thing to happen'.
How did you find filming in Asia – and its heat?
There were times when I sweated through my clothes to the point that they were wringing-wet. There was an incident underneath a bell tower in Beijing where the action was to notice some people playing a local game involving a large shuttlecock and keeping it in the air with your feet.
Greg, because he's a bell-end, goes over and says. 'Come on then, I'll have a bit of this' and plays with them for about 30 seconds and after about the fourth time of doing that I was dripping wet. It was, again quite enjoyable, that classic thing of 'there are worse jobs', but that was a challenging afternoon, having to go back again and again, standing at my mark, actually knowing where my mark was because there was a puddle of my sweat.
The jungle trip was challenging, too. I think secretly, although we never mentioned it to one another, everyone found the jungle trip a bit more difficult, just because of where it fell in the process, I think we were about a month or six weeks in, so a long way from the end.
We were in a jungle and my character is having some terrible trouble because he's been in bitten by a mite, so he's deaf and he's yelling and on a stretcher. When I look back at what the most difficult bits were, I think of that: lying on a stretcher looking up at the canopy of the jungle and this existential feeling of 'here I am.'
I found myself thinking a lot of things that were real, fairly deep explorations of my mind - a soul in the jungle. Thinking about lots of forks in the road of your life.
We all fell in love with Ho Chi Minh City a little bit. It was nice to go to Ho Chi Minh City because you just got a sudden hit of an amazing, mental place, just full of mopeds and noise and colour and fun and warmth.
There are a lot of places like that, Beijing did the same thing, I really liked Beijing, and Shanghai also. But then Penang has been good because it's the opposite of that... it's going out from the mayhem and chaos of a big city and suddenly finding yourself somewhere tranquil and heritage-y, with graffiti and shops and a nice pace about it.
• Gap Year is due to start on E4 later this month. Here writer Tom Basden talks about the show, and here is a trailer:
Published: 13 Feb 2017
What do you think?