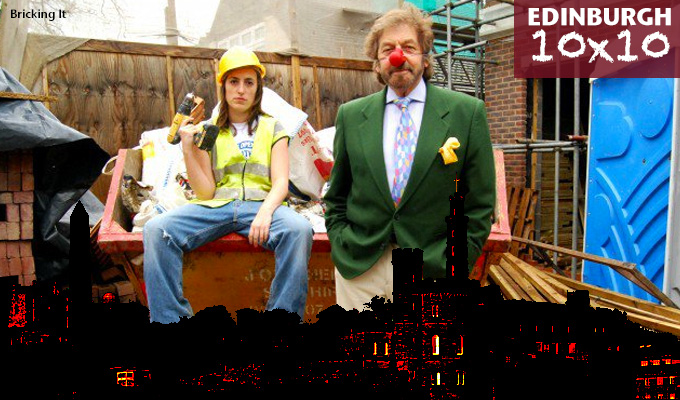 Edinburgh 10x10: Be dramatic!
It's hard to credit it sometimes, but there are actually sections of the Edinburgh Fringe programme that aren't comedy. Here are some of the picks from the theatre section that would be of interest to comedy fans, even if they are not all comedies.
1. Bricking It
Joanna Griffin, a 29-year-old writer/performer, has swapped jobs with her dad Pat, a 73-year-old Irish builder. He's had help learning the stand-up trade from comics including Richard Herring, Sara Pascoe and Mark Thomas, himself the son of a builder. The result is this show, a series of conversations, building tasks, and stand-up routines, which has been developed with the Battersea Arts Centre.
Underbelly Cowgate, 17:30
This third in what's now a a trilogy of shows in which the comic sets aside his political mischief-making for storytelling about his background, following Bravo Figaro and Cuckooed. It's about his return to The Red Shed in Wakefield, a 47-foot-long wooden hut that doubles up as a Labour Club, 30 years after starting his performing career there. He says it's a story about 'the struggle for hope and survival … of strikes, fights, dinner ladies and beer; friendship, love, memory and above all belief'
Traverse Theatre, various times
3. Erik Satie's - Faction
Alistair McGowan makes a return to Edinburgh in this show, which he conceived as well as performs, about surreal French composer Erik Satie. Musically, he is best known for his Gymnopedies and Gnossiennes – but more fascinating is the way he lived his life. He wore the same outfit for 11 years to save himself time in deciding what to wear; ate only white food for a period of time, including shredded bones; invented his own branch of the church, of which he was the only member; and wrote a play in which a man just counts to 260,000 – just some of his many, many eccentricities.
Pleasance Courtyard, 12:50
4. Mr Laurel and Mr Hardy
Edinburgh wouldn't be Edinburgh without some plays about dead comedians. This new play is set during Stan Laurel and Oliver Hardy's 1950s UK tour – the same setting as the forthcoming BBC Film Stan & Ollie, starring Steve Coogan and John C Reilly as the comic duo. In this production, from Searchlight Theatre Company, the ageing comedians reflect on their friendship and career, while reproducing some of their best-loved songs and routines.
Greenside @ Nicolson Square, 15:00, to August 20 only
And if you're a die-hard Laurel and Hardy fan, see also Another Fine Mess, about a tribute act who again relive some classic sketches, even if there's a shock between the modern-day pair. This is at TheSpace on theMile at 19:05, August 22-27 only.
5. Jailmates
Created by comedians Gary Little and Julia Sutherland, this show revolves around letters exchanged between a Glaswegian serving 18 months for theft and a woman trapped in an unhappy suburban lifestyle. Inspired by Little's own time behind bars for a similar crime, it has already been picked up for a series by BBC Radio Scotland following a successful pilot earlier this year, as Chortle reported back in May.
New Town Theatre, 17:00, August 4-15 only
This absurd comic play, about the survivors of a plane crash, was originally staged on a blustery beach during the 2013 Fringe, with a cast of comedians including Daniel Rigby, Mathew Baynton and Katy Wix. It was also revived in London the following year, when it was thrown into focus when Malaysia Airlines flight MH17 was shot down in Ukraine on the second night of its run. Now Exeter student company Lyons Productions are reviving the play for a few nights – and it doesn't require the hour-each-way coach trip of the original.
C South, 14:00, August 14 to 20 only
7. Casting Call Woe
In this talk show, a selection of actors share their nightmarish stories of what humiliations they have had to endure as part of the casting process – and what ridiculously sexist, racist, homophobic or ageist notes have accompanied their character's description. Co-hosted by stand-up Tiff Stevenson and the creator of the Casting Call Woe blog, known only as Miss L, this is sure to appeal to the legions of would-be thespians at the festival.
Gilded Balloon at the Museum, 16:30, August 15 to 28
Remarkably, there are still some tickets left for Daniel Kitson's latest one-man play, even if the first two weeks have sold out. It's about a man who's rented out a storage unit where he can get to work on his story, about a mouse. But one night he's interrupted by a phone call which takes a number of strange turns. It is, says the blurb, about 'friendship and loneliness, doubt and hope'. But then aren't all Kitson's plays? Read our review of the run at the Liverpool Everyman theatre here
Traverse Theatre, 22:00
9. Every Day I Wake Up Hopeful
Irish stand-up Christian Talbot makes his acting debut at the Edinburgh Fringe with this one-man play by John Patrick Higgins. He plays a 43-year-old man who's missed out on a lot of things in life – no family, partner or career – but has managed to acquire a fatal disease. Every Day I Wake Up Hopeful is described as 'a darkly funny examination of a desperate attempt to take control of life before death does.'
Sweet Grassmarket, 20:15
10. Travesty
This is the debut play by double Edinburgh Comedy Award nominee Liam Williams, whose stand-up is much praised for its eloquent writing. It revolves around 'a couple of young, slightly lost, middle-class people who meet, start having sex and then don't so much fall in love as cautiously negotiate their way into it'.
Assembly George Square Studios, 17:30.
• Ten Fringe comedians from elsewhere in the EU.
Published: 19 Jul 2016
What do you think?