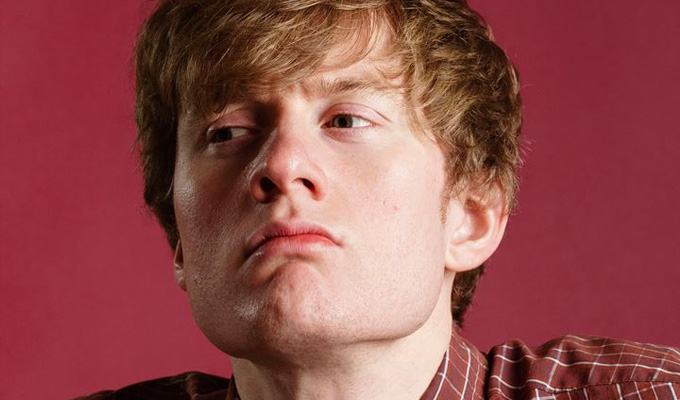 Edinburgh Fringe 2015 comedy reviews

Funz and Gamez Tooz
James Acaster: Represent
Joe Lycett: That's The Way, A-Ha A-Ha, Joe Lycett
John Robins: Speakeasy
Kieran Hodgson: Lance
Mae Martin: Us
Minor Delays
Nick Doody: T'ai-Po
Peter Brush: Older Than The Oldest Dog That Ever Lived
Richard Gadd: Waiting For Gaddot
Sofie Hagen: Bubblewrap
Spencer Jones Presents: The Herbert in Proper Job


Adam Hills: Clown Heart *
Adam Hess: Salmon
Al Porter Is Yours
Alex Edelman: Everything Handed To You
Alice Fraser: Savage
Andrew Doyle: Minimalism
Andrew Watts: How To Build A Chap
Aidan Killian: The Holy Trinity Of Whistle Blowers
Bucket
Caimh McDonnell: Bride and Prejudice
Calypso Nights: Juan Two?
Corey White: The Cane Toad Effect *
Daphne Do Edinburgh
David Mills: Don't Get Any Ideas
Diary Of A Dating Addict
Fake It Til You Make It *
Felicity Ward: What If There Is No Toilet?
Glenn Wool: Creator, I Am But A Pawn
Goose: Kablamo
Hal Cruttenden: Straight Outta Cruttenden
Imagine There's No Ben Target (It's Easy If You Try
Joel Creasy: The Hurricane *
Joel Dommett: Conquer
John-Luke Roberts: Stdad-Up
Jonny Awsum: Everything Is Awsum
Joseph Morpurgo: Soothing Sounds For Baby
The Kagools
Katherine Ryan: Kathbum
Kevin Day: Hairline
Kyle Kinane: Ghost Pizza Party
LetLuce in Sea Men (A Naval Tale)
Mark Forward Presents Mark Forward
Mark Steel: Who Do I Think I Am?
Markus Birdman: Grimm Realities
Max And Ivan: The End
Michael Che: Six Stars
Nick Cody: Beard Game Strong
Nish Kumar: Long Word... Long Word... Blah Blah Blah... I'm So Clever
Oh Hello!
Phil Nichol: I Don't Want To Talk About It
Pierre Novellie is Anxious Peter
The Pin: Ten Seconds With The Pin
Puddles Pity Party *
Sam Simmons: Spaghetti For Breakfast *
Sarah Callaghan: Elephant
Sarah Kendall: A Day in October
Sean McLoughlin: Whatever It Takes
Seymour Mace: Niche As F*ck!
Steve Bugeja: Day Release
The Story Beast
Stuart Goldsmith: An Hour
Some Like It Thea-Skot
Tom Ballard: Taxis & Rainbows & Hatred
Tom Binns: The Club Sets
Tom Parry: Yellow T-Shirt
Vegas Nocturne


Adam Riches is Coach Coach
Ahir Shah: Distant
Alex Smith: The Art Of Grooming
Ali Brice presents: Eric Meat Has No Proof, Only Memories of Pasta
Alistair Barrie: No More Stage 3
Aunty Donna *
Bobby Mair: Filthy Immigrant
Brett Goldstein: Burning Man
Brydie Lee Kennedy Loves You Too
Carl Donnelly: Jive Ass Honky
Chris Coltrane: Left-Wing Propaganda Machine
Chris Stokes: Altruism in Birds
Chris Turner: XXV
Dane Baptiste: Reasonable Doubts
David Elms: Mister Boy
Ed Gamble: Lawman
Elf Lyons: Being Barbarella
Emma Sidi: Character Breakdown
Erich McElroy's Imperfect Guide to Picking the Perfect President
Franks and Skinner Present Myself and Myself
Gein's Family Giftshop
The Gideon & Hubcap Show
Gyles Brandreth: Word Power!
Have A Word
Holly Burn: I Am Kirsty K
The Horne Section Questions Sessions
Huntington & Hutt: Insignificant Other
Ian Smith: Whereabouts
Ismo Leikola: Observing the Obvious
Jessie Cave: I Loved Her
Jimmy McGhie: Winged Goddess Of Victory
John Hastings: Marked From The Start
John Robertson: Let's Redecorate
Jonny Pelham: Before And After
Larry Dean: Out Now
Laurence Owen: Cinemusical
Liam Williams: Bonfire Night
Lolly
Luke McQueen: Double Act
The Man
Mat Ewins: Day Job
Matt Reed: Stalked
Matthew Crosby: Smaller Than Life
Michael J Dolan: Miserable Guts
Michael Legge: Tell It Like It Is, Steve
Mick Ferry Is Just a Bloke
Mike Wozniak: One Man Dad Cat Band
Pat Cahill: Panjandrum
Richard Soames Does The Right Thing
Sarah (nee Will) Franken: Who Keeps Making All These People?
Scott Bennett: About A Roy
Simon Munnery: And Nothing But
Stephanie Laing: Nincompoop
Stephen Bailey: Should've Been A Popstar
Tats Nkonzo: The African With Wifi
Tez Ilyas: Tez Talks
Tobias Persson and the Drivel Rights Movement
Zoe Coombs-Marr: Dave


Abigoliah Schamaun: Post-Coital Confessions
Aisling Bea: Plan B
Aidan Strangeman
aLOne: Loren O'Brien *
Amir Khoshsokhan: – Milk and Hedgehogs
Amy Howerska: Sasspot
Andrew Ryan: Perfectly Inadequate
Angela Barnes: Come As You Are
Ben Russell: The Tokyo Hotel *
Beth Vyse: As Funny As Cancer
Bridget Christie: A Book For Her
Damien Slash: Ubermen
Danielle Ward: Dani Frankenstein
Darren Walsh: Punderbolt
David Tsonos: Walking The Cat
Eleanor Tiernan: Don't Cry For Me Eleanor Tiernan
EricTheFred *
Feminazi
Fifty Shades Of Fizzog
Funmbi Omotayo: Legal Immigrant
Gabriel Bisset-Smith Tells The Most Original And Funny Joke In The Universe!
Gary Coleman: Tickling Mice
George Egg: Anarchist Cook
Giant Leap
Grace The Child
Harriet Kemsley: Puppy Fat
Iain Stirling: Touchy Feely
Jack Barry: This Title Came to Me in a Dream
James Ross: Leopardoptera
Jena Friedman: American C*nt
Jennie Benton Wordsmith
Jessica Fostekew: Imaginary Colin
Jo Romero: Scenes Of A Sensual Nature
Jody Kamali: Spectacular!
Jollyboat: Nerdplay
Joz Norris: Hey Guys
Kelly Kingham: Inside Out
The Kinsey Sicks
Laura Lexx: Lovely
Leggoland
Lou Conran: Small Medium At Large
Lydia King: A Date With Destiny
The Man Called Monkhouse
Marny Godden: Flap Em On The Gate
Massive Dad 2.0: Step Up 2 Massive Dad
Matt Winning: Mugabe & Me (3D)
Megan Ford: Feminasty
Mel Moon: Sick Girl
Nathan Cassidy: Back To The Future
Nick Hall: Dodekahedron
Paul Kerensa: Back To The Futon Pt2: Dude, Where's My Hoverboard?
Phil Wang: Philth
Rhys Nicholson: Forward
Rob Auton: The Water Show
Sally-Anne Hayward: Something Old, Something New, Nothing Borrowed, Quite A Lot Blue
Seymour Stiffs: The Undertaker
Steve Hall: Zebra
Suzy Bennett: Gumption!
Tiff Stevenson: Mad Man
A Very Tall Storrie
Victoria Wood And Me
Viv Groskop: Say Sorry To The Lady
Wee Man Syndrome
Will Durst: BoomeRaging From LSD to OMG
Womanz: Jou're Welcome
The Wonderful World of Lieven Scheire


Andrew Lawrence: Uncensored
Beasts: Live DVD
Gay Furnish: Flirt Coach
Hurt & Anderson: Sketchbombs
Impossible
Jack Heal: Frankenstein's Love Monster
James Veitch: Genius Bar
Joe Hart: Dirty Rotten Apples
Kevin J: Council Estate Of Mind
Lazy Susan: Double Act
Lee Nelson: Suited & Booted
Louise Reay: It's Only Words
Lucie Pohl: Cry Me A Liver
Lucy Frederick: In The Wild
Nathan Cassidy: Back To The Future II
Pelican: A Sketch Show
Phil Jerrod: Neanderthal
Roland Gent: Rock 'N' Roll Radio Idiot
When The Sh*t Hits The Fan
Yianni: Why Did The Chicken Cross The Line?


Abi Roberts: Downtown Abi
Adrienne Truscott's A One Trick Pony!
Ally Houston: Shandy
Charmian Hughes: When Comedy Was Alternative
Davey Connor: So There You Go
Evelyn Mok: Idiot
Garrett Millerick: A Selection of Things I've Said to Taxi Drivers
Hardeep Singh Kohli: Big Mouth Strikes Again
James Dowdeswell's Perfect Pub
James Farmer: Ultimate Worrier
Julian Deane
Mark Stephenson: Amsterdam
Omar Hamdi: In the Valleys of the Kings
Reginald D Hunter: Bitchproof
Routines


Cassandra: Mary Canary
Gurpal Gill: India's Strongest Man (1982)
James Christopher's Annual Cry For Help
Karl Schultz: Matthew Kelly - Hypnagogia
Mark Silcox: No Women Plenty Of Cry


Ben Fairey: Floe-Joe's Faces
Alex Williamson: That Guy From The Internet

Unrated
Chortle Student Comedy Award final
So You Think You're Funny? final

* = reviews published before the Edinburgh Fringe.
Published: 1 Sep 2015
Recent Features
What do you think?