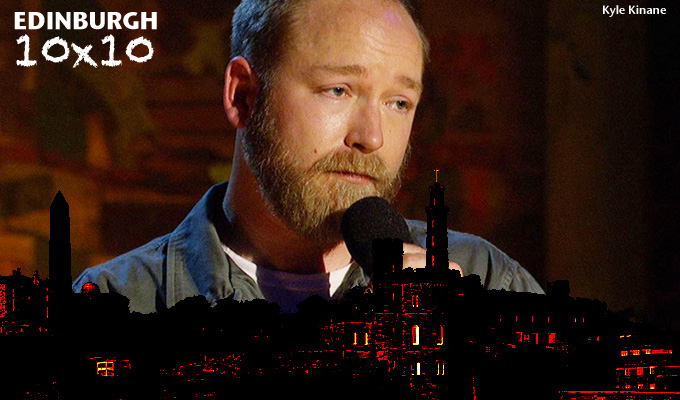 9. American idiots...
1. Kyle Kinane
A comedian who's lived a life, not just drifted into stand-up after uni for the bantz, Kyle Kinane has a reputation for entertaining anecdotes about often shameful experiences – as well as more relatable stand-up fare – all skilfully delivered with passion, exaggeration and inspired analogy . Underbelly Cowgate, 22:10
2. Michael Che
He's been a regular on Saturday Night Live and been on The Daily Show with Jon Stewart; now Michael Che returns to Edinburgh with his chilled-out, but well-considered stand-up, following his 2013 debut. With due modesty he's called his show Six Stars because it's 'better than a five star show'. Let's see… The Stand 3&4, 19:40, to 20th only
Will Durst
Satirist Will Durst was nominated for the Perrier back in 1989, when it was won by Simon Fanshawe. It stood him in good stead as over the years, he lays claim to more than 800 TV appearances. At Edinburgh this year, he wants to pay tribute to the joys, achievements, and frustrations of baby boomers. Which given that he's 52, he has very good reason to want to do. … Gilded Balloon, 17:30
4. Jena Friedman: American C*nt
Gotta love an American dropping the C-bomb, which is like kryptonite for most of them. A writer for David Letterman and currently a producer at The Daily Show, she promises a probing look at the likes of women's issues and politics people actually care about, with a couple dick jokes thrown in. The Stand, 19:30, from August 18
Alex Edelman won the Foster's best newcomer prize last year… an accolade that only heaps pressure on his sophomore year. So all eyes will be on Everything Handed to You to see if the stories from his own neurosis deliver on last year's promise. Pleasance Courtyard, 20:30
6. Ari Shaffir
In the States, Ari Shaffir hosts the Comedy Central show This is Not Happening, where comics tell true long-form tales in front of a live audience. It was renewed for a second series last month, and now Shaffir is bringing the show to Edinburgh, where there's no shortage of comedians with stories, some no doubt collected at this very festival Pleasance Dome, 23:00, Thursdays to Sundays only.
7. Jamie Kilstein
Fired-up political comic Jamie Kilstein is probably best known for co-creating the Citizen Radio internet show for 'for young people disillusioned with corporate media and a political system that doesn't speak to them'. In his new show, the vegan, atheist progressive fuses music with his impassioned rants. Could be one for fans of Russell Brand's latest incarnation. Stand In The Square, 20:20 from 18th only
8. Omid Singh
Omid Singh is an American road comic raised in a multicultural family that was half Indian, half Iranian and is described as having a 'level of charm most used-car salesmen dream of' – which we think is a complement. His Edinburgh show is entitled My Favourite Words In The English Language, which seems fairly self-explanatory… Just The Tonic at The Tron, 19:30
A long-term emigrant to the UK, circuit stalwart Erich McElroy explores why no other nation does politics with the same absurdity and insanity as America, claiming all you need to be President is a pinch of God, a dash of freedom and a flatbed full of firearms. Laughing Horse @ Bar 50, 13:00

10. Lucie Pohl
Her last show, Hi, Hitler, earned this German-American comic a nomination in the New York Innovative Theatre Awards last week. Now she unveils a new character comedy ensemble, Cry Me A Liver, with creations including a philosophising Brooklyn bum, a German mind and body healer with a serious crush on Benicio del Toro – and Putin's sperm. Gilded Balloon, 16:00
Published: 30 Jul 2015
What do you think?