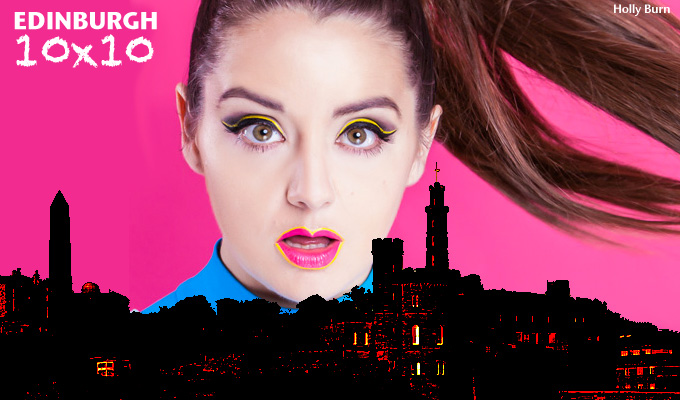 4. Who ARE these clowns?
Interest was renewed in French clown professor Philippe Gaulier after his student Dr Brown won the 2012 Edinburgh comedy award – even though he already boasted an impressive list of alumni including Emma Thompson and Sacha Baron Cohen.
At the 72-year-old's school outside Paris, he teaches students how to exploit their own weaknesses – the side of them that people laugh at behind their back – to create their stage persona. Such brutal honesty can be a harsh learning curve, but it has helped define a new generation of comedy performers.
Here are ten Gaulier acolytes performing at this year's Fringe.
If there's an award for commitment, Holly Burn would walk it. She is spending the entire Fringe in character as Kirsty K, a 24-year-old from Whitley Bay who's never ventured outside the North East of England before. That's the entire Fringe, she's spending as that persona, not just the hour of her show. Kirsty's story is that her recently-departed Nan left her a mission and money in her will – to go and tell the world about her. That's what she plans to do at Just the Tonic at The Mash House at 18:20...
2. Trygve Wakenshaw
New Zealander Wakenshaw scooped armfuls of awards and critical acclaim for his perfectly judged physical comedy, Kraken last year – see our review here. He's bringing that back for a full run at Underbelly Cowgate at 18:00, while presenting his new show Nautilus at Pleasance Courtyard at 22:00. This is very much in the same bizarre vibe as its predecessor, even if we found the stream of consciousness a bit more self-indulgent in its Melbourne run earlier in the year.
A very recent signing to the Gaulier school, Roberts has a comedy background that's a little more traditional than some of the other clown performers, writing for the likes of Radio 4's The News Quiz. And today casting was announced for the sitcom he wrote for UKTV's Gold channel, Bull, headed by Robert Lindsay. But his comedy has always been blessed by an eccentric, peculiar edge, as evidence by his involvement in the Alternative Comedy Memorial Society. Now he's back on the Fringe with his third solo show. John-Luke Roberts: Stdad-Up, Voodoo Rooms, 18:55
4. Tessa Waters
Australian performers Tessa Waters' feisty physical comedy won the prize for most outstanding comedy show at last year's Melbourne Fringe. Mixing clowning and physical theatre, WOMANz is a warm, sexually confident comedy-dance show praised for its endearing energy – and now it's back for second helpings in Edinburgh. WOMANz: Jou're Welcome, Gilded Balloon, 18:45
5. Spencer Jones
Following his experiences at Ecole Gaulier, Dr Brown – or Phil Burgers to give him his real name – started teaching clowning himself. Spencer Jones, who performs as the endearing man-child The Herbert, is a student of Burgers rather than Gaulier himself, but the influence is very clear. Combining surreal gags with assured physical comedy and daft prop humour, Jones was one of the underground hits of last year's festival, setting expectations high for his return. Heroes @ The Hive, 21:00
6. Helen Duff
Lamda and Gaulier graduate Helen Duff has two shows at this year's Fringe: Smasher, described as a mix of 'storytelling, synchronised swimming and subversively simple songs' at Laughing Horse @ The Free Sisters at 15:15; and the theatre show Vanity Bites Back, a peculiar cookery demonstration that goes strangely off the rails at the Gilded Balloon (12:15 from August 16)
7. Plague of Idiots
A multinational battalion of trained clowns from France, Italy, England and Australia present an hour of family-friendly stupidity. Gilded Balloon, 19:30
8. Mawaan Rizwan
Mawaan Rizwan has accumulated over 20 million views on YouTube, mainly based on Buzzfeed-style lists such as 'top 45 ghetto British names' and 'Sh*t Pakistani dads say'. But he's better known to younger people as a regular on CBBC's spoof news show DNN (Definitely Not Newsround). FLUU is his debut live show, about the downside of his online 'stardom'. Pleasance Courtyard, 00:00
9. Safe Eyed Coalminers
George Colebrook and Joe Boylan – or Jojo Calypso and Gorgee to use their stage names – promise a 'land of pure idiocy' for their PG-rated show at Laughing Horse @ Espionage at 14:00. And surely no sketch group has a more stupid, meaningless name.
10. Paris Communal Shower
I take that back. Laughing Horse @ The Free Sisters, 21:30
• 10 Australians heading to the Fringe.
Published: 23 Jul 2015