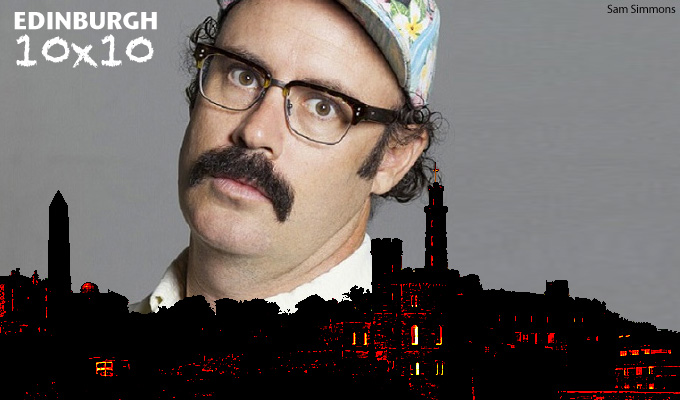 3. Aussie! Aussie! Aussie!
1. Sam Simmons: Spaghetti For Breakfast
Sam Simmons was the winner of the top award, the Barry, at this year's Melbourne International Comedy Festival – and with good reason. This show is the committed absurdist's best show yet, with tight writing packing in zany jokes, which serve a weightier purpose, too. Expect Simmons to such in the critics' stars like a black hole this Edinburgh. Read our review from Melbourne here. Underbelly Potterow, 21:00
2. Joel Creasey: The Hurricane
Joel Creasey's star is definitely on the rise down under – especially following a stint in the jungle as part of the local version of I'm A Celebrity… Get Me Out Of Here. Tales from the reality show, other starry encounters and trips to Hollywood form the backbone of this high-octane show – but don't think it's going to be indulgent showbiz twaddle. Crease's a wonderful storyteller and comes across as vulnerable and out-of-his depth in all his witty tales. Read our review from Melbourne here. Assembly Roxy, 20:15
We couldn't exclude Hillsy from any round-up of the best antipodean talent, even if he barely needs help selling out his limited run on the back of the overdue success he's found with The Last Leg in recent years. When we saw this show in Melbourne, Hills mixed masterful crowd work with hot-off-the presses local politics about the unpleasant Australia First movement. Assembly Hall 19:30, August 22-30 (not 28) only.
4. Corey White: The Cane Toad Effect
Odds are that almost no one in Edinburgh knows what the Cane Toad Effect is (the law of unintended consequences, basically) – but ignore the ill-judged title and you'll find an astonishing autobiographical story of triumph over adversity, told with charm, verve and wit. It made him a shoo-in for best newcomer at the Melbourne International Comedy Fest – and we reviewed him here. Assembly Hall, 20:20
Another Melbourne favourite; Malysian-Australian Ronny Chieng shared the newcomer award with Matt Okine just three years ago, and this year could fill the festival's biggest venues. His ultra-ironic shtick is that he's the most arrogant asshole in the room, and that anyone who struggles through life is just an idiot. Certainly the people of Australia can't get enough of that withering abuse. Underbelly, Cowgate 19:20
6. Aunty Donna
Almost exhausting to watch, this three-man sketch team have more energy than a Duracell bunny mainlining Red Bull. There's noise, bluster, choreographed dance moves, exaggerated physical comedy, pacy dialogue, all tumbling out at an impressive lick. With such a vibrant performance they may well all be dead by the end of three-and-a-half weeks. Read our review from Melbourne here. Gilded Balloon, 22:00
If you haven't heard Burns's blistering state-of-the-industry address yet, stop reading now and go here. Expect similar impassioned iconoclasm as the experienced bullshit-slayer and Edinburgh favourite performs his second year of free shows. Liquid Room Annexe, 18:15
8. Tom Ballard
Since starting stand-up at the age of just 14, Tom Ballard's had a fast-rising career down under, with his easy charm propelling him through the lucrative ranks of breakfast radio. He recently quit his broadcasting career to concentrate on his stand-up, and Taxis & Rainbows & Hatred marks his Edinburgh debut. Assembly George Square, 21:15
9. Rhys Nicholson
A dapper degenerate, Rhys Nicholson's comedy mixes confessional first-hand anecdotes of awkward sexual encounters with cutting sarcasm. Underbelly George Square, 20:20
The London-based Aussie won the Piece Of Wood 'comedians' comedian' award at Melbourne last year, thanks to her 1980s-set storytelling show Touchdown. This is a follow-up, of sorts, another full-length yarn, this time revolving around an ill-fated pool party in 1989. Assembly George Square, 18:45
• 10 circuit stalwarts at Edinburgh.
Published: 22 Jul 2015
What do you think?