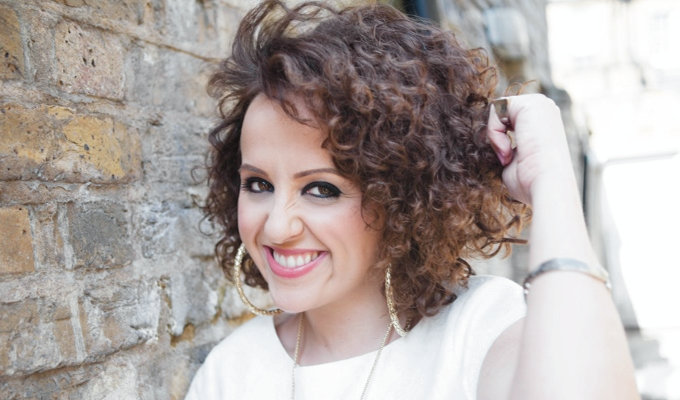 Winning poms
The world's second biggest comedy festival after Edinburgh kicks off in Melbourne today. And in a spirit of patriotism, here is a top ten of Brits flying the flag for the next three-and-a-bit weeks – all worth checking out.
1. Luisa Omielan: What Would Beyonce Do?
Beyonce's not just the inspiration for her show, but for the sassy Omielan's entire approach to comedy and life. Feminism's a hot topic at the moment, and while Omielan embraces it, any political or social edge plays a very distant second fiddle for her wholehearted embrace of its message of being who you are and doing what you want unconstrained by other people's perceptions. A youthful breath of fresh air, tinged with a rich fragrance of self-empowerment, this powerhouse of a show is for all the single ladies – and a much wider audience beyond.
PERFECT IF YOU LIKE: To par-tay.
Swiss Club, 9.30pm
The world premiere, save for a few work-in-progress gigs back in London, of Daniel Kitson's new play – a typically ambitious work that contains 20 characters. But rather than working with troublesome live actors, the romantic storyteller has recorded all the parts on separate tapes 'their fallibility erased with editing and their odious need for attention mitigated by the lack of audience'. All he needs do now is make sure 'play' is pressed at the right time. This is all we know of the work so far, but Kitson's track record is unassailable.
PERFECT IF YOU LIKE: Art, emotion, humanity, wit
Northcote Arts Centre, 6.30pm
The first comedian to win the Edinburgh comedy best newcomer award one year, then the main accolade the next, Kearns cuts an odd figure with his ill-fitting comedy teeth and semi-bald wig. But there's a truth behind his weirdness, as he confesses how strange it is that this could possibly be a viable career – having given up a job as a tour guide at the Houses Of Parliament for this. A curious concoction of poignancy, surrealism and delightfully detailed descriptions, this is a peculiar treat.
PERFECT IF YOU LIKE: Not quite knowing what's going to happen next.
Victoria Hotel, 8.30pm.
Batiste was nominated for best newcomer nominated at last year's Edinburgh Comedy Awards (the first black Briton to achieve that honour) and this month's Chortle Awards for this assured solo debut. Slick, without all the interesting edges smoothed off him, this classy act has a well-tuned comic radar, an authentic, confident style and a keen ear for the anecdote. A safe bet for laughs, without being TOO safe.
Greek Centre, 9.30pm
PERFECT IF YOU LIKE: Matt Okine
5. Joke Thieves
Not an act, but an intriguing format. The night is split into two halves… in the first comedians perform their own sets as per usual. But they've been paired up, and in the second they must perform the routine of their partner as best – or as mockingly – as they can. You can get very deconstructionist about what this says about comedian and material performing in concert - or just enjoy the playfulness of Will Mars's bright idea.
PERFECT IF YOU LIKE: Your comedy club night shaken up a bit…
The Joint, 7.15pm
Ancaster has been nominated for the Foster's Edinburgh Comedy Award for the past three years on the bounce… but the fact that he's never won it probably suits his never-quite-fitting-in status. This new show is likely to be as quirky, carefully written and distinctive as his previous whimsies, and delivered in the same hesitant, awkward manner.
PERFECT IF YOU LIKE: Hannah Gadsby, Mark Watson, Tim Key
Melbourne Town Hall, 8pm
If you're a Mighty Boosh fan you won't need telling twice to go and see in Fielding's three-night visit, but even newcomers to his psychedelic blend of comedy will find much to enjoy, Fielding is uniquely skilled at creating his own world, but doesn't use lazy surrealism as a substitute for real jokes. Plus this imp could charm the birds from the trees…
PERFECT IF YOU LIKE: Wild creativity
Arts Centre, 8pm, April 15, 16 and 19 only.
8. Milton Jones And The Temple Of Daft
The king of the one-liners – and the garish shirt – takes puns to a new level: not mere wordplay but, at his best, imaginative juxtapositions of thoughts and ideas packaged into short bursts of highly distilled comic joy. He is the espresso machine of gags, serving one small, rich measure after another…
PERFECT IF YOU LIKE: Jokes
Melbourne Town Hall, 8.15pm
Watson is no stranger to Melbourne, though this is his first visit in a couple of years – and he's back with probably his most personal show yet. It covers a crisis of confidence over his comedy and off-stage being driven to the edge of a nervous breakdown. The show fuzzes the divide between comic rage at everyday frustrations and having a real problem. Watson's loose delivery and affable, low-status style always entertain, while the hints of a darker undertow add depth. Watson is also hosting four of his Comedywealth Games, featuring 'sports' never likely to trouble the Olympics Committee, at the Forum Theatre at 10.45pm on April 3, 4, 10 and 11.
PERFECT IF YOU LIKE: Being entertained by a man's mental fragility.
ACMI, 8.15pm
10. Sarah Pascoe vs History
A smart amalgam of biology, sociology and feminism, forged through her own experiences of sexism and sexuality – which admittedly all sounds a bit weighty. But the honesty is engaging, and the discourse served with a generous accompaniment of quirky wit and disarming self-deprecation.
PERFECT IF YOU LIKE: Learning as you're laughing
Melbourne Town Hall, 8.30pm
Also look out for room-splitting weirdos Paul Foot and Ben Target; festival stalwart Stephen K Amos making his annual visit; inventive ventriloquist and former Barry Award champion Nina Conti; sardonic low-key superiority from Phil Wang; and accomplished conversational stand-up from Gordon Southern, among many more.
• For more, visit the Melbourne International Comedy Festival website. Most shows start an hour earlier on Sundays. Except Kitson, he starts an hour later. Contrary bugger.
Published: 25 Mar 2015
What do you think?