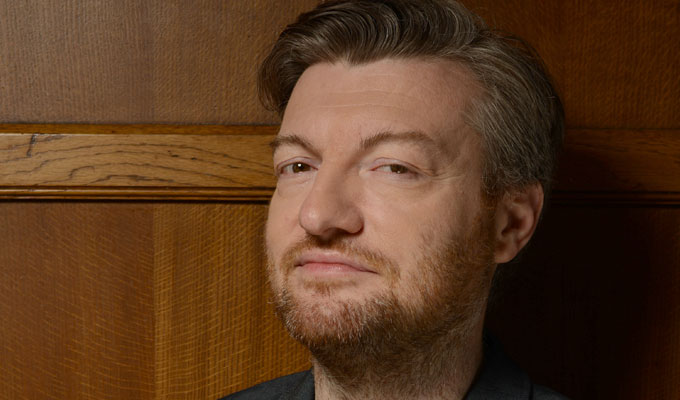 It's bleak... but not as bleak as EastEnders
The feature-length Black Mirror: White Christmas special is possibly the bleakest thing ever made for Channel 4's comedy department.
Essentially three dystopian stories in one, the compelling programme – seen by Chortle at its first screening outside the edit suite last night – paints a bleak picture of the consequences of taking technological advances such as Google Glass or the Amazon Echo to its awful conclusions.
We were all sworn not to reveal spoilers, but the set-up concerns two men, played by Rafe Spall and Mad Men's Jon Hamm, holed up in a suitably desolate arctic shack, where they start sharing their dark secrets over a Christmas lunch, about the only festive thing in the entire 90 minutes.
The stories are troubling, daring and absolutely gripping, with their intriguing premises and unexpected plot twists. There is a seam of humour, but it is positively jet-black, a far second to the less amusing consequences of the 'what if' scenarios thrown up by the fast-moving digital world.
Topical issues such as Western entitlement, sleazy pick-up artists and a more sinister version of 'blocking' on social media are covered in his satire, bang on the zeitgeist. Blocking in his world renders the offender as a blob of white noise, unable to see or interact with you, effectively putting them into limbo.
After the screening, Charlie Brooker called the dark anthology, perhaps optimistically, a 'selection pack', later trilling: 'It's a Christmas jamboree!
'I use the word jamboree flippantly there,' he adds.
But while he accepts the film is 'maybe not the most festive thing imaginable', he jokes: 'There's nothing in it as bleak as whatever the fuck EastEnders are going to do.'
When quizzed about his inspiration, he says bluntly: 'I think of the worst thing that can happen, and I write it down' – but he clearly has anxieties about where technology can take us, evolving as it does faster than humans ability to know what to do with it. There are certainly tones of Aldous Huxley in the way he imagines the near-future. 'It's not an anti-tech show, but it is a worried show,' he says.
'I'm not a glass half-empty sort of person, I'm a "who's going to pick up that glass and smash it in my fucking face" sort of person.'
'As we move into wearable tech, Google Glass is going to morph into something you put in your eyes or your brain and have the ability to manipulate what we see,' says Brooker, joking: 'Hopefully that's at least six months off.'
Yet he plays down any moral issues in his scripts: 'When I'm asked what any of these Black Mirror shows are about I often can't say. I'm often just reacting to something and just praying it entertains at the other end.'
Brooker says it took 'not a massive amount of time to write, because there are three stories and a framing device, it came out relatively smoothly, then there was a lot of chiropracty, cracking things into shape and taking things out occasionally.'
He admits he took out some details on one story as it was 'too horrible… too unpleasant' – even though the conclusion is perhaps one of the most grim payoffs imaginable.
But he says that in making his script real, as opposed to some 'weird dream you're having', he sympathises with the actors he puts through the mill.'I feel guilty about putting people though that; the intensity and drama of it all,' he admits. 'It's a really weird feeling to have put someone though that.
Hamm said he was drawn to the script from page one because it was 'unlike anything I've ever read or seen - and I've seen the other episodes of Black Mirror. It was a very easy thing to say yes to not only because of the people involved because you don't get the opportunity to be involved in something so unique original and interesting.'
And when his wife read the script, 'She came back in, blanched. "Jesus, that's a little dark." Merry Christmas!'
Yet Spall says laughing in the face of tragedy is part of life. 'We all laugh at funerals,' he says, eliciting laugh himself. 'Anything that is overly serious in a self-conscious way, that kills me. No matter how serious the subject matter is you should be able to get laughs out of it.'
Related: Rafe Spall on the Black Mirror Christmas special.
• Black Mirrors airs on Channel 4 at 9pm on December 16.
Published: 12 Dec 2014
What do you think?