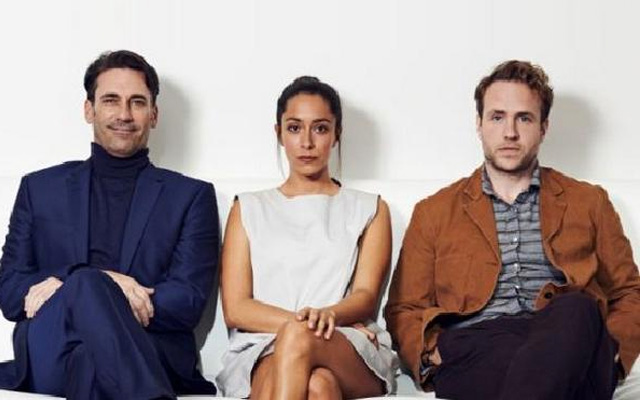 'It's original and mind-blowing'
In this Q&A, Rafe Spall gives some clues as to what to expect about December's one-off Black Mirror special Charlie Brooker has written for Channel 4...
You star in the feature-length Black Mirror Christmas special. It's all fairly under wraps, but is there anything you can tell us about it?
Yes. Along the lines of other Black Mirrors, it exists in some imagined idea of the not-too-distant future. There are two guys in an outpost in the middle of nowhere, in the Arctic, telling their stories about how they got there. Those two guys are played by Jon Hamm and me.
I thought the script was a phenomenon, I couldn't believe it. It was extraordinarily detailed and original and mind-blowing, and I had no hesitation in saying I wanted to do it. I can't wait to see how it turns out.
So some of it's set in the Arctic, but does it have more explicitly Christmas theme at all?
Yeah, absolutely. It's not a ghost story, but I think Charlie was inspired to write it by the idea of "spooky Christmases". He grew up with Christmas ghost stories, A Christmas Carol and things like that. There is a definite Christmas theme, some of it is set at Christmas, and I think, when you see it, you'll realise what it has to do with Christmas.
What was it like working with Jon Hamm?
I'm a huge fan of his, I think he's a tremendous actor. Not just his work in Mad Men, but also in some of the comedy films he's done as well, like Bridesmaids and Friends with Kids.
Oona Chaplin is in it as well. Did you stories overlap at all, or did you not get to act with her?
No, our stories are completely separate. Jon is the only one who's in all three parts of the story.
Had you ever seen Black Mirror before?
Honestly, no! I'd auditioned for one, and I didn't get it. But funnily enough, it wasn't one that Charlie had written, it was the one by Jesse Armstrong. So I knew the sort of tone of Black Mirror already.
What was it about the script that really excited you?
It was just wholly original, and how often can you say that about any piece of screenwriting? It was strange, funny, human and moving, and absolutely, totally original.
You mention it's funny. Some if the Black Mirrors have a vein of comedy running through them, but others are pretty much just dark all the way through. This is one of the former, then?
Oh sure it is; It comes through the Channel 4 comedy department. But it's definitely very dark, there's lots of emotional stuff in it as well. It takes you to all sorts of depths. But I think anything worth its weight has got some humour in it, no matter how serious it is.
Black Mirror often seems like a cautionary tale about the direction our society could take. Do you feel that's the case here?
I think you'd have to ask Charlie about that, really. I'm not sure it's my place to talk about whether things are cautionary or not. I don't know what he intended, you know? All I can do is go about trying to play a human being, in anything that I do. So the idea of it being a cautionary tale – if that's Charlie's objective then great, so be it, but it's separate from what I do.
• The Black Mirror Christmas special, starring Jon Hamm, Rafe Spall and Oona Chaplin airs on Channel 4 mid-December. Interview material provided by Channel 4
Published: 17 Nov 2014
What do you think?