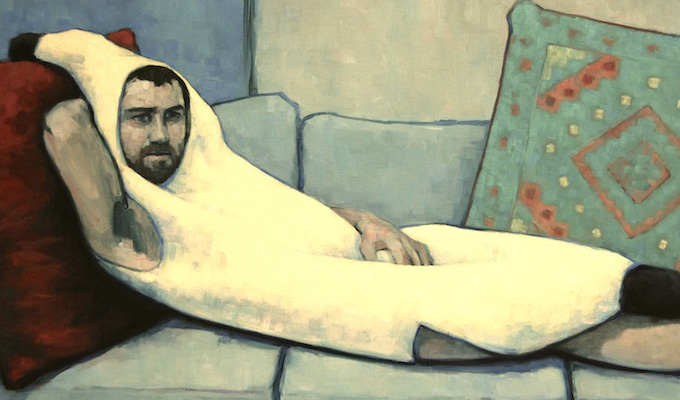 Study the art of comedy
Portraits of comedians have gone on display at a Welsh gallery.
The paintings in are the work of Carl Chapple, who has been working on capturing stand-ups in his South Wales studio for the past two years.
His subjects have included Joe Lycett, Glenn Wool, Lloyd Langford (above, inspired by Giorgione's Sleeping Venus), Holly Burn, Nat Luurtsema, Mike Wozniak, Tim Key, Rhod Gilbert and Paul Foot. 
Chapple said: 'Paintings were made from life, often with sitters coming to my studio in Barry as they passed through Cardiff with touring shows – although a few were made in Edinburgh during last year's festival.
'A previous exhibition opened at The Museum of Modern Art Cymru, Machynlleth, over the weekend of the 2014 Machynlleth Comedy Festival, who have supported the project from the beginning. One of the paintings - a large portrait of David Trent - was purchased by the gallery for its permanent collection.
'Working with comedians has been hugely interesting and I plan to continue this aspect of my work.'
The new, free, exhibition, Portraits of Performers, is on at the Penarth Pier Pavilion, just outside Cardiff, and runs until July 12.
Published: 16 Jun 2014
What do you think?