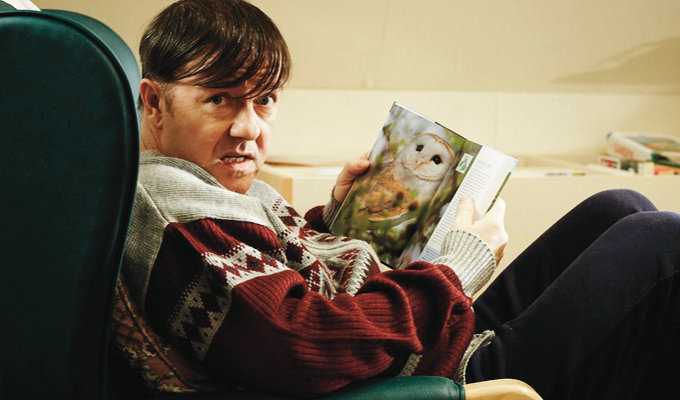 'He reminds me of being eight, before I worried about what was cool'
Somewhere between David Brent and Derke Noakes – around Andy Milman time – Ricky Gervais started to make the jump from cynicism and irony to kindness and honesty. It's a jump that not all fans of The Office have found easy to make.
As Derek returns for a second series, Gervais acknowledges that he was 'responsible for a lot of the current cynicism in comedy', and though his latest – and most controversial – creation didn't represent a Damascene conversion, it was about 'saying that you like something' without irony or fear of repercussion.
'I've always written about the blind spot,' he says. 'David Brent was dangerously lacking in self-awareness, Andy Milman was plagued with it. Derek is unburdened by peer pressure and so this isn't an issue for him. He's childlike and reminds me of being eight, before I was worried about what was cool.'
Gervais says that he never saw the Johnny Vegas rant at last year's British Comedy Awards, which slighted The Office for victim comedy, but one wonders if his best riposte wouldn't have been: 'Have you seen Derek?'
'Derek is about a group of outsiders thrown together, making the best of things,' Gervais explains. 'If there is a theme it would be kindness,'
Though Derek lacks jokes that have the savage 'undercut' Gervais knew his viewers were anticipating, he says it is still a 'fairytale with a little bit of vinegar'.
Much of this balancing sourness is provided in series two by new employee Geoff (Colin Hoult). Geoff effectively takes over from Dougie (Karl Pilkington) after he quits at the end of the first episode, and he brings a sinister malevolence to the job.
Gervais calls Geoff the 'tooth decay' of the piece with the outside world being 'an irritant' for Broad Hill's protected haven, for which Hannah (Kerry Godliman) is the presiding angel.
Also providing a bad taste, if not vinegar, is the lascivious Kev (David Earl), of course. As the astute Holli Dempsey, who plays Vicky, says: 'You can practically smell him through the telly!' Kev's constant lechery and innuendo comes to a head in episode three, and the very fact I made that 'comes to a head' innuendo proves Gervais' point that: 'Men never grow up, the still fnar and snigger. We play until it is bullied out of us.'
Broad Hill is a playground, to some extent: for Derek to indulge his various platonic loves - animals and Hannah, and for Kev to let out his salacious humour (gallows humour when it comes down to it). Because of the playful nature of the piece Gervais feels that any resonances for real issues – the state of care homes, the treatment of old people, alcoholism etc – are almost coincidental, certainly not intentional.
'There is a meta level that is me saying how ridiculous it is to be able to do this [write comedy] for a living, but I didn't do it to change the world. I do want people to react to it though - whether that is laugh, cry or get angry.
'My English teacher told me at 14 to write about what what I knew and I have. I worked in an office for ten years, I got famous, I have lots of relatives who work in care homes.'
What Gervais did not want to do was blur the lines between these influences: 'I wanted to get back to ordinary people. The initial character of Derek was someone who wanted to be famous. Fame has always fascinated me but I got re-addicted to normal people. I even toned town Kev's autograph-hunting because I thought I had done celebrity enough.'
Having returned to a sense of 'normality', Gervais still had to achieve a naturalist feel and co-stars Kerry Godliman and Holli Dempsey threw some light on how that was done.
'There has been improvisations since the beginning" says Dempsey. 'You have to stick to a linear patterns sometimes, but there is always room for manoeuvre.'
'Because of the documentary style it is important to add your own phrases and timing beats,' adds Godliman. 'You can't keep to the script all the way through.'
As Hannah, Godliman, currently in tour with her own stand-up show, is arguably the star of the show, holding Broad Hill together and having the pivotal narrative role with the documentary team.
Asked what it was like to be thrust into the spotlight with the role, she says: 'It's nice to play someone so loved for her kindness and compassion and get mistaken for someone with those qualities!'
Perhaps the cast underestimate their good deeds. 'People do tell me on Twitter that they have called their nan after seeing an episode,' says Gervais, 'and that they have started volunteering. It's good that it affects people.'
– by Julian Hall
• Derek returns to Channel 4 at 10pm on Wednesday April 23.
Published: 15 Apr 2014
Recent Features
What do you think?