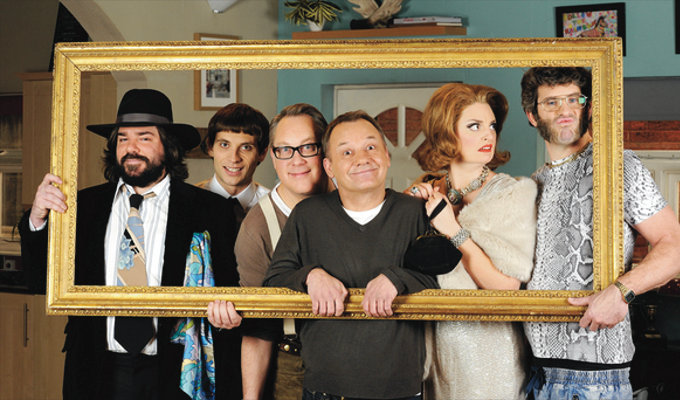 The year of the comeback...
January
In one of the more unexpected comebacks, Birds Of A Feather returns with Linda Robson, Pauline Quirke and Lesley Joseph  jumping ship from the BBC to ITV – apparently because Corporation bosses wouldn't commit to a full series. Were they wise to pass, or have they let a great opportunity slip through their fingers? We find out tomorrow....
The BBC did, however, commit to a new series from Vic Reeves and Bob Mortimer, in the hope that House Of Fools will do for the sitcom what Shooting Stars did for the game show. Set in Bob Mortimer's home, the show features stand-up Daniel Simonsen as Bob's Norwegian son; Morgana Robinson as a fantasist neighbour; Matt Berry as a woman-obsessed lothario; and Dan Skinner (the man behind Angelos Epithimiou) as a Geordie ex-con. It starts on BBC Two on January 14.
February
Miranda Hart has set the bar high for herself, with her first tour going straight into arenas. She's conquered TV, but has it all to prove as a live performer. Her idiosyncratically titled 'My, What I Like To Call, Live Show' kicks off in Bournemouth on February 28, and runs until April, with an extension in October. Meanwhile, Russell Howard starts his Wonderbox tour – an international affair that also includes dates in the US and Australia –  in Bournemouth.
It's Dave's Leicester Comedy Festival this month, too, with 522 events over 17 days. Headliners included Russell Kane, Sean Hughes, Tony Law, Richard Herring, while special events include a pun competition, Silver Stand-ups for comics over 55 and its now-traditional Comedy In The Dark.
March
Improving as a comic as he fully embraces his poshness, Jack Whitehall attempts something different with the arena space, performing his new stand-up tour in the round. It means the audience are a bit closer, in these soulless hangars, but will it make enough of a difference? The tour starts in March.
It's the Glasgow International Comedy Festival, of course, with highlights including Omid Djalili, Miles Jupp, Shappi Khorsandi and Simon Evans.
Author Jon Ronson starts his tour paying tribute to Frank Sidebottom, in whose band he used to pay tribute. A fictionalised movie about those days, co-written by Ronson  and starring Michael Fassbender, and Maggie Gyllenhaal, opens in May... but during the build-up Ronson will be revealing the true, bizarre stories with a series of live gigs and an eBook.
May
Comedian Francesca Martinez's book, What The **** Is Normal?, based on her Edinburgh and tour show of the same name, is published.  The basic premise of the live shows was that while she has cerebral palsy, everyone has things they can and can't do...
June
Still in the world of publishing, Dave Gorman releases his new book Too Much Information – ostensibly about all the distracting noise from Twitter and elsewhere on the internet that might be informative and entertaining, but is a real barrier to actually getting things done. Preorder here. It'll also tie in with his tour Dave Gorman Gets Straight To The Point* (*The Powerpoint),  which kicks off in Winchester on October 3.
July
No contest for the gigs of the year... the Monty Python reunions at the O2 Arena in London. The first gig sold out in a suspiciously precise 43.5 seconds, but there can be no overestimating the demand to see John Cleese, Michael Palin, Eric Idle, Terry Jones and Terry Gilliam back on stage again. Old has-beens trotting through tired old material to bores who think quoting Python is the height of wit – or a genuinely great show? We'll know in seven months.
August
Outside of the Edinburgh Fringe, of course... Lee Evans isn't always the critics' cup of tea, but his tours are always phenomenally successful, despite being under that particular radar. This year's juggernaut, Monster, kicks off in Bournemouth in August.
September
The second big comeback of the year sees Ford Kiernan and Greg Hemphill, putting their well-publicised differences aside to return Still Game back to its stage roots. But while it started as a modest play at the 1997 Edinburgh Fringe... now they've got an incredible 21 dates at Glasgow's Hydro in September and October.
Lee Mack is also back on tour with a new stand-up show Hit The Road Mack (it's a surprise he hasn't used that title that before) kicking off in
Stoke; while Ross Noble also takes to the road with the delightfully named Tangentleman, which starts in Inverness.
October
John Bishop took 18 months of stand-up to write his autobiography, and now makes his comeback with the Supersonic tour, starting on October 22. Although it doesn't seem like quite so much time was spent on writing the publicity blurb doe the show, which advises: 'Get ready for a comic boom of guffaws' alongside other painful jet-related wordplay.
Meanwhile, Joan Rivers mocks her own mortality with the title of her UK tour that kicks off this month: Quick...Before They Close The Lid (Seriously...this one could be IT!)
Dates to be confirmed
Peter Kay makes a double return to TV this year; first with Car Share, the BBC sitcom he stars in and directs – but didn't write. He plays John, one of two supermarket employees thrown together as they share their commute to work. Notably, the series will premiere on iPlayer before broadcast. Kay has also created the Channel 4 special, Malachy's Millions, based on a Secret Millionaire-type premise, which will be filmed and broadcast this year.
Peep Show and Fresh Meat creators Jesse Armstrong and Sam Bain unveil their latest project, Babylon, a police-based comedy drama directed by no less than Danny Boyle and starring James Nesbitt as Chief Constable Richard Miller. It's due to come to Channel 4 in 'early 2014'. Sticking with the police, Channel 4 is also airing No Offence, from Shameless creator Paul Abbot, about  a group of bobbies on the front line based in a crumbling Victorian cop shop on the wrong side of Manchester.
Matt Lucas launches his first solo narrative series – and a physical comedy one to boot. Pompidou will introduce a new set of characters, including the aristocratic Mr Pompidou, and feature a number of guest stars to boot.
Among the pilots being filmed in 2014 are Catastrophe, written by and starring 'Twitter comic' Rob Delaney and Pulling's Sharon Horgan. The Channel 4 show is a single camera comedy about an Irish woman and an American man who 'make a bloody mess as they struggle to fall in love in London'. Meanwhile David Baddiel makes his attempt at a 21st century family sitcom, incorporating the all-pervading influence of the internet on family life, in Sit.com.
Look out, too, for the return of plenty of favourites. The second series of The Trip, which Steve Coogan and Rob Brydon shot in Italy, previews in its feature-film version at Sundance in January, ahead of a BBC Two outing. There's a second series of Greg Davies's excellent Channel 4 sitcom  Man Down, as well as new seasons for  The Midnight Beast, Friday Night Dinner, Derek, Cardinal Burns, The Mimic, Toast Of London and Noel Fielding's Luxury Comedy – all for Channel 4.
• See our On Tour page for a more comprehensive list of who's on tour in 2014, plus dates of all the live shows mentioned above.
Published: 1 Jan 2014
What do you think?