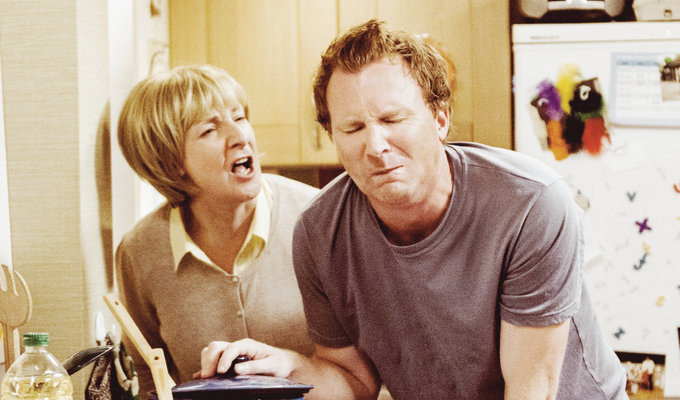 'Whenever I do a stunt, it's just Frank Spencer'
He's known as a master of live comedy, spinning spontaneous nonsense from the most innocuous audience interactions – but Jason Byrne is a huge fan of sitcoms, and has now been given the chance to prove himself with his own.
Father Figure is a big BBC One show, going out in the post-watershed 10.35pm slot that did wonders for Mrs Brown's Boys, whatever the critics thought. In it, Byrne plays a stay-at-home dad, enthusiastically trying to be a good parent, but with schemes that invariably descend into chaos.
And he says that the show contains elements of all those sitcoms that he's devoured over the decades. 'This sitcom, in my head, has a couple of elements,' he says. 'And one of them is that it's every sitcom you've ever seen, from the Seventies all the way up until now. I watch them all, so it's all in my head; you might even see elements of stuff. Like I do a bit of my own stunts, so there is a bit of Frank Spencer in there. Whenever I do a stunt, it's just Frank Spencer, there's no way around it.'
The second element, he says, is the 'good, core family base' which ensures that all the ensemble cast (which includes Karen Taylor as his wife and Father Ted's Pauline McLynn as his 'mad' Irish mammy) get their share of funny lines.
'A lot of comics when they do sitcoms, they sit in the middle and they'll take all the gags,' he says. 'But the way I do my stand-up is I tell stories about everybody around me and that's what's happening in this as well – everybody is as funny as each other. So it's not just me going "say something to me and I'll say seven gags."
'We always start out in the sitcom with a small task, and it just escalates. We're all a bit like Scooby Doo because I could start with something on my own, and by the end we're all in it together.'
He says both writing and starring in the show was 'exhausting' because 'there are a lot of questions that people are asking you, then you have to rewrite stuff, and you have to learn your own lines and get into your own character.'
And he says he can get too distracted listening to how the other actors interpret his lines, to the chagrin of director Nick Wood, who previously worked on Lee Mack's Not Going Out.
My director will go, "Will you stop listening to the lines",' Byrne admits. 'But I definitely have an appetite for it now.'
And he said that despite the late timeslot, he planned a family sitcom that would appeal over the generations. 'It won't be too surreal or too normal,' he said. '[As viewers] Mammy and Daddy like the quite normal ones, but the kids don't like that. The kids like a little sprinkle of madness, so this should have something for everybody.
'I hope people will watch it and go, "My god they made a lot of effort with that; a lot of stuff goes on in it".'
• Here's a clip from episode one, which airs on BBC One at 10.35pm next Wednesday (September 18).
Published: 12 Sep 2013
What do you think?