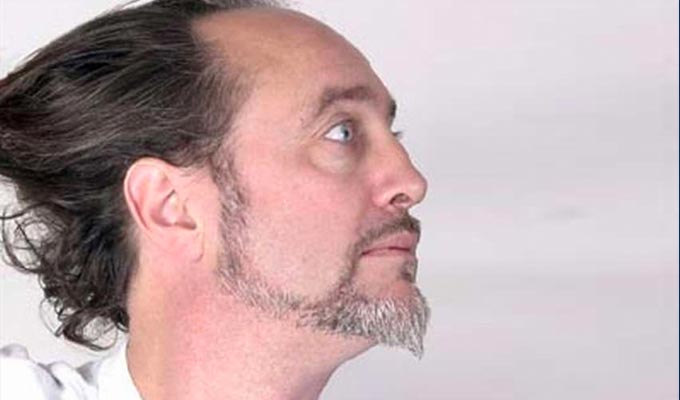 'Shit, fan; fan, shit... let's see what happens'
To remember the fearlessness of Ian Cognito, who died on stage last night, here's an extract from his 2003 memoirs A Comedian's Tale, which was republished two years ago to mark his return to the Edinburgh Fringe,...
---
I made my way towards the stage, dressed in an impressive, voluminous black raincoat. Once the applause had died down, a silence descended as I looked around quizzically.
With a look of exasperation I took from my pocket a Bosch cordless drill and set it to work on a patch of wall that I had noted earlier for its clear sight-lines. The brick dust and plaster dribbled out and made a small cone on the floor.
Above the 'raaaaaaaaar' of the drill a laugh was starting up from the crowd. I then searched my pockets until I found a rawl plug, which I placed in the hole I had just made and then screwed in a stainless steel hook. Then, I hung my coat up.
By now the laughter was a rolling wave and I waited for it to die down.
'There's fucking never anywhere to hang your coat on these stages,' I said, somewhat superfluously.
The whole thing had taken less than a minute.
The council workers responsible for the running of Cheltenham Town Hall went, well, wobbly is the only way to describe it. It was too late to do anything about it but a couple of them were shifting their weight from foot to foot. The main man had to wait until the interval before he could get onto the stage and survey the damage, which was, as you'd expect, a size eight bit hole in the wall.
The next week, they pointedly put up screens at the back of the stage.
That it worked like a dream was partly due to the fact that I'd rehearsed it at the expense of a smaller gig in South London: a shithole of a pub in Streatham called The Golden Lion.
The landlord had wanted a word with me: 'Good job you were funny.' He fixed me with a steady look then slapped me… on the back. 'Cos you were fucking funny. Want a Guinness?'
I'd do anything for a laugh. I was compering a few gigs regularly by now and was having to churn out fifteen minutes of new material every week. Sometimes I went beyond the call of duty. Cheltenham was on the Monday so it was the gig that usually got it first.
I juggled with bottles, which was dangerous; I poured engine oil down my pants, which wasn't. Often it would simply be a new song but I had a mind-set that always opened the show with some gasper or other.
I had fashioned a turd out of papier mache and with the application of three different browns and a yellow poster paint it looked very realistic. I would keep it in a carrier bag and remove it using a plastic glove bought from the chemist.
'I think you'll agree that's a fairly realistic impression of Vic Reeves.'
But I wasn't finished yet. From my trolley I took out a powerful second-hand table-top fan. Then, after turning it on, I addressed the audience: 'Shit fan; fan shit. Let's see what happens shall we?'
The first time it had gone off beautifully, with a 'thrrrap' and then fuck knows where it went. The turd disintegrated. Other times it just stuck in a lump on one of the blades with the fan being brought to a complaining stop.
I was stupid and, in retrospect, lucky with these stunts. I'm thinking in particular of juggling bottles over the front row and setting fire to my pubes. Others may have been ill-advised but needed to be done.
I had bought back some seeds from Amsterdam. Ten for £30. I remember at the time thinking: '£3 each; thieving Dutch bastards.' But my word, I was awash in the stuff. These were amazing. If I'd have climbed them, there would have been a giant living at the top. I just threw them in the garden, in the right place of course (there is a permanent police presence in the skies above Walthamstow) and voila! I'd packed all the buds into bog roll tubes, boiled the stems, and spiked a party drink with the juice. I was still left with the problem of what to do with all the leaves.
As part of my ongoing commitment toward the legalisation of drugs, I would turn up at gigs with a bin bag full of the plant substrate and throw the cheap but genuine grass out into the audience.
'Tell me that's not real,' said Malcolm Hardee, surveying a surprisingly sad quantity of plants that had been trodden into the carpet. It would appear that much of the audience doubted it too. They could have checked with the policewoman I gave it to.
I had kept back a few prize buds, just to prove to my few mates what monsters these plants had been. Some were the length of your hand. There was a party in at Cheltenham Theatre (the town hall was out of action. Nothing to do with me) and I dug them out. 'Whose birthday is it here, then?'
'Hers.' They grassed her up.
'So what do you do, then? Are these workmates?'
'You could say that. I'm a copper.' The audience hissed.
'Fuck off, you lot. They're here having a good time with the rest of us. Some of them are almost human.'
I continued: 'Police constable, on behalf of all the people here tonight I'm going to give you a little present.' I ran quickly to the dressing room and reappeared with a beauteous bud.
'Now, you lot, all back to her place and have a party.' They knew what it was; they just didn't know what to do. Still, the Old Bill ought to know what it's like to be put in a difficult position.
They took the joke. Fair play to them.
I was always pushing the envelope. I regret the dangerous ones and tried not to be too shocking (because that is easy to do). If I did shock, there was always a reason for what I did, even if it was taking my knob out. I was building a contradictory reputation as a dodgement and a great compere. If I was booked, the promoter could no longer plead ignorance. I was sometimes stepping over the line, if not during the show, then afterwards. In fact, I was getting away with murder. Good job I was funny.
• Ian Cognito: A Comedian's Tale is available as an ebook here for £5.81
Published: 12 Apr 2019
What do you think?