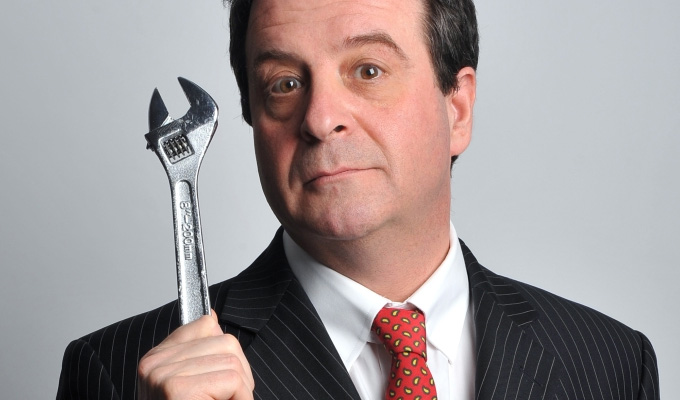 3. A little bit of politics
Ten political shows on the Fringe:
After a show exploring his relationship with his opera-loving father, Mark Thomas goes back to what he does best: causing trouble. This is show about challenging things we've all come to accept – from tax-dodging corporations to overzealous police – either with a small silly gesture or a grand confrontation; and as usual, the most effective weapon in his arsenal is wit. The Stand 3, 19:30
2. Chris Coltrane
Very much picking up Thomas's baton is political campaigner, Chris Coltrane, who is presenting his second hour of dispatches from the frontline of activism. His theme for this free show is that kindness has been taken out of the political landscape, and now has become a radical act. 'If you love the NHS, libraries, feminism and fighting bad guys, then this is the show for you,' he says. Globe, 15:30
Talking about feminism, it's an area Christie has pretty much made her own – possibly because so few people are tackling it in a funny way. Christie's approach is absurdist, but after Bic started marketing ballpoints specifically for women – whose delicate feminine fingers had clearly long struggled with those old-fashioned patriarchal biros – reality proved stranger than surrealism. But you have to get up pretty early to catch Bridget Christie. Not a metaphor, it's juts a really early show. The Stand. 11.10
Intense, intelligent and reckless, Alfie Brown's didactic comedy has a real edge in a time when that word has been appropriated by lazy stand-ups cracking rape gags. His second solo show tackles how his generation are so disengaged with the world that they sit by as rights are eroded by criminal corporations and elitist politics, when they should be rising up in protest. Underbelly Cowgate 21:10
After all the activists, a comic from the more established side of politics. Forde, a former political advisor to the Labour party and now TalkSport phone-in host, offers traditional satirical stand-up, which he's mixing with political debate.Pleasance Dome 16:00
6. Lee Camp
This American comic and anti-capitalist activist finds plenty to pour scorn on in right-wing America and – like Thomas and Coltrane – has been known to take part in some playful direct action. That he's been barred from Fox News might be all you need to know. Just The Tonic at Bristo Square. 18:50
7. Steve Richards
Steve Richards is The Independent's chief political columnist – so another commentator on the goings-on of the Westminster village, rather than an impassioned seeker of justice. His show blends colourful anecdotes and convincing impressions with the apparently contradictory plea for politics to be more about issues than people... Assembly George Square, 12:40
'A brilliant sociopolitical act at the top of his game. Truly subversive intelligent stand-up,' says... well, his own festival blurb. There's certainly an element of posturing to his act, but this opinionated New Zealander is a strong communicator of dark opinions. Laughing Horse @ City Cafe, 18:45
9. Crunch The News
Nathaniel Tapley's spoof Tory politician Sir Ian Bowler MP; regular News Quiz writer John-Luke Roberts and self-confessed politics nerd Grainne Maguire present this daily current affairs panel show, partly with progressive blog Bright Green. But do people at the Fringe read daily news, or just the review pages? The Cabafret Voltaire, 12:05
Last year, they satirised the state of Scotland – from politics to cheap shots about the national psyche – and now turn their sights on the whole of the UK. Probably not an entirely serious examination of the state of the nation. The Stand 3, 19:00
Published: 17 Jul 2013
What do you think?