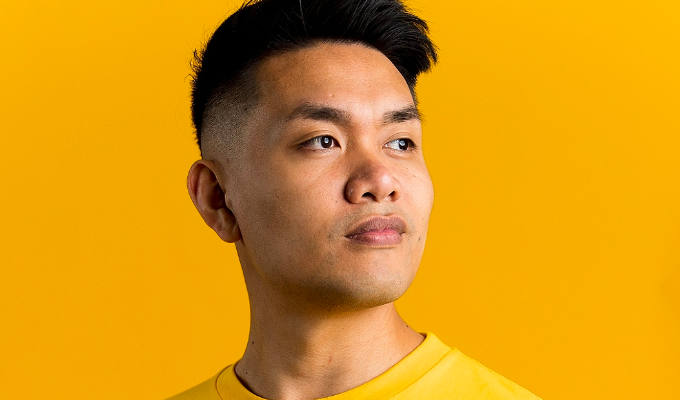 The double-edged sword of being a comedian of colour
Being a comedian of colour in a mostly white industry is a wild experience. For starters, once a month, you are almost guaranteed at least one post-show interaction with a well-meaning punter that opens with, 'you know, my brother's wife is (insert your ethnicity here)'.
Then there's the specific brand of impostor syndrome that you get when you look around the green room at the mostly-white line-up you're part of and think, 'have I been hired to "spice up" this show?'. Not to mention the flip side of this of course; seeing a poster for an all-white line-up and quietly saying to yourself: 'It is 2022, how the hell are we still getting these Coldplay-concert-vanilla-mayonnaise shows?'
But perhaps one of the biggest things that sums up my personal experience being a Filipino migrant comedian who came up in the New Zealand comedy scene, is the internal conflict of whether or not I should lean into the label of being a 'Filipino' or 'Asian' comedian. It's something that, much like the sound of my Filipino mum's voice telling me I could've been a doctor, has rolled around in my heard throughout my 13 year career. It's also something I've debated with fellow comics of colour in the past, some of whom didn't feel this pressure at all, and others who were right in the trenches with me.
I remember when I was first starting out in stand-up as a young 18 year old gangly kid, a well-established local comic I was sharing a green room with made a passing comment about how he thought Russell Peters was a hack because 'all he talked about was being Indian' and it's so hack to 'point out differences between cultures'.
As a young impressionable kid, I remember thinking, 'well, this guy clearly knows what he's talking about' and I absorbed that idea. It was a sentiment only echoed further by more (mostly white) comics as I came up in the scene, despite the fact that a lot of them were only more than happy to go onstage and do material about how different men and women were.
I formed this idea in my head that centring your race or culture on stage was hack. That it was a crutch. Now, I'm not here to argue whether or not it is, or what 'hack' even means (for what it's worth, I reckon everything is 'hack' if you look hard enough or show it to the wrong audience. Prop comedians are 'hack' until they're in front of an audience that loves prop comedy), but I'd be lying if I said I didn't sip the Kool-Aid.
For years I kept this idea in my head. Even to this day it still scratches away at me. I didn't want to be just another ethnic comedian talking about ethnic things. Why? I don't really know for sure.
Looking back I guess it was because the older white comics said so? But aside from the fact that I wanted my peers and contemporaries to like my work, it was also mainly because I didn't want to be pigeonholed as the 'Asian comedian' on the circuit. I didn't want people to book me just so they can wheel me out to talk about Asian things for them, and I didn't want white audiences to only expect me to talk about race. Something which I realised much later on in my career would happen to me anyway no matter how hard I tried to fight it.
I wanted to have control of what I put out creatively, to come up with fresh new ideas. I'd always heard that 'ethnic comedy' had been done before and I should look outside that box for inspiration.
This idea in itself isn't problematic, in fact it's advice that I would still give to new comedians now, but then it got to the point that it was quite paralysing. By the way, side note new comedians, if you're not going to use the mic stand, FOR THE LOVE OF GOD, MOVE IT OUT OF THE WAY. Don't stand behind it for your entire set trying to hide. It is literally two inches thick it's not doing anything, I promise.
On the flip side, I'd be lying if I'd said being the 'Asian comedian' on the circuit didn't come with its own set of pros. Standing out in comedy can be tough. How can you differentiate yourself from the 12 other people on the line-up show you're doing? How do you make audiences remember you?
Being a Filipino comedian gave me an immediate point of difference on a line-up. When audiences have just watched 12 comedians talk about how awkward they are at sex, it was a breath of fresh air to have someone come out and have a completely different perspective. It helped me grow my career and sell tickets – it was easy to answer 'who was your favourite on the show?' with 'the Asian guy'.
Though this wasn't without it's cons either – I remember flyering after the New Zealand Comedy Gala one year and a woman saying, 'I loved your set' to me when I wasn't on the show, only to realise she was mistaking me for Ronny Chieng who was on the bill. I'm pretty sure I sold at least three tickets to people that year thinking I was him. I'm still waiting for them to DM me on Instagram saying 'loving your work on The Daily Show!'
There there's the weirdly positive side of the diversity coin. As much as it sucks to feel like you're only being booked to fill a quota, at least you're being booked. Now, I understand that this isn't really a 'perk' after years and years of lack of opportunity, but it's still a positive nonetheless.
I've had lots of frank and honest conversations with very talented white male comedian friends of mine about how the push for diversity has meant that it has been a little tougher lately to get on gigs when there are already a plethora of white male comedians on the bill.
They all understand why and support the cause, after all someone has to take the loss if we want to make room for everyone, and unfortunately at the moment it's them. And while I can sympathise with my white male friends' struggles, the fight for equality in this industry is way bigger than them. Plus – it's not exactly like they've stopped booking white men for comedy all together.
Perhaps the biggest pro that comes with the label is that it can help you find a clear target audience for your work. People who come from under-represented communities such as the Filipino community in New Zealand are ready for comedy that speaks to them and their experience. As long as you make something high quality that they can resonate with, they'll show up. This is something that I've learnt recently in my career and was hugely pivotal on how I now approach this topic.
I remember after a performance I did in Wellington in 2018 of my show Legal Alien, a show about my migrant family. I had a Filipino woman approach me and tearfully thank me for telling a story that was similar to her family's. It was actually quite surprising as I didn't make the show to get this reaction – it was still just a stand-up show. It was a short but memorable interaction as it was the first time that I really saw the value in the representation in my work first hand.
The following year I wrote a pseudo-sequel called Boy Mestizo, that unpacked the colonial trauma of the Philippines, and the overwhelming Filipino audience reaction served as a further reminder that I could connect to audiences on a different level by highlighting my Filipino-ness onstage. Not that I want to be out here making TED Talks, but it's nice to make silly comedy that also has a little bit more under the hood.
So where am I with this dilemma now? I'm still Wrestling with finding that balance. But I think over a decade on, I'm finally finding a way to find the funny within my Kiwi and Filipino identities onstage. Some comedians of colour don't talk about their race or culture onstage cause it's not a priority for them or they just simply choose not to. And that's OK. In fact I admire it.
Part of the beauty of comedy is that there's no one way to do it. But for me, being a Filipino is a huge part of how I see the world. I see talking about being Filipino onstage as a way to reclaim a part of myself that I had lost when I migrated to NZ. When you start doing stand-up you're always taught to 'write about what you know'. This is what I know. I no longer see it as a 'label', but rather as the lane that I'm running in, within my own race.
And now that I'm over a decade into my career, and as I embark on my first Edinburgh Fringe, I see it as a challenge; how can I write about things that are from my culture but make it unique to me? How can I further play with and push the art form of stand-up from within my lane?
I know now that being an 'ethnic comedian' doesn't restrict me to talking about certain topics, rather it's about approaching any topic you want and bringing your unique worldview to it. If I want to talk about the pressures that Asian parents put on their children, I can! If I want to talk about an obscure observation about hotel shampoos, I'm free to do that too, but it just means it's a bit about hotel shampoos as told by a Filipino-Kiwi comedian who suffers from anxiety and plays too much Fortnite for a 31-year-old grown man.
And finally, to those comedians who told me it was 'hack' to talk about cultural differences in comedy; have you ever noticed how we're different? Isn't that funny. Oh and I'm not going to stop talking about being Asian or Filipino, so I suggest you get on board.
• James Roque: Badong is on at Gilded Balloom Teviot at 8.20pm
Published: 5 Aug 2022
What do you think?