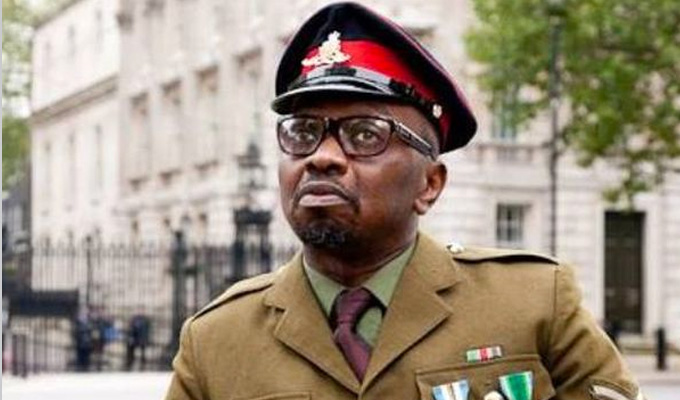 Whose job is it to deal with aggressive comedy punters?
It would never have happened to a real dictator…
At my gig on Friday, a member of the audience came on stage to attack me while in character as President Obonjo of the Lafta Republic. But as I don't have the benefit of bodyguards a real despot could call upon to deal with the assailant, it raises the question of what should be done with punters who turn violent.
Two audience members, a husband and wife, had interrupted every act on stage in the first half, but things really kicked off when I was. Eventually, I could no longer ignore their constant loud talking, which was unfair to me as a performer, and to the other paying audience members who had come to watch comedy.
The unruly couple had been warned by the promoter to keep the noise down, but they ignored him. They were very drunk. And when I told the husband to shut the f*** up, he approached the stage aggressively. Had it not been for two other audience members – one of them a former police officer – who stood between me and him, he surely would have attacked me.
Some audience members initially thought this was all part of my set, but realised it was not when the husband squared up to me.
The ex-cop, the promoter, an audience member and the owner of the venue all eventually asked the couple to leave, which they did, and I continued with my set. And the night ended well, with other acts benefiting from the fact the unruly couple had gone.
It is great that comedy clubs are opening up again, but I think 18 months of lockdown has had an effect on people's state of minds.
I am not sure how I would have reacted had he had hit me on Friday night, as I have never been in a fight in my life. But if I am going to continue performing comedy, I think must learn how to defend myself in case this happens again.
Yet should it be my responsibility to learn how to handle myself in scrap, just for doing my job? Whose responsibility is it to protect comedians from harm, and eject the troublesome elements?
Is it the promoter? A promoter surely has a duty of care as an employer to ensure comics are protected while performing. In my case, he did try on many occasions to control the couple, but with no success.
Is it the pub landlord? As I understand it, if a landlord cannot keep order in their venues they risk losing their licence. At the time Friday's incident occurred the landlord was upstairs, while the gig was in the basement. He eventually got involved after he heard the noise and was part of a team that got the unruly couple out of the venue.
Should there be a bouncer? The gig was in a small venue, and the cost of employing a bouncer would likely be probative, eating into the promoter's finances – and the wages available to pay comedians. Having a bouncer works for larger clubs, but it is not practical to expect this from a small one.
Should it be the job of the MC or the comedians? I don't think so. They are there to make people laugh, they shouldn't have to take on the role of physical crowd control.
Perhaps if conditions get too difficult, a comedian should just abandon their set and leave the stage. I didn't feel this would have been right on Friday, as there were so many paying punters I felt it would have been unprofessional. But it could be an option if a comic felt they could not recover or that the gig was no longer playable.
There are no simple answers, but I think, ultimately, it is down to promoters to protect the comedians they employ. You do not need a bouncer, but you need to have set ground rules at the beginning of the show and take an increasingly firm approach to those customers who flaunt those rules.
Published: 6 Sep 2021
What do you think?