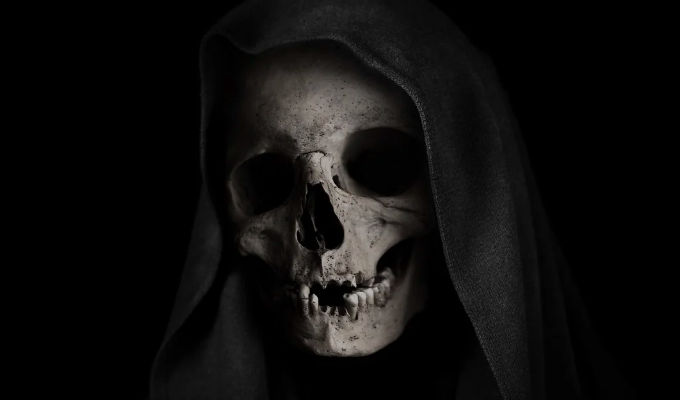 We need more gallows humour to cope with the grim reality of Covid
'75,000 died in the UK,' Frankie Boyle said on his TV review of 2020. 'And it's hard not to feel they made the right decision.'
It's a typically bleak joke from the master of gallows humour, yet such mordant wit has been thin on the ground during the pandemic.
Avoiding such jokes may seem considerate, but it is both a false comfort - and a potential loss to our ability to cope with the grim reality.
The archetypal gallows humour comes from the condemned man on the scaffold, gingerly tapping the loose-fitting trap door with his foot and asking the hangman: 'Is this thing safe?' The humour is in its absurdity, but for the prisoner, the gag gives him a moment of mental freedom beyond death's grip.
For gallows humour, the context is death, but its purpose is truth and laughter. It is the ultimate in punching down, laughing at death itself, seeking laughter entwined with enlightenment.
What about the black fee-paying student nurse who died of Covid-19 and went straight to hell? Took him a month to realise he was not at work.
This reminds us of the finality of death and the politics that sent him to hell. To quote every stand-up: 'You're laughing and you're learning.' 
The media respectfully number the Covid dead, and Ministers parrot platitudes that every one of them is an individual tragedy - but any suggestion the Grim Reaper could be stalking us all is side-stepped.
In daily life we use an unconscious bargepole to prod realisation of our own mortality into the margins, so no wonder we shy away from gallows humour.
To paraphrase Woody Allen, we are not frightened of death jokes, we just don't want to be there when the penny drops as to their meaning.
Why should we not joke about the pandemic deaths?
It endangers the sombre national chronicling of Covid deaths by 'mere' comedy.
It generalises and stereotypes individual unique catastrophes?
It seems to punch down, targeting victims, not perpetrators.
Given these grievous charges, why would anyone want to apply gallows humour to the pandemic?
Because it is laughing with bravado in the face of death. Why not use it to amp up the wonder of surviving?
There were no paid comedians in Auschwitz, but many well-documented incidents of the interred joking about their situation. After a head-shaving, 'Who did your hair?' The oft-quoted explanation is that humour allowed them to 'dress their reality up'. They had the last laugh.
Gallows humour also punctures cloying sentimentality. As Oscar Wilde had it 'the luxury of having an emotion without paying for it'.
Not the case for the grieving, but true perhaps of we onlookers. Sentimentality bypasses both the brain and complexity.
Frankie Boyle tells of taking a walk and spotting: 'Don't worry you've got this' chalked on a path – then suggests it was the last thing he wanted to read during a pandemic. Sentimentality deflated.
We have long lost the medieval awareness of death as a constant companion, morally steering our days. But gallows humour is also a form of memento mori, that historical imagery that would remind people to stay moral if they wanted Heaven. Such images can be found in funeral architecture, timepieces, and skull-laden art. Dominic Cummings merely has to look into his shaving mirror.
As with the infamous black humour among police officers and medical staff, gallows humour also enables us to distance ourselves from pain and fear. It enables us to realign the terrible into the tolerable.
All the care home workers attended their colleague's funeral in full PPE. Well, it's what he would have wanted.
Laughter releases stress-reducing endorphins and the 'a-ha' moment of the joke offers insight.
Gallows humour is not spraying graffiti on gravestones, rather it's altering the graveyard sign to point to yourself. We are over-sensitive to our cost.
A joke about death is not a crime. Indeed, if all goes well, only wisdom has been committed.
The highest aspiration of humour isn't an evasion of reality, it is truth-telling. It's funny because it's true. Truth doesn't make something funny, but strangely, funny holds a litmus paper to the truth, the better to find out what is inescapable.
When we can hear the whoosh of death's scythe, we need to steel ourselves with gallows humour and think: 'Oh dear, that Grim Reaper has let himself go.'
Published: 2 Feb 2021
What do you think?