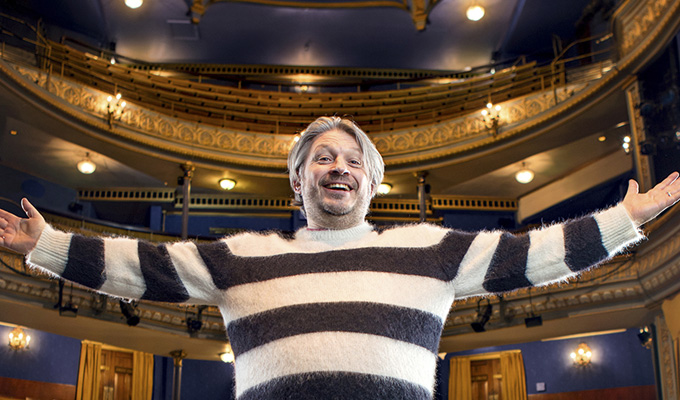 They're the best, in my book
The Chortle Comedy Book Festival kicks off this afternoon, with 22 funny and fascinating sessions over the next eight days.
Denied our usual chance to do a real event in the British Library, this year we have teamed up with stand-up-on-demand service NextUp Comedy to broadcast all the sessions online (and make them available for VIP pass holders after the event, until December 13)
Here, the company's chief executive Dan Berg tell us what he's looking forward to most:
---
This year's Chortle comedy book festival line-up is pretty damn exciting. I know I'm not the only one to seek solace in a book when the world is going to hell in a Four Seasons Total Landscaping handcart.
At Next Up we've seen that access to decent comedy over the past few months has become more vital than ever.
It's a tough call to choose my Top 5 picks of the week (and with a VIP pass, of course there's no need to actually narrow it down). But if I didn't this would be very short and pointless article now, wouldn't it?
So here are the five acts I'll be at the very, very front of the metaphorical queue for:
Adam Buxton: I've been a bit of a fanboy of Dr Buckles since his Adam and Joe days. His Ramble Chat podcast is always top of my list of audio funnies and I'm intrigued to see how he's transported those brilliant conversational comedy skills into book form. I'm also hoping Rosie the dog will make a personal appearance. Tonight, 9pm. Tickets

Richard Herring (pictured): Apart from the fact he's pure comedy royalty in my opinion, the Herringmiester's Twitter rampage every International Women's Day has always had me in stitches - it's a real eye opener. We should all buy this book. Or at least make it free in schools as part of the national curriculum. Thurdsay (which IS International Men's Day!), 9pm. Tickets.

Laura Lexx: Laura just keeps on upping her game. Ever since the brilliantly handled run-in with a sexist heckler that went viral, she's become one of the most exciting comics on social media. And that's a busy scene right now. Her latest foray is into the imaginary world of being married to Jurgen Klopp. Even I know who he is, and I'm pretty sure she'll score with this one. Wednesday 7pm. Tickets.

Tim Key: One of my all-time favourite comics, I'll take any chance I can to get inside this man's surreal brain. He sees the world in a way no-one else does. He's teamed up with designer Emily Juniper to make this book during Lockdown and, if his late night poetry show is anything to go by, I will willingly let them deprive me of even more sleep. Tuesday 5pm. Tickets.

Thanyia Moore: Thanyia is wickedly sharp. She's going to be the most perfectly outspoken host for our Saturday Night panel talks tackling the lack of diversity in publishing. Did you see her brilliant live gig for us on Next Up during lockdown? She also popped up with Mo Gilligan recently on Ch4. She is going places fast, so get on board while you can! Saturday 7pm and 9pm. Tickets here and here.
---
• The Chortle Comedy Book Festival starts at 5pm today with this session led by Helen Lederer. Click here for the full programme. Tickets to individual shows cost £8.14 including fees.
VIP passes are available for £49 here. This gives access to all events live and on demand until December 13, six months' subscription to NextUp's library of brilliant comedy specials, a bottle of wine from Honest Grapes and a discount on festival at Waterstones; a package that could be worth up to £228.
Published: 15 Nov 2020
What do you think?