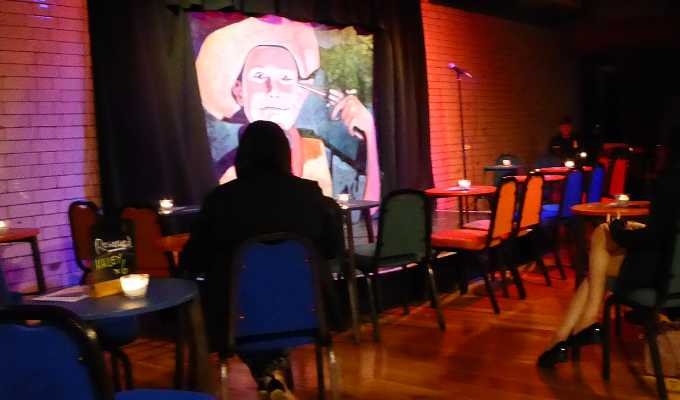 The battle to Save Live Comedy is getting critical
This weekend's news that The Stand comedy clubs are teetering on the brink of collapse has brought home just how urgent and vital the various campaigns to 'save live comedy' really are.
In truth, of course, live comedy in some form will prevail whatever happens. There's a surplus of people who will want to – or need to – perform stand-up in pub rooms, regardless of whether it pays or not. And as soon as Covid restrictions are fully-lifted, TV names will fill big venues to resume their lucrative live careers.
But what's at risk is the circuit In Between - the bit that's not only crucial for the development of comics' careers, but is almost always the best place to see comedy. Intimate spaces, specifically designed to put the focus on the stand-up on stage, with proper equipment and where acts good enough to be paid can create an electric atmosphere for a couple of hundred people packed into a room. Places where for the comedian, the stakes are low enough for spontaneity and experiment, but high enough for them to be on the game.
The Stand venues are rightly hailed as among the best of this size venue, if not THE best. Comedy always comes first, ahead of selling vast quantities of booze to stag and hen parties, as they do all they can to encourage an atmosphere of respect for the performer, which pays off for comic and punter alike in the long term.
Much is always made of the star names who cut their teeth on clubs like this; but they are more than just a nursery for panel shows. Boasting rights to having seen a celebrity comic before they were famous might be one reason for an audience to come to a smaller room, but more important is that a well-booked, well-run club offers a brilliant night out at a relatively affordable price.
Yet for those operations with their own venues, the scale of the financial problems they face is daunting. And as many parts of the economy start gearing back towards normal, it shouldn't be forgotten that 'normal' is still a long way off for ventures like this.
The Stand say they are in the hole to the tune of well over £300,000 because of Covid. Getting public help will have a major impact on turning that around, if arts bodies can get over their traditional reluctance to fund live comedy, but the mountain to climb is high.
To put the financial woes in context, the main fundraising page of the Save Live Comedy gigs held at the Clapham Grand over the past three Sundays, attracting the cream of British comedy, has just surpassed the £10,000 mark. It's a significant figure, but just three per cent of what The Stand alone needs.
Reviewing last week's show, it struck me as odd how the comedians had to use the language of telethons to encourage people to donate. For on the scale of the world's problems, saving a a comedy venue might appear frivolous, even though the threat is real.
But the industry doesn't so much need charity, as something more transactional, a way of sustaining its usual cash-for-chuckles financing. In more normal times, venues might be able to urge potential customers 'use us or lose us' to try to encourage punters through their doors. Now, those doors are either permanently locked - or cannot allow through them the numbers of punters needed for commercial viability. And with no end in sight.
So venues are offering up content online. In cases like the Clapham Grand or The Stand, it's broadcast-quality videos live from their stages. Others, like Edinburgh's Gilded Balloon, also in financial dire straits, are repackaging archive footage. Yet more are organising Zoom gigs. Yes it's not ideal, but it's better than nothing.
There's plenty on offer for comedy fans, who ought to volunteer a fair price for watching it, if they can afford to. This should not be busking for pennies, but offering a decent streamed product with audiences willing to pay a decent price. And by 'night out' standards, not by 'more Hollywood content than you can possibly cope with for the cost of a Netflix subscription' ones.
Many clubs, too, are offering gift vouchers to help their cashflow. But although instigated because 'needs must', it's a great present idea, and will surely give the recipients a night out to look forward to once all this is over as well as being a lifeline for clubs
You might even get some for yourself, paying up front for a service you've enjoyed in the past – and hopefully will be able to again. If enough people back their local clubs, of course.
Published: 24 Aug 2020
What do you think?