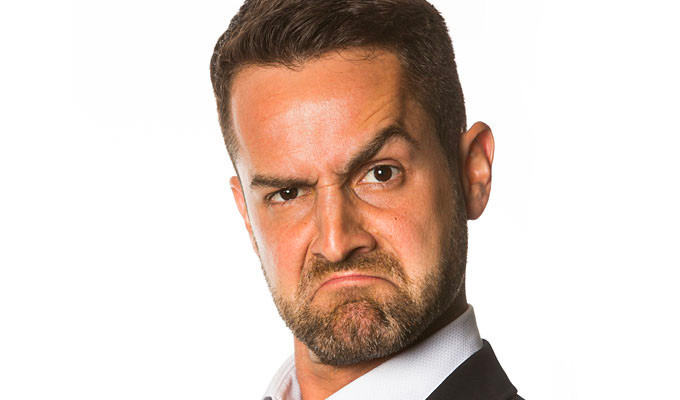 An introduction to Latin American comedy
If you ask me about what I watch online in terms of comedy my answer will be: Patton Oswalt, Mike Birbiglia, Sarah Silverman and Jerry Seinfeld. I love these guys for different reasons, and they inspire me to improve my writing and performing skills.
But if you ask me about my comedy 'influencers' when I grew up, I have the responsibility to drop some names that you'll probably never heard of.
See, I was born and raised in Venezuela. The comedy I watched and listened to back then was in Spanish and performed by local and international stars from different Latin American countries.
This is a great opportunity for me to share with English-speaking comedy enthusiasts about the comedy legends in the Spanish speaking world. I hope you like it and I also hope you do some googling to learn more about my comedy heroes.
Cantinflas and Chespirito
If you speak Spanish, you are probably Mexican in some way… (please read before being outraged)
Whether it is from ignorance, racism or a joke from a close friend, non-Mexican Latinos overseas will eventually be referred to as 'Mexicans'. Of course, all Latinos are not Mexican BUT! If it was for comedy upbringing, I reckon all of us Latin-Americans are comedy children of two Mexican comedy fathers: Cantinflas and Chespirito.
These guys were not comedy legends but comedy Gods. To give you an idea Charlie Chaplin once said in an interview that the funniest man on earth was the Mexican movie star Mario Moreno 'Cantinflas'. I'm not making this up you can Google that.
The Royal Academy of the Spanish Language officialised the verb 'cantinflear' to honour Mr Moreno's most famous character. This shows the impact that this guy had in the entire Spanish speaking world. 'Cantinflear' has a similar definition to the expression 'beating around the bushes'. This character was known for answering any question in a very long and confusing way without actually giving you the answer. I have watched dozens of his movies, his comedy style and sense of humour is timeless.
Roberto Gomez Bolaños aka 'Chespirito' wrote, directed, produced and performed what I think are two of the biggest TV comedy characters of Latin America of all times: El Chavo Del Ocho and El Chapulin Colorado.
I don't know how many episodes there are of these shows, I believe probably hundreds and there's also a couple of movies. You can be 5 years old or 75 and still enjoy these shows. They were funny, very funny with a heavy load of social commentary. El Chapulin Colorado (The Red Grasshopper) is the only real Latin-American superhero that comes to my mind, I don't know any other. Interesting fact, the Simpsons' character Bumblebee Man is based on El Chapulin Colorado.
La Radio Rochela
Five decades non-stop; until one guy didn't like it
Before Hugo Chavez decided to not renew the broadcasting permit of the RCTV network due to its opposition-inclined editorial stance, La Radio Rochela was the longest running TV show of Venezuela. Over 50 years every Monday at 8pm Venezuelans relied on this sketch show as a comic relief.
Politics, Venezuelan idiosyncrasy and recent news was the main source of inspiration. Nobody missed this show, included me as a kid, teenager and uni student. I had to be up to date with the latest sketches and new soon-to-become catch phrases so I can used them as call-backs in my everyday conversations.
The most important TV event of the year in Venezuela was Miss Chocozuela a play on words of the second most important TV event, the Miss Venezuela beauty pageant. Chocozuela is a word for a specific cut of beef in Venezuela. So Miss Chocozuela meant something like Miss Piece of Meat a full-scale parody one week after the real beauty pageant.
This show was the platform of two of Venezuela's greatest humorists. Emilio Lovera and Laureano Marquez. Ask any Venezuelan about their favourite Venezuelan comedians and I'm 100 per cent sure they will mention these two names. Both quite different but also great complement to each other. One is a master impersonator, clown and amazing singer. The other one has a degree in politics.
They are both traveling around the world doing shows to new immigrant Venezuelan communities overseas. I have met them; I have seen them live and I remember when they were on La Radio Rochela. Great humans and hilarious. I miss those guys and I miss that show.
Les Luthiers
The only French thing about them is the name, they are Argentinean
This live comedy group from Argentina is a thing I wish the whole world could see. This is when I think 'Damm! if only comedy could be translatable, I want all my English speaking loved ones to enjoy this.
Luthier is the term for someone who makes string instruments. These guys are all highly trained professional musicians who happened to be hilarious and decided to do comedy and play their music on homemade crazy looking instruments.
Their comedy is pure, smart, silly, beautiful, clean and elegant. They have been doing this for 50 years! Some have died and some young faces have joined in. The quality is still intact!
These guys made a huge impact in me, I still remember verbatim complete routines and songs. Songs that I listened 26 years ago in my dad's car from a cassette player. Then I grew up and got CDs then more years passed, and I got DVDs. Until a very special day when I finally got to see them live in Madrid in 2006. Memorable day!
• Ivan Aristeguieta is performing his latest stand-up show, The Fourth Floor, at Soho Theatre in London until Saturday.
Published: 7 Jan 2020
Recent Opinions
What do you think?