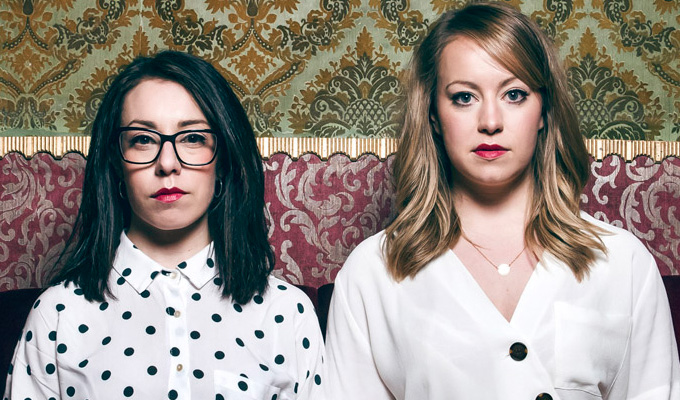 What's it like being a sister act?
The question we get asked the most is 'Are you real sisters? Are you really sisters? I don't believe you. Your hair isn't the same colour and one of you is taller so you can't possibly be sisters. It defies all human logic and rules of genetics.'
Those people are foolish, but they are also right not to trust us (our names aren't even Flo and Joan). However we were informed by Jerry Springer before his show was cancelled that we do indeed have the same mother and father, which makes us official real sisters.
We are not, however, best friends. We do not share secrets or call each other for life advice. We would not have moved in the same circles if we were in the same school year; one would have for sure bullied the other. We grew from little mortal enemies, to young women who cohabitate in their parent's house and fist fight over the TV remote, silent tolerators, to 'don't you dare call my sister a slag, only I can call her a slag', to 'roommates abroad because my other options were potential Craigslist murderers', and now sort of friends and also colleagues.
If you were to ask any of our friends or family if they thought that the two of us would have ended up working together, least of all as a comedy duo, they would have said, 'have both your parents died and is this why you're clinging to each other?' But here we are, with one of our parents still intact.
Our professional and personal relationships are both ones of proximity and convenience, and despite the surprise from many, working together for us has been pretty easy, sometimes we would cautiously say enjoyable.
We started Flo & Joan three years ago when we had both just moved to Toronto. Nicola moved out first and, always fulfilling the younger sibling cliches, Rosie saw that she was having a time and jumped on the bandwagon.
We went out to study improv and sketch comedy at the Second City Training Centre in Toronto and figured that while we were there, why not give musical comedy a go… together? Safety in numbers. If you go down I'm taking you with me kind of deal. If we were rubbish no one in the UK would ever find out about it and none of the Canadians would care. So we did, and our first show went well, and so we continue to do it to this very day.
It has gotten more cloudy now that we are Flo & Joan full-time. There is more pressure for it to go well so we maybe argue more than we used to. But the thing with these kind of arguments is that no joke or song is ever so big that it can bring an end to us being sisters. And not in a cute 'you'll always be my sister' way, in a, 'I don't want to have to explain to people at mum's funeral that we no longer talk because we fell out over the use of a half-rhyme in a song about finger buffets.'
And to our parents' relief, it now means most of our fights are work-related and not over who gets to sit in the front seat on car journeys.
There are definitely positives to working with your sibling, and we're sure many of them apply to non-sororal double-acts. When you have a shit gig it's good to have someone to chat to on the train home so you're not stewing it over in your own brain. When you have an amazing gig it's good to have someone to celebrate it with, and someone to say 'oh my god they gave us crisps in the green room, how cool is that?!' (We're still new to this, but crisps in a green room will never not be exciting).
We are also good at sharing the workload, for example, only one of us is responsible for writing this article, but it is the other who will promptly reply to your emails.
We are honest with each other in a way that no non-sibling would dare to be, to us or another human. And good. It speeds things along. I need someone to tell me my face looks fucking weird when I sing that line, and that the new verse I wrote is straight-up not funny and has to go.
Do we get defensive? Yes. It is an unhelpful family trait we have both inherited. Do we know the other will get defensive before we critique them so we can call them on it before they've had a chance to snap back? A-yes sir.
We have a shorthand as sisters that makes communicating easier, in our ideas and general mouths. And whilst there is the worry that what we both find excruciatingly funny is just confusing to everyone else (a very common occurrence), if we eat shit, there are two spoons with which to do so and we get half each.
There is someone who calls your bullshit. Who knows when you're arguing over something insignificant just to be a dickhead. And who will also indulge your three-hour 'Pick & Mix and Gogglebox' breaks when you've been hit by the tired wave and don't have the energy to find a rhyme for Pot Noodle. Also, when we go up to Edinburgh we can share a bed because we are both single and it's fucking expensive.
We do not have any other siblings, it's just the two of us, so we've always sort of been a unit, or at least mostly united if we should come up against 'the others', whether that's our parents or an audience.
We chose to keep this in Flo & Joan so there is no 'smart one' or 'stupid one'; we're pretty much always on the same page. That's not to say we're not different from each other, and we allow the audience to see that, but it's so common to see fighting duos and whiny siblings, and that's not how we are as humans, so why would we be as comedians?
In conclusion, make a singing double-act with your sister or general sibling to improve and cement your personal relationship as adults and also travel the country together singing about sausages.
• Flo and Joan: Alive On Stage is at the Pleasance Courtyard at 16:00
Published: 8 Aug 2018
What do you think?