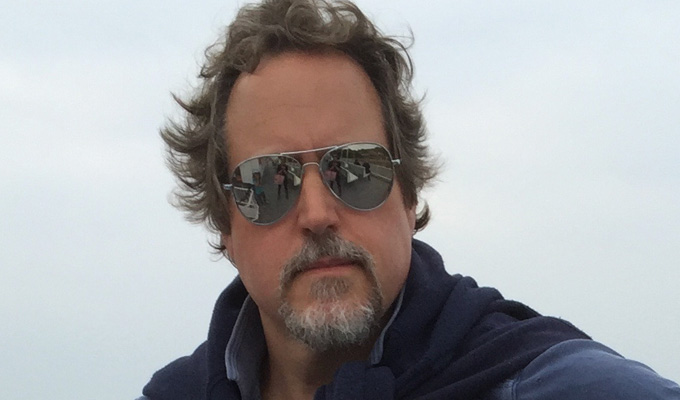 If comedy's hard, you're doing it wrong
'Comedy is so hard', 'Making comedy is difficult', 'Comedy's the hardest thing to get right': this is the sort of thing we've all heard time and again.
It's quite often the reason comedy programmes don't get made for TV, because it's 'so difficult to get right'. But is it? Is it really?
I say it isn't.
I've made a good living writing funny things for radio, TV and websites for 25 years and the only times it has ever been hard work is when I've been working with people who don't get comedy.
On any given day of the week, I can go out to any London improv venue and watch hilarious comedy made from nothing but a word suggested by a member of the audience. The people on stage have all trained to do what they do and that training is sometimes hard but, as a sometime improviser myself, I know that on stage, in the moment, being funny just happens.
Obviously not 100 per cent of the time. As improvisers, we've all been in sketches that have tanked horribly. But when things go right it isn't hard work. It's wonderful. It's a near-blissful state somewhere between revelation and Nirvana. It's only hard work when it's not going well.
And that really is the point. In my experience, the more people who have never performed, written or produced comedy that are allowed to dip their oar into a project, the more likely it is that it is going to become hard work. And less funny. And either not see the light of day or end up as a disaster.
Ever wondered why BBC radio has such a good strike rate with comedy? It's because there aren't that many people who can interfere in a project. Usually, if it's in-house, the producer, writers and performers can get on and do what they want with little interference from 'above'.
And if you do get notes from the head of department or senior producer, you know that advice is coming from other funny people who know what they're talking about. In 15 years writing shows for BBC radio, I only once got a comment from a commissioning editor.
Compare this with comedy outside BBC radio. Suddenly everyone's a comedy expert and apparently their opinions have as much, if not more, validity than those of the funny people trying to make a show.
Maybe it's because there's more money involved, maybe it's because everyone thinks they're funny (in the same way as everyone has a novel in them) but whatever the underlying reason, suddenly there are 'not funny' people involved in the process. That's when things start to unravel.
Somebody 'important' outside the production says, 'This show has to be 20 per cent comedy and 80 per cent history' – that's a real comment, BTW – and suddenly instead of focussing on making the show as funny as possible, the team making it is poring over slide rules and charts to see if they've got their history/comedy ratios right.
Even little comments or decisions from often well-meaning, but ultimately 'not funny' people can cause a domino effect in a project, which turns it from a great idea into a howling nightmare.
The decision that can really screw your pooch is when someone 'important' and a long way off from the project has an idea for a presenter or star not because it's great for the project, but because it makes 'business' sense.
Let me state this quite clearly: the only good 'business' decisions on a comedy project are good comedy decisions. The logic for comedy is this: if you make good comedy, then you will do good business. If you put business concerns first, you will not make good comedy. In fact, the chances are you will make audiences, critics and the poor sods making the show utterly miserable. That's when everyone throws up their hands and starts lamenting the fact that 'comedy's so hard'.
So how do you avoid all this? Trust. People who have power over the creation of comedy need to trust funny people to make funny things. 'Not funny' people should not be allowed to interfere in the creation of comedy. Give your comedy department a budget and then butt out.
'Important' people didn't want Ricky Gervais in The Office; they didn't want John Inman's character in Are You Being Served?; they put the pilot of Dad's Army on a shelf to rot.
'Important' people are often not funny. They need to exhale and trust the people who are funny.
This takes us back to improv. It's all about trust. Really trusting the people you're on stage with to go with your ideas, or jump in when something's needed, or even to put a sketch out of its misery by sweeping the stage and starting something new. Improv creates beautiful comedy and trust is at its heart.
Some of my happiest creative times have been in the commercial sphere. As a digital copywriter I worked with Moonpig.com for 12 years and wrote all of Walker's online material for four years. As a creative, I was given the freedom to be funny.
The result? Years of successful online campaigns. Ever wondered how Nick Jenkins took Moonpig to the top? By picking the right people for the job and then trusting their instincts.
The way to make comedy 'not hard' is to create the conditions that allow funny people to do what they do best, which is being funny, not second-guessing the top brass, worrying about audience demographics or thinking for even a nanosecond 'who's going to find this funny?'. Any crap like that screws the creative process.
The inconvenient truth is that when funny people are allowed to get on with it and make funny things, it isn't hard work - it's a joy! It almost makes you feel guilty to call it 'work'.
I'm currently producing and co-writing a comedy sketch podcast called Release The Clowns. Our team of writers and performers is a mix of seasoned TV and radio pros alongside up-and0coming talent from the improv scene. We've got listeners in more than 30 countries and a large stack of five-star reviews.
Is writing it hard work? Not really. There's the odd comedy conundrum, but it's great fun. Are recording days hard work? They're long days, but given the amount of laughter in the out-takes, they don't sound 'hard'. Is the sound editing hard work? It's challenging, but I get to laugh a lot while doing it. So, no - for people with funny bones, making comedy isn't 'hard'.
If the comedy show you're creating has become 'hard work', look carefully at everyone who has influence over the project and then politely, but firmly tell the people who don't have funny bones to butt out, or watch the project turn into a costly disaster.
• Nick Hildred is a former script editor of Radio 4's Week Ending and has written 15 series for the station. He has also written for Graham Norton, Mel & Sue, Keith Chegwin, Clive Anderson and the Big Breakfast.
Published: 18 Jul 2018
What do you think?