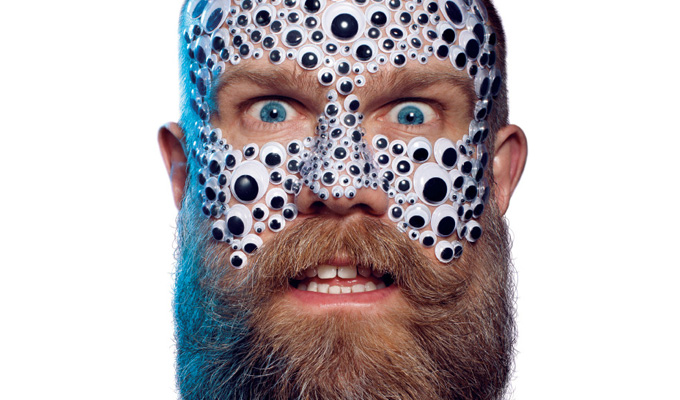 How to make the perfect World Cup anthem
When it comes to football there are two things England do better than the rest of the world. Firstly, they are the best at telling the rest of the world that they invented the beautiful game and secondly, they undoubtedly record the finest football songs. Songs so good that other countries nick them and use them for themselves after they've actually won stuff.
'Can I introduce you please. To a lump of cheddar cheese? Knit one, pearl one, drop one, curl one.' These poetic lines were coined by Fat Les back in 1998. No, not the Fat Les who drives round our way selling moody Ralph Lauren tops, this was the Fat Les comprising of Blur bassist turned cheesemonger Alex James, serial sheep splitter Damien Hirst and famous for who-knows-what person Keith Allen.
Back during France 98 Fat Les were riding high in the charts with their World Cup banger Vindaloo – a song that followed in a rich vein of English football anthems dating back to the 1970s, a rich vein worthy of an Alex James Gorgonzola.
Little were we all to know at the time but this song would mark the zenith of England-encouraging audio output and it has been downhill ever since.
This proud lineage that included 1970's Back Home, 1982's This Time (We'll Get It Right), 1990's World in Motion and of course 1996 and 1998's Three Lions has been sullied in recent years.
A succession of disappointment from overhyped and overpaid stars who failed to gel as a unit have seen their efforts on the pitch soundtracked by a succession of disappointment from overhyped and overhyped… you get the joke.
Ant & Dec, Take That, James Corden, Embrace, Dizzee Rascal and The Spice Girls have all taken on the task and seen their musical efforts balloon like a Chris Waddle penalty… or an ex-footballer's weight once they take up punditry.
It has got to the point where the English FA did not commission an official single for Russia 2018. Now I think this is a terrible idea but then again I also think we should move to an eight-day week to fall in line with Kellogg's variety packs.
Luckily for you though, I am taking it upon myself to pull together all of the ingredients that go into making a song worthy of being stolen by Germans and they are as follows:
1. A comedian: a role filled in the past by the likes of David Baddiel, Frank Skinner, Gazza and Keith Allen. This time however, I believe, like the new post-Brexit passports, they should outsource this job to Johnny Foreigner and I nominate myself. I can't sing but I can play a whole host of cleaning product-based instruments such as the Toilet Duxaphone, the Harpiccolo and the Cillit Bongos. It'll be fun!
2. Obscure/cult celebs: I'm thinking the Chuckle Brothers, whose 'to me, to you' catchphrase epitomises a tiki-taka philosophy that could help the England team achieve Spanish levels of ball retention.
3. A 1990s indie band: New Order, The Lightning Seeds, Black Grape and Blur have all contributed to the musical backbones of previous World Cup songs and as much as I'd like to see Radiohead help out on this track, I think that might be too adventurous for a nation who are only just moving away from the 4-4-2 formation they've stuck with for the past 328 years. No, I think the perfect candidate is Pulp's Jarvis Cocker, who I assume would combine hopelessly romantic lyrics about plastic chair-wielding, bulldog-tattooed builders from Halifax with a driving, upbeat pop tune catchier than a poorly delivered corner.
4. Musical interlude from a current star: I think I've got this year's answer to the John Barnes rap. Five words: Dele Alli On A Ukulele.
5. Clips of commentary: But forget Motty and Barry Davies, what could be more patriotic than excerpts of Peter Jefferson reading the shipping forecast?
So there you have it, I propose To Me To You (We're playing 5-3-2), featuring Jarvis, Barry and Paul, myself and the England squad chanting 'Trafalgar, FitzRoy, Sole, Lundy – We've got Tunisia a week on Monday.'
Hopefully someone stupidly rich or just stupid will make this all happen. But if not, don't feel sad – cheer yourself up by Googling the venue for the 1954 World Cup final.
• Olaf Falafel will be performing There's No I In Idiot at Laughing Horse @ The Pear Tree at the Edinburgh Fringe at 2:45pm – except 21 -25 when it's at 12:15pm. He tweets at @OFalafel.
Published: 14 Jun 2018
What do you think?