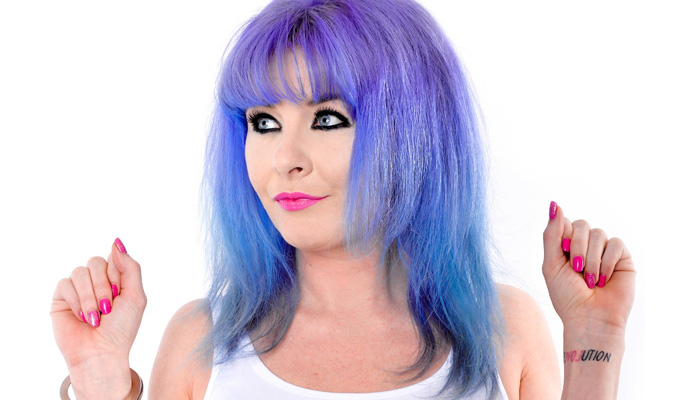 How I've felt threatened as a woman on the comedy scene
Solidarity to all the women who have ever felt threatened on the comedy scene.
Due to experiencing multiple abuses of power within the comedy community, I was considering throwing in the towel as a comedian. It's the courage of Louis CK's victims coming forward, followed by other women in the industry speaking out on social media, that has inspired me to carry on.
In 2014, nine months into my comedy career I wrote in a Chortle article: 'I have mostly found other comedians and industry people to be very helpful and definitely not sexist.'
In retrospect, I was a bit naive. A year later, when I had decided to do my first show, Consume Shit & Die. and organise my first rally in support of #FreeTheNipple the tables turned. People were nice to me when I was a non-threatening newbie, it's when I started to push boundaries that some people started to push my buttons.
Except for the incident previously mentioned in my previous article. I haven't felt sexually threatened by anyone in the comedy industry. However, even micro-aggression can build up and wear a person down, as Jo Brand recently pointed out on Have I Got News For You.
The first time I remember feeling threatened was in 2015 at the Edinburgh Fringe. A male comedian and promoter who I had previously considered a friend starting questioning a lot of the things I wrote on Facebook. He was making out that he was concerned about my online behaviour but I felt he was undermining my intellect and dismissing justifiable anger about a cruel review, which has since been taken down.
The situation with this comedian escalated after he'd performed on a compilation show I had organised during the run.
Intending no disrespect, I had told him before the gig that I was going to play a trick on him. The trick was I would dress up as a granny and wander onstage during his set, confusing the event for a Sex Addicts' Anonymous meeting. I think he was upset that I got more laughs than he did, when I flashed my massive grey merkin to the room. He left without even saying goodbye, let alone thanking me for the spot, which I always do to promoters and MCs.
After the event, I realised rumours had circulated when a different male comedian whom I respected and liked aggressively confronted me in a bar telling me to 'respect comedians'. He was under the illusion that my sex addicted granny had just invaded the stage, without consent.
At a different compilation night that year in Edinburgh, a woman had left the room in tears after an act made a rape joke. Other women in the room also voiced disapproval as fellow rape survivors. Respectfully, the act moved on without trying to provoke any further upset.
But I wasn't prepared for what came next. The comedian who'd been telling me how to behave on Facebook and told lies about me to our friends was next to take the stage. Opening with "I have a show about rape - seeds." Its was a shit joke and an insensitive move. I walked out in solidarity with the crying lady, followed by others. I will always call out this kind of sexism, sometimes men apologise but sometimes they take it as a personal attack and hold a grudge against you. This comedian has held a grunge against me since it seems.
I felt pushed out of our social set that year in Edinburgh. He was at a higher level than me and also works as a promoter. I saw his treatment towards me as an abuse of power. Fellow comedians in need of stage time, would naturally not want to ruffle his feathers.
Despite not mixing with that particular group any more, I felt the hostility he held towards me had spread into my local comedy community. When I received a lovely write-up for a Birmingham preview of my second show Sextremist, there was no encouragement from my peers. Instead I was upset to learn rumours had circulated that I must have slept with the male reviewer.
Despite distancing myself socially from the comedian and promoter I'd originally felt threatened by and blocking him on Facebook. It didn't stop him sending me condescending tweets during the 2016 Edinburgh Fringe (which he wasn't performing at).
He appeared to be angry with me over what I saw as a harmless stunt to promote the #FreeTheNipple cause when I suck tiny stickers, which peeled off without leaving marks, on to other acts' massive posters. He reported me to Just the Tonic and The Edinburgh Fringe on Twitter. This caused me to feel distressed, perceiving that my inclusion in the festival was threatened.
I'm no angel, and some may see my behaviour as wrong at times but as a new comedian I thought I would be allowed to make a few mistakes without feeling like I am being persecuted by men who are more established than me.
I've been pushed to breaking point this year by another local promoter. I told him I was starting to feel harassed by him on Twitter in January when he was aggressively attacking my political opinions. I asked him to stop.
Then in March on Facebook during another political debate he wrote publicly 'Get well soon.' before sending me a nasty message telling me I was 'damaged.' I saw this as abuse. To dismiss someones intellect as 'crazy' just because they disagree with you is known as gaslighting. I felt all the more threatened by it as the promoter in question knows I have a mental disability; it felt like discrimination.
When he learned that I was trying to build a legal case against him, it appears he teamed up with the poster snitch comedian, as well as another local man I'd had to block on social media who is also seen to be in a position of power by some in the comedy community.
I felt ganged up on, like they were attempting to discredit me. The gaslighting promoter even went as far as to trawl through my social media years back looking for anything he could screenshot to misrepresent my character.
My jokes and working-class banter were redefined as abuse in a 39-page smear file sent to the Comedy Guild and 'some other people'. Every cloud has a silver lining and in a way he has given me a gift in that dossier. The compilation of the posts he screen grabbed has helped me to connect the dots, see the bigger picture and write this piece. So thank you.
These are just some of the moments I have felt overpowered; it all builds up. Right now my confidence is in tatters. I don't feel safe on the stage, but I wrote a show I am proud of and I am now determined to build myself back up and continue my mission.
It's extremely psychologically draining to feel like I am one woman against a male driven machine. I feel like my voice is being drowned out or distorted.
Power abuses are something we need to tackle as a community. I am not the only woman, or even the only person that will have felt like this. I hope the revelations emerging sparked by the Louis CK expose mean that comedy is becoming a fairer and more inclusive playing field.
On a positive note, there are men in comedy who have been extremely supportive like Geoff Whiting from Mirth Control, Alex Petty from Laughing Horse, Mike Lord from JAM Comedy and many more. I'm looking forward to performing my show Back 2 Basics again next year as part of The Leicester Comedy Festival. I'm also grateful to all the men who have taken the time to be a guest on my podcast, Men Sex & Feminism.
It was uplifting taking part in a recent Funny Women competition heat which is organised by Lynne Parker and the MC of the event Barbara Nice was inspiring and encouraging to me.
Solidarity to all the women out that who have ever felt threatened on the comedy scene!
• For more information about Samantha's comedy and podcast visit www.lovemuffin.org.uk
Published: 15 Nov 2017
What do you think?