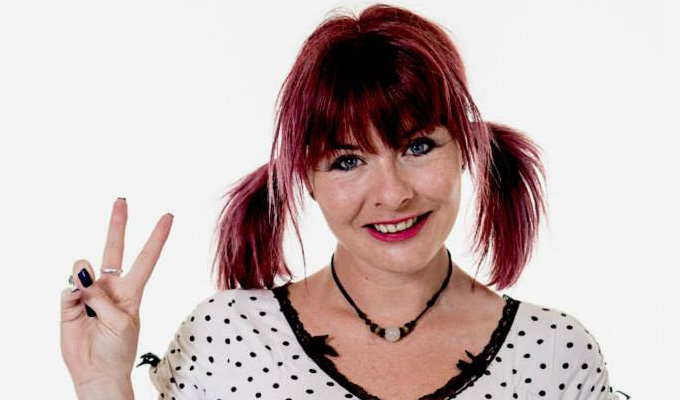 I won't dress down for comedy
During my trip to Edinburgh this year, there was a lot of talk about sexism in comedy. I have only been gigging for nine months but have mostly found other comedians and industry people to be very friendly, helpful and definitely not sexist.
As an ex-glamour model I'm quite comfortable being feminine and expressing my sexuality. I like to wear dresses, high heels, talk about sex openly and dance in a sexy way. It doesn't bother me if men flirt with me or make cheeky comments; I think it's natural for us to admire each other in a physical way. I don't feel objectified. As a woman in my sexual prime I want to feel desirable but also to be taken seriously.
The problem is boundaries. Just because I choose to express my sexuality openly doesn't mean it's an invitation. Dancing in a bar one night another comedian who I had never met before decided to grab on to me and grind his crotch hard into my ass (I blame MTV!) As a mutual friend was present I just laughed it off and moved away but inside I felt violated and frightened. I should have said something straight away because the situation got worse when he tried to start a fight with my male companion.
The next day I wore jeans and covered up. I also found myself behaving more aggressively with the other male comedians but they didn't deserve it because actually 99 per cent of the men I have met in the industry have been lovely and perfectly respectful. Thank you all, you know who you are.
I call myself a Sex Positive Feminist. Growing up I was taught to suppress my sexuality as men would think I was asking for it if I behaved or dressed in a sexy way. I rebelled – quite a lot!
But after a bikini contest in my 20s, I was raped. However I refused to fall into the role of victim and continue to fight for women to express themselves freely, by setting an example in myself.
I am proud of my glamour modelling pictures; I chose to express myself in that way. My body is mine. I don't just flaunt it for the appeasement of men's sexual appetites. Those pictures were for me too, I'm not always going to look like this.
Every woman is beautiful in her own way but there is nothing sexier than confidence and in order to be truly confident we have to own every aspect of ourselves, including our sexuality.
The problem is women don't feel safe being overtly sexual; there is the threat of harassment or assault. You certainly couldn't walk down the street alone dressed like some celebrities do. There is also the fear of being labelled a slut.
Men can't openly express their appreciated of female beauty without the risk of being label a misogynist or a pervert. But it's just a natural part of being human, an instinct and that which we suppress is expressed in later days in uglier ways.
A lot of people are against Page 3 at the moment and there has been uproar in the media about a pair of celebrity breasts. I honestly don't think there would be demand for this kind of thing if real women could be more sexually liberated.
Instead female sexuality is being used to fuel consumerism. I'm more worried about the sexy undertones in advertising than I am about page 3. We're being seduced by advertising and celebrity culture instead of each other. We're being distracted and divided, sucked into a virtual world. I love live comedy because it's real human connection, bringing people together.
My point is women need to reclaim their sexuality, and that doesn't mean you have to pose naked or dress provocatively. Sexy is a state of being. Do it for yourself, it's part of who you are! Sex and sexuality is nothing to be ashamed of!
A real man appreciates a woman not just for what she looks like but for her thoughts, actions and feelings too. In my experience so far there are a lot of lovely men in the comedy industry. Don't be mad just because they like boobs. I like boobs too. We just need to stop mystifying them so much.
Is a nipple really that offensive? I hope not because I'm happy to show you a picture of mine. It might save a celebrity from getting hacked. Respect personal boundaries and freedom of expression. Make love not war!
Published: 8 Sep 2014
What do you think?