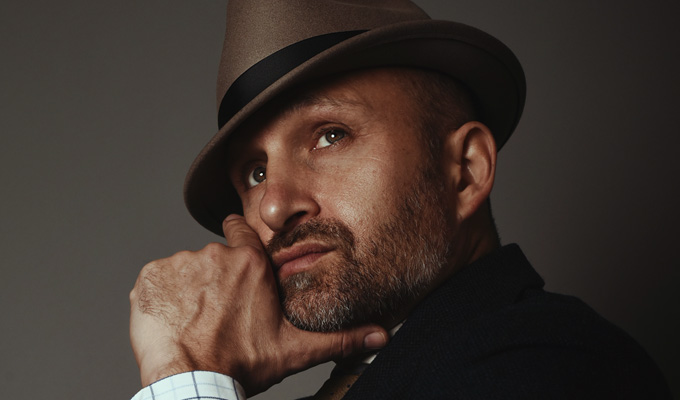 In the comfort zone
I was once doing a long contract at a variety theatre in a small German town called Bad Oeynhausen. It's a lovely theatre, in a small town which is a train ride away from anywhere, and in which the main industry is various treatment centres for a smorgasbord of degenerative and terminal diseases.
It is not the most cheerful place to be having a nervous breakdown, which is what I was spending time doing. Relax, though, this isn't another column about mental health.
Stick with it, because here's the thing. For a week or so, towards the end of my contract there, I was spending my days eating peanut butter from the jar, while staring at the wall of my apartment, thinking unpleasant thoughts and having a good old cry. Except for twenty minutes every day, during which I'd trot downstairs to the dressing room in my suit, stride out into a spotlight and be fine. Totally fine. Happy, even – the smile on my face completely real.
By the end of the show though, as the cast were taking their final bows, I'd feel my hand shaking as it held on to the hand of the castmate next to me in the line-up, as if my nervous system knew that in a few more seconds I'd get kicked out of happy showbiz land, and back into the real life that I was making a pig's ear of. But for that twenty minutes, everything was under control. I knew what it was. I knew its shape. I knew I could do it. Being in front of a theatre full of amused Germans was my safe place.
And honestly, I'm not sure how I feel about this, or how healthy it is, but I think, at least, I understand it.
When I was a kid, my comfort zones were always solitary. I was an only child, and possibly an ever-so slightly odd one. An oddness that my parents showed no interest in understanding, and one that I had even less interest in sharing. It wasn't until I found myself as a young man in a greasy spoon full of buskers that I realised that there, my oddness made me fit.
I learned to play piano by dint of being left in a back room that happened to have one in it, while my mum and grandma gossiped in the kitchen. I learned to code by borrowing my next door neighbours ZX80 and shutting myself away in my room for marathon secret sessions that only broke when it was time for school, or when I had successfully coaxed something that looked like Donkey Kong out of the little plastic wedge.
Once, in the middle of my most passionate Battlestar Galactica fandom (which lasted from the age of about 7 ½ to..well, let's just say it's an ongoing thing..) I reached the point where I'd seen all of it, and needed more.
I had a feeling in my gut telling me that I needed to have some deeper relationship with this thing I loved. The very same interesting ache that leads people to want to do, or be, something, instead of just consuming it. The same tingle that had driven hundreds of teenagers to go from watching their favourite band to picking up a guitar. The same tantalising pain that pushed me, years later, from being a fan of a street performer, to learning to be one myself.
If it had happened now, there'd be no end of medicine for my pain. I'd be able to gorge myself on Battlestar Galactica merch or video games; I could join online fan communities, go to conventions and meet my favourite cast members. But in 1979? Nu-uh.
So here's what I did. Using cannibalised parts from long-dead gadgets that I'd picked up from the jumble sales that my mum used to take me to, together with a few cheap electronic odds and ends, I liberated from various places, and batteries that I got free every month from my Tandy diary, I built, in the space under my bedroom desk, a functioning Battlestar Galactica Colonial Viper starfighter cockpit.
It was badass.
It had a cockpit windscreen made of transparent plastic sheets, with black card behind it covered in stars painted with my dad's silver marker pen. Underneath that, there was a green-screen scanner that lit up and showed the position of the oncoming evil Cylon fighters. And jutting out in front of that was the control stick, complete with little red fire button that, when pressed, shot light-up LED lasers into the inky cardboard darkness of space. It was badass, and I kinda wish I still had it to play with sometimes.
Anyway, like I said, I was an odd and solitary boy.
Which leads me back around to my original point. When you first start performing, going on stage can seem like standing On the Edge of the council pool when you're learning to swim. Your body is fighting with your mind about which direction to move it, and your nervy head is full of questions. Will it be cold? How deep it is? Can I float? What if it sink?
But once you've been doing it for a decent while – provided, of course, you've put in the requisite work to learn to swim – it becomes somewhere you look forward to being. Get your shoulders under, and it's lovely, like a warm bath. You learn to plough up and down, to swim under the surface like a fish, to let the water support you as you float, effortlessly, on it.
The dangerous thing, perhaps, is that sometimes you don't want to come out. Because when you do, you're not special any more, robbed of your low-gravity aquatic elegance, suddenly you're just standing on slippery tiles dripping and shivering.
The comfort and safety I feel when alone has helped me do a lot of things – and it's certainly helpful when so much of my profession relies on long periods spent alone practicing new skills, or solo journeys from hotel to venue to hotel to venue.
I'm good on my own, but more and more, as I age, I start to feel my comfort zone seeping out to include other people. It doesn't always come easy, but persuading myself to be among people almost always pays out more than you put in.
And although it's true to say that there are times, still, when I wish I could sit under my childhood desk and pretend to fly a starfighter, the truth is that after the dogfights, and laser blasted victories, Starbuck and Apollo always came back to the Galactica, because that's where all the other people were.
• Mat Ricardo is Chortle's variety correspondent. His website is here, and he tweets here.
Published: 3 Aug 2017
What do you think?