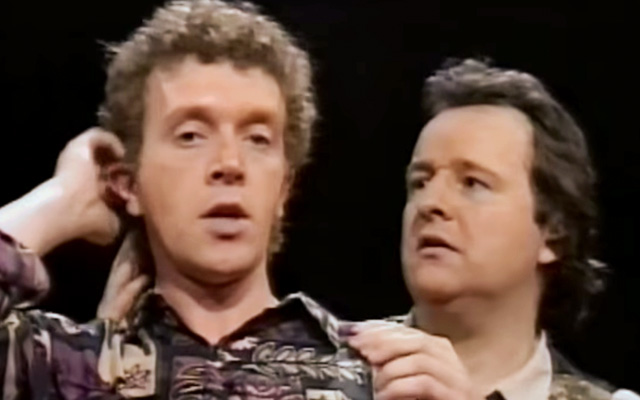 The pioneering giants of British improv
For many, the first rock & roll record was Rocket 88, by Ike Turner (credited to Jackie Brenston and his Delta Cats; others argue that Bill Haley's dire Rock Around The Clock was the first record to have any real rock & roll significance. What's certain is that neither record did anything to damage the reputation of Elvis Presley. Similarly, various pundits have often kicked around ideas of who might be the 'first alternative comedian', whereas the only justifiable contender is Alexei Sayle. One question that is rarely asked, in terms of comedy history, is, who first introduced improvisation to the British comedy stage? Let me now nominate Jim Sweeney and Steve Steen.
Jim and Steve began in the 1970s. Calling themselves The Wee Wees, they devised and toured improvised comedy shows, playing much the same venues as I did, though our paths wouldn't cross until a decade later. 
In 1981 they had presented a children's TV programme, CBTV, which I hated. Up in Edinburgh that year, I was told to go and watch the Omelette Broadcasting Company. I did, not knowing that the show featured Jim and Steve (as well as fellow improvisers Peter Wear and Justin Case). As soon as I saw them, I thought: 'Oh no. It's those twats off the telly.' Seconds later I was thinking: 'Those twats off the telly  are BRILLIANT.' After that, I saw Jim and Steve many times. A few years later I had the privilege of working with them.
Just as the Sex Pistols had inspired a generation of kids to form bands, so Alexei Sayle inspired a load of performers to crawl out of the comedy woodwork. An Alternative Comedy Circuit was formed and Jim and Steve were performing in it, taking suggestions from the audience, then acting them out. And always brilliantly. Many of us wanted to know 'how they did it'. The only way to find out, they told us, was to do it. The Rupert Pupkin Collective was formed, a free-form outfit comprised of whoever came along that night. Shows were staged at the Donmar Warehouse in Covent Garden. The only rule was that there were no rules. There were also no 'theatre games'. 
Audience members scribbled suggestions on pieces of paper; the pieces of paper were placed in a hat; the hat was placed on the floor, and that was that. No suggestion was rejected (despite the incalculable numbers of requests for 'Mrs Thatcher's bedroom'). Comedians flocked to take part, as did more respectable actors – John Sessions and Sandi Toksvig are two that come to mind. I did a few shows myself and, despite having 15 years of performance under my belt, was more terrified than I have ever been in my entire life.
And also reduced to hysterical laughter. One suggestion was 'a man has lost his voice'. I went on stage. Steve Steen followed. I did a lot of arm waving, gesticulating and pointing at my flapping mouth. After about five minutes of this Steve Steen said, 'What is it, Lassie? Do you want me to follow you?'
There would, almost always, be a moment during every show in which Jim and Steve would be on stage alone together, at which point the other performers would gather in the wings to watch. Many of those performers, like me, would never have performed improvised comedy before. Many of them would go on to earn a living at it.
Television failed to capture Jim and Steve at their best, instead preferring to subject them to the banality of games and one-liners. Jim and Steve began spending less time on stage together, a decision due, partly, to Jim's worsening multiple sclerosis, about which he would write movingly (and funnily) in his play, My MS And Me. Steve continues to perform, acting in theatre and radio plays (some written by Jim) as well as improvising with the Comedy Store Players, Paul Merton's Impro Chums and Stephen Frost's Impro All Stars. Jim, meanwhile, was forced to retire from performing as his MS worsened.
My own retirement from performance, my cycling trips abroad, and subsequent move to Norfolk meant I saw nothing of Jim or Steve for more than ten years. By which time, Jim's MS had him virtually housebound and in need of 24-hour care. On my way to see him, I wondered which version of Jim Sweeney I would be presented with. Would the disease that had robbed him of movement also have robbed him of his mind? I needn't have worried. Jim's mind was in its usual superb form. As was his sense of humour – unfortunately for me.
Our conversation had turned, unusually for us, to the art of performing (we preferred to just get on and do it, rather than blab about it). Jim was talking about those 'special' performances, where the performers feels that they have the audience in the palm of their hand, can take them anywhere, and that a unique bond has been formed between them. 'Surely,' said Jim, 'In all your many years of comedy performances, you must have read about such a thing?'
I have. What I haven't read is a history of British comedy that includes Jim Sweeney and Steve Steen – two improvisational comedy giants who, strangely, began their comedy life as an outfit they called, The Wee Wees. The only thing they ever got wrong.
• John Dowie is currently crowdfunding his comedy/cycling memoir, The Freewheeling John Dowie. Support it here.
Published: 10 Oct 2016
What do you think?