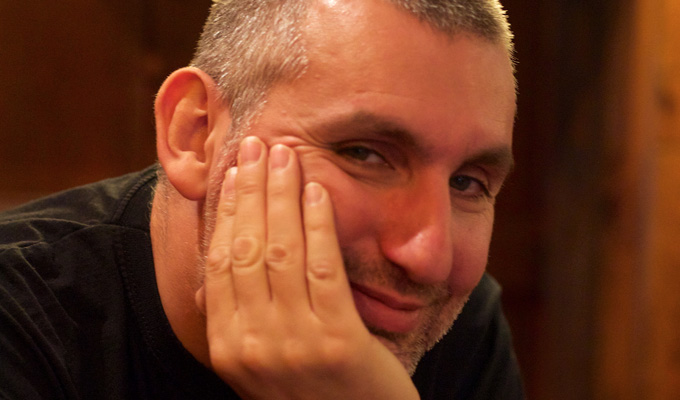 Gazza's joke was crass - but he shouldn't have been fined
Former England footballer Paul Gascoigne has been fined for telling a racist joke on stage. In front of a thousand strong audience, he asked a black member of security to: 'Smile so I can see you.'
Should telling an offensive joke on stage be a criminal offence?
When performing, comedians often ask rhetorical questions. It's a standard persuasive manoeuvre that helps point the audience in a desired direction. However, when I posed this question to comedians, intended as rhetorical, on social media yesterday, it quickly became clear that a significant minority think that the answer is 'yes'.
It's hard for me to understand why artists are happy for the state to restrict their own freedom of speech, on the basis that some artists say things that are objectionable. In this specific case, several points in favour of the State fining Gazza were raised.
The first was that as Gascoigne's security guard was doing his job at the time of the incident, he suffered what amounts to workplace harassment. But if an office-based staff member – let's call him 'Jim' – directed an unacceptable slur towards a colleague, Jim should not expect to be arrested. He may be disciplined, made to apologise, forced to undertake diversity training, or even sacked, but the police wouldn't be called.
The second objection was that as Gascoigne is not a comedian. The 'smile so I can see you' line doesn't qualify as a joke. One person suggested that as the line isn't funny, it self-evidentially can't be a joke. The trouble is that lots of people did laugh. Gascoigne said a sentence, people laughed in response. Whether you or I find it funny is irrelevant, it's still a joke.
There was a suggestion that if only the joke had been better, it wouldn't have been offensive. Jim Jeffries once opined in an interview (I'm paraphrasing): 'If a joke is funny then it's not offensive' and 'if a joke is offensive it's not funny.' But this is a dead end. What if you don't find it funny but hundreds of other people do? 
One morning towards the end of this year's Edinburgh Fringe, I found myself in a packed Stand Comedy Club sitting between comedians Simon Munnery and Lewis Schaffer. We'd come to hear comrade Jeremy Corbyn on his leadership campaign trail. 
Thankfully, Corbyn is more effective in the flesh than on TV and his presentation on the future funding of the arts, aside from questions on how he would pay for it all, was enough to engage even the most bleary-eyed comic (and journalist). Comedians (and journalists) aren't known as morning people, but the debate was lively. Corbyn even managed to wake up a sleepy Ivor Dembina by fondly reminiscing about Ivor's much missed Red Rose comedy club.
My question for Corbyn was this: If local authorities are going to be encouraged to fund local arts projects, including comedians, would acts be expected to meet equal opportunities criteria to qualify for support? If an up-and-coming comic wanted to discuss, for example, race, as part of their act, would that lead to problems? Would someone from the council have to review the routine first to ensure it complied with the Equalities Act?
The implications of this may be obvious to you, but I didn't get an answer.
Perhaps if the State does have a role in the arts it should be to protect artistic freedom. What if a playwright, musician, comedian or any other artist had complete freedom of expression when delivering their art, enshrined in law?
This 'Protection of Artistic Freedom of Expression Act' would prevent artists from being criminalised for performing pieces that some might find objectionable. MPs have Parliamentary Privilege, why not artists? If you don't like it, don't buy a ticket. If you really don't like it, protest outside the theatre and seek to persuade (hopefully using reason) other people not to go.
West End musical Jerry Springer: The Opera shut down due to the right-wing homophobic sect Christian Voice threatening to sue for blasphemy, driving its creators, Richard Thomas and Stewart Lee, to near bankruptcy. It's at least possible that Jerry Springer would have survived if artistic freedom had been enshrined in law.
Yes, we also get to keep Chubby Brown, Jim Davidson, Dapper Laughs, Paul Gascoigne et al, but guess what, we have them already. Noam Chomsky said: 'If you're really in favour of free speech, then you're in favour of freedom of speech precisely for views you despise. Otherwise, you're not in favour of free speech.'
I understand the objections. I get it.  I too can get offended. I have a young son who is severely autistic, he doesn't talk and often struggles to relate to the outside world. I can get angry when I hear lazy comedians refer to retards and idiots for a cheap gag. When I met Mike Ward, the comedian who was successfully prosecuted in Canada for repeatedly making fun of a disabled child, I could have happily punched the unfunny cunt in the face. 
Growing up, my son will face discrimination from kids who think it's fun to mock disabled people, perhaps repeating lines from comics off the TV.  But I'll try to teach my son – and remind myself – what I learned at school.
Sticks and stones may break my bones, but words will never hurt me.
State interference in the arts threatens society to a much greater degree.
• Martin Walker is the comedy editor of Broadway Baby and hosts the On the Mic comedy podcast at onthemic.co.uk
Published: 20 Sep 2016
What do you think?