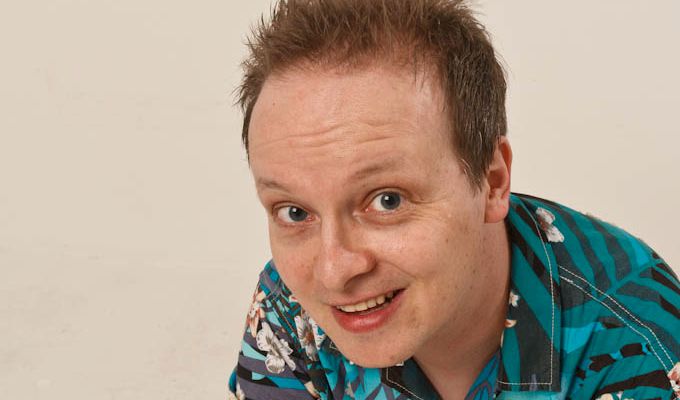 Brexit will batter the comedy industry
There's no denying that weaving topical comedy into your set is a great thing; it shows your keen mind tackling the issues of the day and can release the pressure of concerns people may have been ruminating over for hours or days. But as someone who comperes a lot, I can tell you that giving an opinion on the EU referendum on stage is a blind gamble at best and a guaranteed audience loser at worse.
OK, geography will play a large part of it; for example my hometown of Brighton is heavily Remain and the Sussex countryside is a bloodbath of Leave. But the reality is, large chunks of your crowd will be passionately one way or the other. So crossing that line with material will often result in alienating a section, and maybe giving yourself a battle people who 'just wanted to come out for a laugh' didn't pay for. Club audiences' opinions seem to be that political campaigning should be kept to tour and panel shows.
So putting aside the comedian's personal view on it, slowly (and very tardily) the comedy industry across the UK is beginning to face up to the reality that a Brexit is highly possible and realising, like with the recession of 2007, is that it's something we're more likely to be doing stuff about rather than doing stuff on .
And this is because we have recent memory of the recession of nine years ago and how hard it hit comedy. The ungainly collapse of the original Jongleurs empire had the knock-on effect of supply suddenly outstripping demand for comedians on our circuit. There was no great overnight calamity, but the squeeze has been ongoing and the stagnation continues even now. The dearth of paid midweek works in London. The shutting of licensed venues. The squeezing of budgets. The removal of accommodation and generous riders. The freezing of fees. The rise of free festivals, and 'the bucket speech'.
All of that started in 2007, and all because of one key thing: the recession. People went out less, and spent less when they were there. And it turned out many licensed venues were operating on cheap and easy credit that dried up rapidly during the crunch.
There were arguments that it was a good thing; certain 'economically minded' comedians I am friends with point to the 'purge' factor where the weaker elements of any industry are eradicated by the reduction of available business. Or to put it in more simpler words; the shitter acts got less work and gave up, leaving a healthier, leaner, circuit.
But the recovery hasn't really ever happened; those who do work regularly who complain about the money barely increasing should look at the balance sheets for a venue. I'm in a useful position to know both the financial workings of the jobbing comic and a permanent comedy club, and venues are still in as precarious a position as ever. The lack of credit to invest, mixed with virtually no midweek income, stops licensed premises thriving and with the country now habitually not going out midweek, this shows no sign of ever returning.
So with that in mind it would seem comedy couldn't cope well (if at all) with another recession; certainly a man-made one would seem madness for us. But this does assume that #Brexit would lead to recession in the entertainment and hospitality sectors (which comedy falls firmly within; there are very few exceptions as to where it functions separately from this industry). This is what I've been looking into.
The first major issue is one of employment. Entertainment venues virtually everywhere have predictable seasonal variations that require part-time workers, and the EU provides the majority of these. That's not an assumption; a survey by Hamlins Law showed continental EU staff make up most bar and food workers in UK cities. Brexit would reduce that intake by between an estimated 33 per cent to 66 per cent. Show me a comedy club without decent food and drink income and I'll show you a booking any comedian should bump back to a 'pencil'.
And what about the comedians themselves? Yes, Ian Moore and Al Pitcher will find it more onerous and expensive to live in the EU and commute to gigs over here, but more significantly (in number, at least), what about the Irish comedians?
Britain's long-standing agreement with Ireland to simplify movement of work may evaporate with them maintaining their EU status. How difficult will it be to nip over for a weekend of club bookings? In either direction? A few UK comedians have said a move to Ireland would be quite tempting, though some have now said they are waiting for Scotland to go Independent and move there instead. Looks like The Stand will have a huge number of people to chose from at weekends; sorry Mark Nelson; bloody foreigners coming up there, taking your jobs...
Supplier contracts are another large part of this. Fosters - part of Heineken (a Dutch company) are a huge part of comedy, both in supply and sponsorship. Many of those financial relationships would need to be renegotiated. Yes, there's a two-year moratorium, but as you may have seen, comedy is a long-term investment for any branding partner and uncertainty is the shortcut to having those relationships cancelled. Why pour all this effort and money in if there's not going to be an industry at the end of it?
For investors, the key problem here is one of financial credibility. A prominent comedy company used to have a page on their website suggesting people who want to start a comedy club have liquidity of £750,000 available from the outset, which when broken down for venue, equipment, marketing, and staffing/comedians, sounds about right.
But with so much uncertainty the money people will be keeping their (credit) cards close to their chest. We aren't going to see any big clubs appearing in the event of us leaving the EU. And as mentioned before, comedy clubs need credit to smooth over the fallow periods. Take that away and they fold at the smallest dip; not conducive to the long-term successes our industry craves.
On top of that, a diminishing pound (which is highly likely, maybe even with a slim Remain vote) creates some interesting issues. There's an argument a cheaper pound increases tourism, which is still responsible, directly and indirectly, to a large part of comedy's income; but then it doesn't send a message to our EU visitors (the vast majority of our tourist trade) that they are welcome.
A third of Germans, Spaniards and Italians, and a quarter of French, would be put off coming here if we went Brexit (surv: Travelzoo). Data from VisitBritain and the ONS says Brexit will cost the tourism industry £4.1billion a year. Ouch.
And then there's the problem of the finances of the public themselves - our biggest issue of all. Another recession could mean disposable income dropping to zero, making nights out for the majority of the public so rare that even our most successful clubs fold. Many comedians now have 'other jobs', be they actual normal jobs or connected work in our industry (training, writing, warm-up, etc). You could argue with comedians also operating at 100 per cent; drop our income any further, and maybe the work bit that has to go is live comedy.
Leave campaigners fall squarely into two groups on this; those who say a recession is a good thing (the 'purge' element) and those who deny a recession will happen. The latter are not doing well of late, with just about every financial body showing them to be wrong. The former are continuing to argue that post-Brexit blip we will recover strongly, and they might be right, but recent history has shown that the comedy industry doesn't have the contingency or financial security blanket to soak up another kicking. In other words; Britain might recover, but our industry might not be there when that happens.
And finally, there's the spiritual element of this - what sort of crowds we will have, post Brexit. Poorer? Probably. Geographically and ethnically diverse? Very much less so. Happier? Not likely. Divided and angry? Almost certainly. Sure, these guys might need entertaining, but then so do people at a wake. And that's one gig I think most of us would turn down, though come June 24, we might have to take every job coming.
'Anyone in from overseas? Anyone? Anyone…?'
Published: 21 Jun 2016
What do you think?