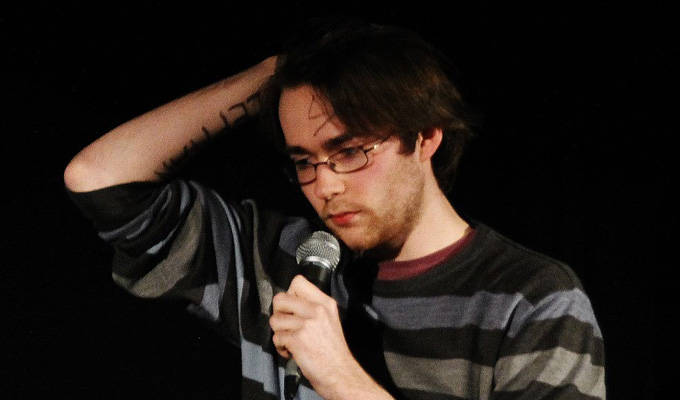 How we did the Business on the Fringe
'Business business business business business business business business business business business business business business business business business business business business business business business business business business business business business business business business business. This is business. (Business.)'
   This was the description in the Edinburgh Fringe brochure for a show called This is Business. No act or company was linked to the show. There were no reviews. Just a venue and a time slot. And the word 'business'.
   Intrigued? Me and a few mates were. After a day of performing stand-up to four geriatrics who couldn't understand English and being told to fuck off while flyering for minimum-ish wage, we went to the Counting House at half past midnight and sat down waiting for the mysterious 'This is Business'.
   We waited. And waited. And waited.
After waiting three times (maybe three and a half), fellow flyerer and filmmaker Jack Kelly checked his watch (then remembered he had a phone instead) and found it was 1am, half an hour after the show was supposed to start.
   With a huge demand for shows in the Laughing Horse Free Festival, any act who had gone through the arduous nine months of writing, booking, promoting, dreading, loving, loathing, grooming, and previewing a show would not have missed opening night for the world. But this was the EdinburghFestival Fringe: an empty stage with a microphone in the stand, advertised only by the repetition of the word 'business', could have been an art installation displaying the vapid nature of stand-up comedy after its instantaneous commercialisation. Broadway Baby would give it five stars and Stewart Lee would have a new go-to image in his wank bank.
   During the wait, Jack and I had been chatting to two other amateur student open-spot stand-ups (read: shit), Jack Reid and Tim McConnell. We'd all been taking part in compilation shows for student societies to tiny audiences who nipped in for ten minutes then left to see other shows. We'd all been rained on by the Scottish tsunamis and other people's parades. We had nothing to lose and something to drink. We took to the stage.
   And it went down OK. The audience of my mates and three other intrigued drunk couples enjoyed the sets which Tim, Jack Reid and I performed, making them the best Fringe audience we'd had so far. The crowd (in Edinburgh, 'three's a crowd' is an actual law) bought us each a drink and we said goodbye.
   Until the next night. Tim, both Jacks and I came back to This is Business to tell the act about our impromptu gig. But they weren't there, and we were sat waiting in an audience of strangers once again baying for business, answers and business. So we waited 15 minutes, then took to the stage to perform stand-up once again. And then, after a couple more gin and lemonades, we decided to keep doing the show This is Business until the real acts turned up.
   The elephant in the room was that we had no idea what This is Business was like. The only clue we could deduce was the word 'business'. Thirty-five times. But if that's what an audience expected, that's what they would get – the word 'business'.
   The tapir in the room was that there was a donation bucket by the door every night. Having simply wandered into a room and effectively nicked an empty gig, we didn't really have any rights to any money. Even if we did get enough for post-gig chips, what if the real acts came back and rightfully demanded the bucket fee to cover their Fringe costs? Since we were a show that had no right to a home, we thought that the poetically poignant thing to do would be to raise money for homeless people with every right to a home, and gave every penny in our bucket to the charity Shelter.
   Every night, Tim McConnell would take to the stage to a crowd ready to shout 'business', handling the audience like a pro MC, despite his only qualification being that he owns a suit. Acts that could do 'what's your business?' puns or business-based material flourished, whereas the archetypal shy, geeky student caricatures fared less well. Some nights felt like a new act showcase, others were bearpits. But for the grateful open spots we got from Facebook comedy forums, it was rare stage time at the most overcrowded comedy festival in the Milky Way.
   Then people started turning up. Word of our story and quirky stand-up showcase night spread from the Red Box across the road all the way to Broadcasting House in London, as Lucy Porter named 'This is Business' in her highlights of the Fringe on Mark Radcliffe's BBC Radio 6Music show. She called us all 'Alan from Leeds' and said the venue was the 'Edinburgh Business Centre', a venue with 600 more seats than ours. 
We caught the attention of international variety star Wilfredo, veteran circuit act Silky, and eventually the real acts of This Is Business. We raised more than £600 for Shelter, who seemed delighted after catching us donating carrier bags worth of change on a daily basis. In the last week, our audiences were 'dangerously' over capacity.
   Meanwhile old women were walking out of our other shows and our flyers were chucked in the next available bin.
   As the Fringe came to end with a storming headline set by the real acts who booked This Is Business, we had a business-shaped hole in our hearts. We have taken the format on tour to various student unions in the North and raised £300 for Shelter. We are booked in for Edinburgh Fringe 2016 and receiving an overwhelming response to the Kickstarter to cover our costs. All of this happened because we were in the right place at the right time with the right business.
   With the recent move by Gilded Balloon to take over our birthplace, The Counting House, from the Laughing Horse's Alex Petty, who chooses to help his artists over his bank balance, the Edinburgh Fringe is providing fewer opportunities for comedians who are struggling in their career and their finances. Any open spots who come up trying to get gigs find themselves short-changed in a festival where talents are supposed to be discovered.
   We've been forced to ask for crowdfunding to cover the brochure and venue costs alone this year. Comics such as Luisa Omielan and Zoe Iqbal have been outspoken about the costs of the Fringe alienating working-class comedians for years. As if the gods of comedy felt the need to prove that point, news of Lady Colin Campbell's debut solo-but-with-writers hour at this year's festival and Bob Slayer's brilliant breakdown of Gilded Balloon's pay-what-we-want system came out recently.
   Shows like the Alternative Comedy Memorial Society and This is Business survive on generosity of their audiences and promoters alone. And it is clear that audiences want something different. They want to see Chortle Student semi-finalist Bennett Kavanagh doing the world's greatest impersonation of Ed Milliband's nervous tick. They want to see the maverick founder of the UK Student Comedy Network, David Blair, a man halfway between Tommy Cooper and Tommy Wiseau, throwing spaghetti and pictures of cats across the stage. They want to shout 'business'.
   So if you find yourself faced with an empty stage with a crowd awaiting a show that isn't turning up, take it and make it yours. Because that's what stand-up is: a form without limits until you make your own. And that's just good business.  
The 2015 Fringe programme entry for This Is Business
Published: 24 Apr 2016
What do you think?