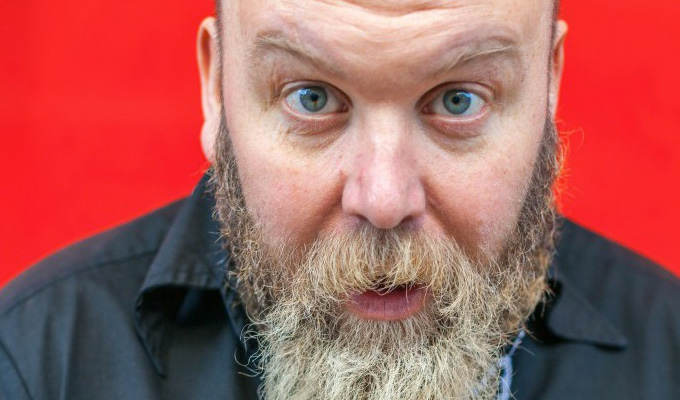 An open letter to Karen Koren of the Gilded Balloon
An open letter to Karen Koren, artistic director of Edinburgh's Gilded Balloon,
When I first read the news that the Gilded Balloon were taking over a Free Festival venue I just wanted to put my head under a sheet and shout: 'Leave the Counting House alone...'
Gilded Balloon may have been the sort of promoter to use this venue many years ago but as one of the Big Four (Assembly, Pleasance, Underbelly and Gilded Balloon) it is no longer for you. The Counting House is a pub venue that has been successfully hosting free shows at the Fringe for years.
Audiences are happy because it's a cheaper alternative to a version of the Fringe that many of them have been priced out of. Performers are happy because they can more easily attract audiences. The venue, up until now, has been happy to be full of punters spending money and Laughing Horse are happy to take a reasonable fee (£90 for a full run of a show this year) for administering all this happiness. Shame on you for throwing money around and upsetting this wonderful utopia.
And then you announced that you would be adopting the Pay What You Want (PWYW) model that we introduced to the Fringe a few years ago, and my anger turned via flattery into hope. Are you reacting to the changes that you have seen happening at the Fringe? Are you looking to adopt a fairer business model in the Counting House? A way that you can work with developing acts without putting them into debt? Are you looking to adopt a model that enables established acts to restore their mojo? A smart move for Gilded Balloon and a potentially exciting development for the Fringe as a whole.
When we introduced Pay What You Want into our venues (Heroes @ The Hive, BlundaBus and new for this year Dragonfly) our aim was to bridge the gap between the paid and free models by offering the best of both worlds. It is a model that gives audiences the choice between buying a ticket if they really want to see a show or just turning up and taking a chance.
Our shows are able to sell tickets without high venue costs. A Pay What You Want show can start the Fringe with an audience consisting mostly of walk-up who haven't bought a ticket and then, if it is good enough, word of mouth can ensure that they can end their run with a sold-out show. This gives performers an alternative to the ridiculously expensive marketing arms race plus the resultant risk of getting into debt, which in turn means that tickets can be cheaper for punters, making shows even more accessible.
Contrast this with the increasing number of really good shows in the Big Four venues that struggle to get audiences every year and end up losing a lot of money. We know this because they tell us so, but here you are adopting a model that will help these acts find punters and have a successful Fringe. Well done for joining the party. Welcome to the new utopia!
But then acts also started to tell us about the deals you are offering at the Counting House. It quickly became apparent that although you are using the PWYW mechanism you are not adopting any of the reasons behind it. It seems that you are asking for the same financial guarantees, along with the multitude of extra costs, in advance of the Fringe that you look for with your existing venues. So effectively it is performers' own money that you have thrown around to take over the Counting House and now you are offering these performers deals that will leave them in debt. Utopia is burning...
Here is a simple comparison of Fringe deals:
• £90 is the amount Laughing Horse are charging this year for a DIY 'Free Festival' show for a full run at any of their spaces, which last year would have included the Counting House Ballroom...
• At least £3,961 is the asking price Gilded Balloon have put on a 'PWYW' show in the biggest room in the same venue this year – more if the show's a success. Apparently that multiplied by ten shows per day per room is what is required to cover front of house, box office staff and technicians?
• At Heroes venues we are able to lay on venue technicians, front of house and box office staff and we only take a one-off £250 per show plus 10 per cent of any pre-sale tickets (not bucket income) for a 'PWYW' show. If a show requires anything else, we can bring it in at cost price. Our margins are tight, yet they ensure that none of our shows are under unnecessary financial pressure which in turn leads to happy more creative performers.
Neither Laughing Horse nor our deal require too much explanation, they are clear and to the point. However the Big Four deals really need to be examined closely in order to have a chance of understanding them. The performers section on Gilded Balloon website shows how the guarantee is calculated.
The venue require a guaranteed income to hire the space. For the largest room in the Counting House, which has 130 seats, this is £2,437.50 plus VAT for a prime-time slot. Then on top of that are other compulsory costs including entry into the Big Four venue brochure at £500 + VAT and the Fringe programme at £363.50 + VAT. All of this comes to £3,301 + VAT = £3,961).
The £2,437.50 plus VAT is just a guarantee, too. If 40 per cent of the box office exceeds this, the Gilded Balloon takes the greater amount.
Even that is not straightforward. The 40 per cent figure that is quoted doesn't include the 4 per cent fee that the Gilded Balloon box office charges to print tickets. Effectively making the cut 44 per cent. I would have thought that the 40 per cent would be enough to cover printing tickets, but it seems to be just another example of the artist being expected to pay up front and shoulder all the risk while the venue is guaranteed an income.
The Gilded Balloon will even take their cut from the 'Bucket Money', effectively the tip jar which walk-up audiences without tickets will give at the end of the show. Heroes take 10 per cent of all advance ticket sales but we wouldn't dream of taking a percentage of the bucket income.
To do so would undermine the very important direct relationship between performer and audience. How are shows going to do their bucket speech at the end of a Counting House show? 'Thank you for your support, but if you were intending on giving a fiver for this show please can you put £8.34 into the bucket so we can pay off our oppressive overlords!'
The Big Four venues often defend their model with the mantra: 'We don't make much money for all the hard work we put in...' but that's more an indication of their efficiency, or lack of, than any measurement of fairness. The important measure is the financial state of performers. All of them.
Personally I don't want to be involved in a model where acts can sell 100 per cent of their tickets and still lose money. Of course established or hot acts will be able to negotiate better deals but is it really necessary to make it so complicated and onerous for acts that don't have the clout or understanding of how it works?
We all have the opportunity to be part of a wonderful evolution at the Fringe: Do we want to be get involved with the change being led by performers who are crying out for better conditions within which to perform, conditions that include clearer deals that enable them to be financially and creatively independent OR do you want to hold onto the status quo?
So I'm really glad that you are adopting the Pay What You Want model, however I hope that you will consider its full potential and use it to provide better and more sustainable deals for performers. At the very least please can you leave the bucket alone!
Bob Slayer
Heroes of Fringe / BlundaBus.
Published: 13 Apr 2016
What do you think?