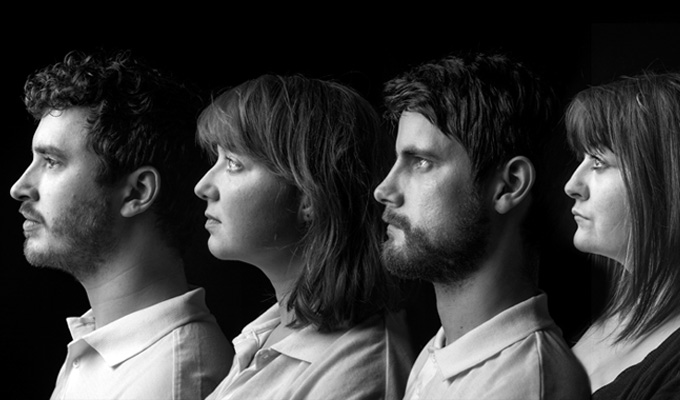 Gein's guide to Britain
Gein's Family Giftshop – Kath Hughes, James Meehan, Kiri Pritchard-McLean and Edward Easton – anticipate what their forthcoming dates have in store...
We're on tour! It started out as a tour of our favourite takeaways in the UK, but our agents said maybe we should gig while we are there, too. So, we will also be gigging all over the smallest arts centres (and two massive ones by mistake) in loads of rural towns and, I think, a hamlet.
The best thing about touring a show at the stage we're at is that absolutely no one has asked for it, so it'll be a lovely surprise for all our small town fans who don't even know about us yet.
We've already been to the Plough Arts Centre, Torrington - the furthest away from the brood mother any of us had ever been (although Ed one stayed at an architect's house by accident, and they both swam in the nude) – and the Bike Shed Theatre, Exeter, but we've more to come:
17/02/16: Lowry, Salford: Home turf, no travel, when no one turns up we sneak into the main theatre and watch Shrek: The Musical (Based on a true story). Bed by 11.
01/01/01/01: Ether Realm, Organic Dimensionless Digital Space: Everyone is computers. Sketch is everything.
03/03/2016: Little Theatre, Chorley: Utterly deceptive, giant theatre, Jim was either born here, or watched Bjork here, none of us were listening. Did no research before booking it in, 80 per cent chance it will be the best show. Edit: Just checked with Jim, he was born here and has been emailing Bjork asking her to play here, still no reply. (Bjork@hotmail.com in case you were wondering)
11/03/2016: Key Theatre, Peterborough: We all assumed it was run by Tim Key, he refuses to reply to emails about this gig. Not sure if it's happening.
15/03/2016: Clwb Ifor Bach, Cardiff: None of us read the email properly, assumed we were GOING to a gig here, not DOING a gig here. Might have to bring Kath's Taid's harmonica.
16/03/2016: Warwick Arts Centre: Really looking forward to this one. Got an ordnance survey map of the castle and we WILL find gold.  15/04/2016: MAC, Birmingham: R.I.P. Steve Jobs.
17/04/2016: Norden Farm, Maidenhead: Kiri grew up on a working farm, Ed grew up on a broken farm, Kath went to a farm for her birthday, Jim thinks everyone else smells like a farm. Why wouldn't we gig on a farm?
20/04/2016: Seen, Darlington: Ed descended from the north like an individual horde, this is the closest we get to gigging in his home town.
25/05/2016: Little Theatre, Leicester: Leicester isn't a lying bastard like Chorley, we know the sound tech guy so if we slip him a fiver he'll tell everyone it was a great show, super excited what he'll do for a tenner.
26/05/2016 West End Centre: Another shocker. Take a wild guess as to where this isn't? All guesses correct except Aldershot. And not Aldershot, Soho, London. Because that doesn't exist.
29/05/2016 Komedia, Brighton: After this gig we can strip off and walk calmly into the sea, car headlights shining off our white arses. Peace.
18/12/3000: Somewhere Underwater: Best show of the tour, sketch was designed to be at the least damp. Sodden is the dream.
Published: 8 Feb 2016
What do you think?