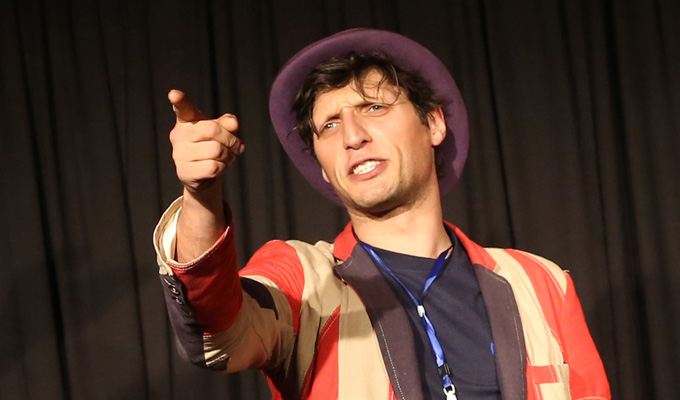 Comedians are artists too
Today, along with my co-producer on the London Sketch Comedy Festival, and with the backing of the UK Comedy Guild, we published an open letter to the Arts Council England, something we had never expected to do.
Earlier this year, after years of denied applications (stretching back to 2008) we received for the first time the details of a 'relationship manager' from the funding organisation. Although we had been denied any money, we were thrilled to finally be in contact with someone who could actually talk to us one to one. We promptly scheduled a call.
The call didn't last very long. Within minutes we were being told that comedy isn't open to any funding because 'comedy is commercially sustainable'. De facto.
To anybody working in comedy, the legend of the Arts Council England's disinterest in the art form is as ubiquitous as an unpaid gig, so to say that this statement surprised us is a big thing. Not because we expected to get funding but because we expected a better answer.
There's two conclusions to this we thought, either the Arts Council England are seriously negligent towards the state and nature of comedy or they are covering up some other bias.
Firstly, anybody applying to the Grants for Arts fund is clearly in a position where money is a barrier, thus commercially unsustainable. I can say with a fair amount of certainty that any comedy act performing on TV or in arenas probably aren't canvassing the Arts Council, so what defines commercially sustainable?
A quick look into some recently funded projects will reveal activities like brand development for theatre venues, research and development for dance companies and even a live performance by the award-winning band Asian Dub Foundation. It seems to me these groups are fairly commercially sustainable, at least far more than any comedy act, so why are we any more commercially sustainable?
Truth is most comedians are out of pocket. They pay for their venues; usually lose on tickets; research and develop and write and rehearse for free; and then on many occasions perform for free.
Somewhere further down the phone call, we're also told that if we want to fund something like comedy we need to skew it as theatre. Anything remotely comic that has been funded in the past has been done so in this way, by making it more theatrical or corroborating it with some other combined art form. Perhaps some comic spoken word or funny poetry?
If it can be proven that comedy isn't any more commercially sustainable than other art forms then where else could this discrimination stem from? We got in touch with the Department for Culture, Media and Sports, the Arts Council's parent body, to find out more and asked them to comment:
'From Charlie Chaplin to Billy Connolly, comedy has played a major role in this country's culture and identity.  Unlike other art forms such as dance and visual arts, comedy tends to be a commercially self-sustaining performance form.  As it doesn't require a subsidy, it doesn't fall under the definition of art forms that receive Government funding. However, it plays a growing role in the programmes for many theatres and arts festivals funded by Arts Council England.'
Notice how comedy here is referred to as a performance form in comparison to an art form. It would appear that the problem might actually be that comedy is not considered an art form and it's a distinction that appears to underwrite the commercially self-sustaining theorem. In short, comedians unlike poets, dancers, musicians, visual artists, crafters and writers don't need a subsidy to create their work because inherently it is not artistic enough to warrant needing money, even though it's a major contributor to culture. What's worse is that this is all based on a tendency.
Finding this out brought on a deep indignation for every professional comedy act out there and each group we've ever worked with, that there is no respect for their work at an institutional level. Failing that, there is no understanding of it, assuming that comedy outside of theatres and arts festivals has no artistic value or is easy to produce.
This stance inevitably leaves arts festivals and theatres as the gatekeepers of new comedy, cutting out entirely comedy venues, comedy festivals and comedians themselves. It's divisive, discriminatory and prevents comedy from being produced by those outside of these remits or those truly connected and invested in the art form.
It's about time we address this problem once and for all. No comedian should have to mask their work as something else to receive recognition and support from an institution that will quite easily give £25,000 to a writer to travel Latin America in search of poets and adventurers. At no point do we deny the validity of any of these other projects but we do have a problem with the discrimination of comedians in light of the rest of the Arts Council's scope of funding. And we're calling for change. Comedy is an art. De facto.
Published: 10 Aug 2015
What do you think?