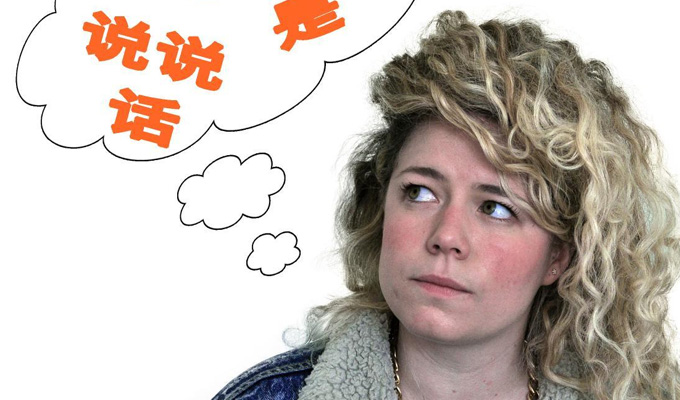 Do clothes make the comedian?
I am currently putting my first solo show together for the Edinburgh Fringe. It's a show entirely in Chinese but for an audience that doesn't speak any Chinese at all. Based on the notion only 7 per cent of communication is verbal, it's an experiment in the 93 per cent. To be honest, I am finding it all very difficult.
I have spent a couple of weeks working with a clown director, who I respect a lot (I do know how ridiculous this sentence sounds). Naturally, he has very strong views about performance, based on his decades of experience working in comedy and theatre.
During this process, he asked me what I planned to wear when I do my show. I looked down at my clothes: skinny black jeans, a T-shirt and Nikes. I suppose it's a clichéd standup uniform, but it does happen to be the clothes I wear every day. He told me I am lazy for wearing this onstage and that it is a wasted opportunity not to wear a costume.
I did not take this news well. I personally think everyone should wear whatever they darn well please (just wanted an excuse to say 'darn') and I do not enjoy being called lazy.
But it got me thinking: are standups just being lazy by wearing their normal clothes on stage?
Dressing down used to be a conscious choice: a statement; deliberate rejection of so-called comedians wearing dinner jackets, frilly shirts and telling racist jokes on the telly. But, having started doing stand-up myself about 30 years after this, and having simply adopted this convention without much thought, I can't claim to dress casually with such meaningful intention.
As it's now become so normalised to dress down, has it become meaningless? Perhaps my clown director, Gerry Flanagan, has a point. But it does beg the question, if not these clothes of ours, then what?
Perhaps I am being lazy for even assuming I should be wearing clothes? Well, it certainly appears to be expected that we'll be wearing clothes on stage given the shock value when we take them off. Clearly, one reason people respond so strongly to acts like Luisa Omielan and Adrienne Truscott getting their bodies out is because there is an expectation that they won't. My show is playing with the way we communicate - I reckon it is much harder to read body language on a naked person because we're distracted by the wobbling parts we don't normally see so we might miss subtle things we'd spot if they were clothed. (Breathes sigh of relief for finding a thematic explanation for justifying wearing clothes in show).
Much as it's true that nakedness speaks volumes, it is also true that clothes are an opportunity to make a statement of some kind. A costume means you can control and play around with this statement. But, doesn't that also remove the immediacy of you being able to walk on stage as yourself and just be yourself? Or at least whatever that means in a stand-up context, let's not get started on what it might mean to have an 'onstage persona…'.
It seems to me that stand-up is in many ways rejecting the frills of traditional theatre - that's the darn point - and that does not necessarily mean we are being lazy. Perhaps I make an active choice to dress as myself because I am not playing a part or being a character… or, maybe it's because I want the audience to feel and see that it's me?
Yet, my understanding had been that perhaps counter-intuitively, clowns often select a particular costume because it makes themselves feel silly and vulnerable, in order to show more of their true selves onstage. In this sense, theoretically, wearing a costume actually makes them perform more authentically as themselves. This all blows my mind, massively.
However, Phil Burgers, who performs as Doctor Brown, argues this is nonsense: 'The costume is to help you feel ridiculous - NOT to be more yourself - that's nonsense talk! That's why you choose a costume you feel ridiculous wearing. You can use the costume then to help you re-discover your ridiculousness (your clown), but once you've found it, feel free to go back to your shitty stand-up clothes.'
And he adds the note: 'Your shitty stand-up clothes aren't you either, by the way, it's just some bullshit you bought from society which the majority of other people wear to homogenize your spirit… so why be boring, why not have some fun and wear something a bit different, get imaginative, get silly with your costume… but then again if you're playing to stand-up crowds, you may just want to wear your boring clothes which you think represent who you really are, so as not to throw them off too much.'
Wawaweewa. I think this is an awesome argument. But, I would be concerned it could be risky to have to rely on a costume to affect how you feel going on stage. It is remarkably easy to get a kind of psychological crutch based on silly things like having to wear a certain stripy T-shirt, or your gig won't go well. Viv Groskop wrote entertainingly on this very issue in her book I Laughed, I Cried about her 100-day stand-up challenge. She wore the sequin cardigan every night for a hundred nights in a row.
She told me: 'It became like a pair of (very dirty) lucky pants. It was something I could always refer to if I needed to. But it was also like a lucky charm. Although why I thought that I don't know as at the time it was just as likely to make me die. And it really, really stank. I never wear it now.'
I also think there are few things more annoying than seeing someone dressed up for no reason (…unless it's funny). I unfortunately am guilty of this myself having once dressed up as a middle-aged man in suit, rotund belly and combover wig for a gig at Downstairs at the Kings Head, only to take it all off in despair once I got to the stage and do my usual set. (I still don't know what I was thinking).
These days, some comedians see themselves as a sole trader running a business: they're building their own brand, pushing the envelope, etc – a brand of which their 'own distinctive look' is a key part. While dressing in order to build a brand is either incredibly smart or the most depressingly soulless way to get dressed imaginable, depending on the side of the fence on which one sits, it probably is helpful to have something memorable about one's appearance.
Bec Hill jokes in her recent Ask The Industry podcast that she tells friends of hers who are struggling to get ahead in comedy to 'get a hat.' John Kearns refers to himself wearing his now infamous wig and teeth as 'grappling with a joke that's gone too far'. And, it seemed to be helpful for Eddie Izzard's career to be instantly recognisable as the 'transvestite comedian', although he did get beaten up a few times.
We don't speak about it that much in a comedy context, but clothes for women on stage can be a particularly difficult minefield. In the Koran, it says women should not 'strike their feet when they walk in order to shake and reveal certain details of their bodies.' This is a rather extreme response to the notion some people are sometimes distracted by women's bodies.
Many female stand-ups deliberately dress down in order to take attention away from their appearance. We've all heard horror stories about women being heckled to get their tits out, etc, even if we haven't experienced it ourselves. Nina Conti, who wears glamorous outfits on TV told Stuart Goldsmith on his Comedian's Comedian Podcast that she hates putting on the obligatory evening dress for corporates because 'she feels like a bit of a whore'. But, one cannot imagine John Bishop feeling this before putting on his dinner jacket.
Model turned comedian Ellie Taylor, famously dresses down in hoodies and stripped back makeup – yet her dressing down always seems to commented on as if it's not expected from a woman who looks like a model. Kate Copstick says clothes are 'much more tricky for female stand-ups. They are judged MUCH more by what they wear. And there is a kind of damned if they do, damned if they don't attitude to dressing up and wearing makeup onstage.'
Yet men are judged on their clothes too. Eddie Izzard in an interview in Vanity Fair talked about the way people would react to his scruffy clothes, before he became known for his transvestism, in the late 1980s, 'When my standup career was taking off, I was wearing these crap clothes—people said, "My god, he's wearing really crap clothes!" I just had no sense of anything.'
The 1970s 'showbiz' aesthetic has endured for TV comedy and enormous venues, Stewart Lee sums it up thus: 'They're all in these kind of suits, they look like a team of advertising executives or some kind of lawyers on a golfing weekend. They look like business-like professionals come to do a job of work.' And, arguably they are of course.
Copstick says: 'Some of the guys deliberately come onstage like a homeless person - to show how cool and uncaring they are. The guys who make an effort are lovely … Jimmy Carr - an example to them all.'
Notably Jimmy Carr seems to have always been a fan of the middle-management aesthetic; when he was first starting out he used to read his jokes off a clipboard. But I digress. If the same performer doing a show in the back room of a pub wears jeans and a T-shirt, but then for a bigger performance wore a suit, then maybe it is lazy not to make the same effort for a smaller room?
Do smaller audiences not deserve the same effort? Yet, how bizarrely pompous it might seem to wear a dinner jacket to perform in a room above a pub? If the same comedian who just wears jeans and a T-shirt in a small venue would then unquestioningly wear a suit on a TV show then it's a moot point isn't it? Both styles of dress become nothing more than meaningless convention.
I still have no idea what I'm going to wear.
• Louise Reay: It's Only Words will be on at Just The Tonic at the Community Project from August 6 to 30 at 4.15pm. Book on edfringe.com.
Published: 3 Jul 2015
What do you think?