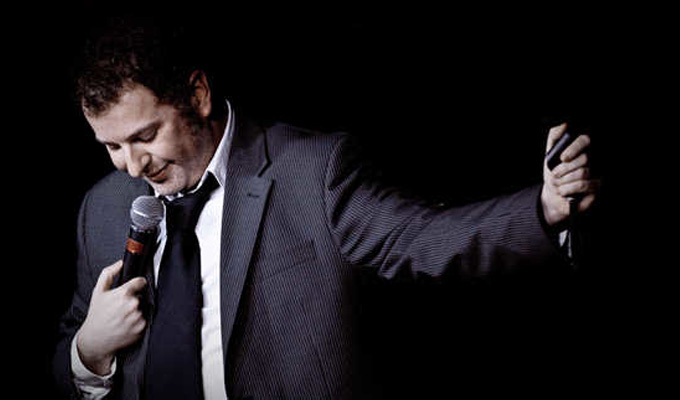 The year when censorship won
2014 has been a tough year for causing offence in comedy - highlighted by the cancellation of the Seth Rogen comedy The Interview in the face of continued industrial espionage and terror threats.
The movie – which seems like a bawdy, irreverent comedy in the vein of Rogen's previous films Superbad, Pineapple Express and This Is The End (all a coy blend of frat boy dick and stoner jokes mixed with meta moments of improv and sweet, sensitive male bonding) – made the fatal error of hanging its fantastical premise around a successful assassination attempt on North Korean dictator Kim Jong-Un.
The message from the hacker and their terror threats was clear: Make jokes mocking the supreme leader and we will declare total war on your ability to be seen or heard. It is a dark day for censorship in comedy but part of an untracked trend that has been emerging over the entire year.
The Interview probably is not going to be a contemporary equivalent to Chaplin's anti Hitler classic The Great Dictator. It is hard to believe Rogen, co-star James Franco and writer Evan Goldberg sat down thinking: 'How can we internationally belittle and satirically usurp one of the most powerful and dangerous men on the planet?' More likely the creative process started with once again 'Wouldn't it be funny if we got stoned and did some dick jokes with Kim Jong-Un?' Going by the trailer they were on the money. It looked like The Interview was going to be a lot of fun and packed with good jokes.
But what they did not consider is how Kim Jong-Un might feel about this. Hurt, the poor lamb deployed his military to ruin the company that funded the $40 million dollar punchline at his expense.
So the movie is now shutdown, it's fate uncertain - will it be locked away in the studio vaults forever or released quietly on demand a year down the line? The Alamo Drafthouse cinema has decided to show Team America: World Police in its vacated slot. A glorious act of defiance as any one who has seen a marionette of Kim Jong Un's father sing about how lonely he is can testify. Personally I think Sony should cut their losses and ensure the film 'accidentally' leaks online. They cannot make any profit from it anymore so fuck Kim if he can't take a joke.
This s the most extreme case of the internet being used in 2014 to shut down a comedy a minority do not like. But it is not the only one and that is worrying for our comedy world.
In March, Johnny and the Baptists' Stop UKIP Tour, found the less-than-liberal party getting supporters to target venues with a sustained written and phone call campaign which also focussed venues' sponsors and benefactors.
UKIP's deputy leader Paul Nuttall, said: 'Everyone is entitled to their own opinion and UKIP is very much the party of free speech but I think it is wrong that taxpayers money is being used to back this production.' The Royal Exchange Manchester confirmed to Chortle that 'we've never had as many complaints about a show. We had calls from people saying they were loyal customers and they come a lot but when we checked their names in our database they've never bought a ticket before. I think it was kind of to give us the scares'.
UKIP supporters took the strategy of trying to effect the exhibitors and their investors to stop a comedy show. It is a smaller scale and more legal approach but still very much in the vein of North Korea's 'Guardians of Peace' attack to make it uncomfortable on unprofitable to perform the joke they don't like.
Ironically only a week earlier comic Paul Eastwood targeted Asians and Poles in his performance at a UKIP gala dinner at the end of the party's spring conference. UKIP have dominated the headlines this year and comedy has felt itself embroiled with this. This autumn, stand-up Andrew Lawrence made a post declaring he understood why some people saw UKIP as a legitimate voting option and felt the BBC's comedy output which often consisted of smug jokes at the party's expense was partly what was wrong with the UK comedy scene.
That same scene jumped on him for this and derogatory comments made about the standard of female and ethnic comedians on TV. Via social media he was branded a misogynist, a racist and mentally unwell. All for expressing an opinion we don't agree with? And I don't agree with him, by the way, I just find it strange that the comedy world are starting to embrace the same self-censorship and social media bandwagon-jumping that has been the enemy of good satire the last few years.
It is silly how these keyboard lynch mobs swell up. Poor Jim Jefferies has seen his gun control routine open him up to unprecedented online abuse in the States. A good example happened in the spring, when #CancelColbert trended. The liberal and Asian community stormed online to publicly to take offence at satirical US show The Colbert Report's joke 'I am willing to show #Asian community I care by introducing the Ching-Chong Ding-Dong Foundation for Sensitivity to Orientals or Whatever.'
But as the noose was being knotted few bothered to check the original context the line was said in - a skit where Stephen Colbert was taking the piss out the outdated name of the Washington Redskins setting up a foundation for native Americans to avoid continued controversy. An intelligent, sensitively motivated and relatively politically correct joke saw a group of people who had not seen it asking for the entire series and host to removed from TV.
That did not happen. These knee jerk group rarely achieve their goals… apart from in the case of Dapper Laughs.
Do we need to rake over the ashes of his ITV2 dating show? It was shit, aimed toward young working class men, liked by young working class women and disliked by comedians who felt it was everything from poor taste, objectifying women to an 'almanac for rapists' or a 'swatch annual for people who don't hold doors open for ladies' or something.
Probably it was just a badly-made bit of lad culture that was par for the course for ITV2. It caught 'our' attention as the show seemed to be legitimising an inexperienced presenter who thought he was a comedian, but had not served his time on the circuit. Still, online attacks on him and calls for his head became click bait, as I'm sure Chortle who were writing very frequent news reports on him, would concur. The petitions and campaigns against him were fuelled and spearheaded by us, comedians, again.
It felt wrong, no matter how distasteful Dapper Laughs' show was, it felt like us turning on each other. No one really put the same pressure on the production company that created it and the channel that commissioned it. It was only once Daniel O'Reilly, cruise ship entertainer who cracked Vine before the comedy industry had managed to, got onto Newsnight and apologised while falling on his sword, the social media comedy gods were appeased with this blood sacrifice. No more heads were needed.
We, a group of comedy performers, promoters and commentators, were sated that we had aborted a new Bernard Manning in the womb without offending the people who might further our career... but who we all know probably had more control over his content and branding than O'Reilly ever did.
The final can of petrol on his bonfire was a grainy bit of mobile footage of him joking / threatening to rape someone. From stage. In a comedy environment. In front of audience paying to see Dapper Laughs do what he did. Until that point, his management and ITV2 kind of had his back, '70,000 non ITV2 watchers have signed a petition... oh well.' 'A charity has refused a donation… well.... they don't buy advertising from us anyhoo.' But when it came to news channels sharing an out of context line of audience banter at a show that was not produced by ITV2 they removed themselves from the conversation. Victory for the good guys, right?
Well... no. I don't think ending Daniel O'Reilly's rise to fame actually prevented one rape. If you look into your hearts and think rationally I don't think you do either. Really? Really.
What it did do is create a nasty precedent for stand-ups. If you are a comic, you should think of every time you had to deal with a heckler. Think about what you said to them when you were still in your first year, and ignorant and not confident in your abilities to handle them without losing your temper you were. Think about what you said. Now imagine someone has filmed it on their phone.
Now have that hanging over your head if you do ever make it on TV.
Every comedian who has ever set foot on stage has probably said a bad taste statement or putdown they wouldn't want haunting them if they ever became a household name. Chris Rock hit the nail on the head about smartphones filming gigs. 'Before everyone had a recording device and was wired like fucking Sammy the Bull, you'd say something that went too far, and you'd go, "Oh, I went too far," and you would just brush it off. But if you think you don't have room to make mistakes, it's going to lead to safer, gooier stand-up. You can't think the thoughts you want to think if you think you're being watched.'
We, a group of comedy performers, promoters and commentators created the precedent this year to end a career we did not like based on bootleg footage of an ad lib. We are UKIP. We are North Korea. In the case of Dapper Laughs we sadly are Kim Jong-Un.
One positive from the Dapper Laugh's viral lynching is it has highlighted we now have new boundaries to work within when it comes to gender and material about gender as an art form.
Following Bridget Christie and Nadia Kamil's 2013 Edinburgh successes with overtly feminist shows - being aware is now in. Unless you are V Festival or T In The Parks, with their all-male line ups, the booker who very publicly cancelled an act as there were too many women on the bill, or even the BBC New Comedy Award, who Arthur Smith outed on air yesterday for not finding one female finalist two years in a row.
Anecdotally acts on the UK scene do seem to be cleaning up their sets to 'not be sexist' at last. And the launch of Standard Issue, an online magazine for women by women, is a great development as it gives a new outlet for female comedians to build an audience. This feel like a real plus away from building Twitter followers by jumping onboard groundswell outcries against other acts, surely? Let's define ourselves by our own great content not by how much we disagree with others' gags or audience.
We do not need drown comedy we find offensive with at birth. Time moves on and slowly outdates what we don't agree with naturally anyway. Dame Edna creator Barry Humphries as the director of the Adelaide Cabaret Festival next year is banning the word 'fuck'.''Comedians performing in Russia will be banned from swearing on stage under a new law passed by Vladimir Putin. Who is to say one development is worse than the other?
Time moves on still: Lee Evans who made an offhand domestic abuse joke (that would have been more acceptable 20 years ago) as part of his stadium tour faced a string of one and two star reviews off the back of it, and is now stepping down from stand up. Jim Davidson made a bid to re-enter the modern comedy fold by bringing a show up to the arty-farty Edinburgh fringe festival, making all the right noises and even having his PR company try to pull a review that painted him as racist. He doesn't see any money in being that guy anymore (for now). Joan Rivers sadly passed. A truly skilled comedian who didn't care who she offended yet still managed to get her own prime time shows on both sides of the Atlantic. She still made headlines before her death by not giving a shit about people's sensibilities.
I feel it is great that we now have new boundaries of what is acceptable and is not acceptable. Well done voices of reason and voices of good taste – and voices of censorship.
Still there were some great glimmers of bad taste this 2014, too. Harry Enfield and Paul Whitehouse's hour-long satire mocking 50 years of BBC Two was the most outrageously funny thing commissioned in years. Chris Morris got a retrospective… MMMM...More Jam. Jamali Maddix who won the Chortle Student Comedy Award this year has a nice edge about him that seems rarer and rarer among young new acts tipped for the top. Bill Burr who is gloriously bad taste seems to be most acts' comic of choice at the moment. And a movie called The Interview was made. And is out there if you look hard enough.
Published: 19 Dec 2014
What do you think?