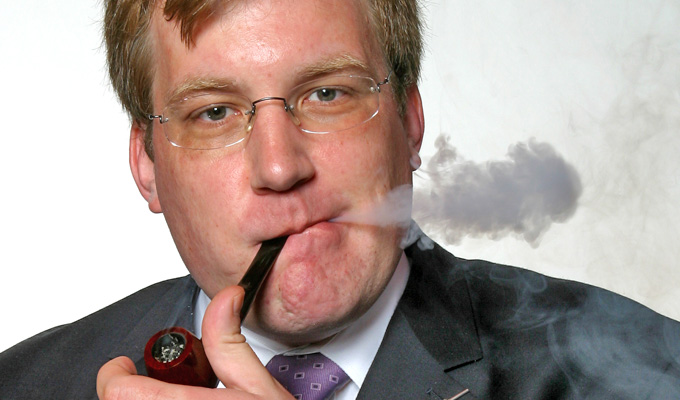 Dressing up new material
When I'm trying out new material, the last question I ever think of asking is: 'Is it funny?'
I don't mean that funny is unimportant – only that the funny is the final stage, the point at which something stops being new material and becomes a 'bit'. Before you get there, there are more urgent and important questions – is this an observation that people can relate to? Is the routine based on a premise people can understand? Is it interesting? Can I even talk about this subject on stage?
An example: I have a big set-piece about going to a sex party with my wife. The first three or four times I tried it, the audience stared at me in horror – Who is this freak and why is he telling us this? – but in the fifth gig, I happened to mention that my wife was a journalist and had been commissioned to write about the sex party (which had initially seemed to be an irrelevant detail) and was too scared to go on her own. Suddenly that bit started working – the fact that neither of us actually wanted to go to an orgy gave me permission to talk about going to an orgy – and then I could start worrying about the gags.
There are other bits, though, that I have never been able to get to work. Another example: When I was single, and dating, I had the following experience – if not frequently, at least often enough for me to imagine that it would be relatable. I would meet a woman and we would end up in bed; and, afterwards, I'd ask to meet her again. And we'd go on a date and it would be a bit awkward and I'd think Oh well, she's obviously not interested – but then, she'd agree to go on another date. And another. And it was only at that point, after three very uncomfortable evenings, that she'd tell me it wasn't working out, it wasn't me, it was her etc. etc.
And after this pattern worked itself out a couple of times, I realised what was happening: these women had decided that they had to go on three dates to prove they weren't 'a slut'. (To whom they wanted to prove this, and why, I never worked out.) We were going through this procedure – post-dating, I thought of it – as if trying to get back into credit after going overdrawn at the bank. (It's no wonder the dates were tense, when one of the parties thought of them as a form of indentured labour.) These weren't 'getting to know you' dates, as the whole process was about getting to know each other less well: we'd slept together after the first date, the next date ended with a chaste kiss, the final one with a handshake; we were having a relationship in reverse. It was like living in a Harold Pinter play, but with more awkward silences.
And I thought this was a fairly amusing conceit, and I tried talking about it on stage. If the audience seemed to relate, then I could work on the routine – finding better analogies, slicker wording, more jokes and maybe a punchline that didn't rely on the audience's awareness of the 1978 play Betrayal and its innovative structure – but there was no point working on that if no one was buying the initial premise.
I tried it, quite a few times, and it never worked. I don't just mean that people didn't laugh – as I say, that's the last stage to work on – but they just stared blankly. At first I thought it was just because I was talking about having had sex – nobody likes a boaster, do they? – but I've got other bits that are predicated on the fact that I have had sex. Besides which, it's hardly boasting to compare a date with oneself to indentured servitude.
I think the real problem was that it was unclear what my target was – generally, when male comics talk about women, they're attacking them for either a) having sex, or b) not having sex; in this bit it sounded like I was doing both. (If I was attacking anything, it was the patriarchal norms that police female sexuality and that have been internalised by many women; but audiences, quite rightly, don't trust men who say that sort of thing.) From the stage, I watched the women in the audience trying to work out whether I was being misogynistic and, if so, how. In the end, I decided it was too risky to bother talking about it.
So I dropped that bit, never to try it again.
Then, a few weeks ago, I did a new material night run by the We Are Funny project. This excellent bunch of people run a number of nights, mostly at Dirty Dick's opposite Liverpool Street station, which are more than your usual new material/new act night. Trotting out your five minutes over and over again is frowned on; doing brand new material and doing OK is more highly regarded than storming it with old gold. Sometimes, the nights have themes or subjects – usually something vague but suggestive: 'Bad Boss' or 'My coolest ever move' – and you're expected to write a new set; on the challenge nights, the theme is only emailed to the acts a week in advance. It's great.
At the end of the night I did, the MC, Alfie Noakes, announced that in a couple of weeks' time, there would be a Battle of the Sexes night, where all the male comedians would dress as female comedians and vice versa – and perform a new set appropriate to their new gender. That sounded like a lot of fun, so I asked Alfie if I could do five minutes. He was taken aback at my keenness – 'Is this, um… [non-judgmental face] …part of your lifestyle?' – but he kindly gave me a spot.
So a couple of weeks later I turned up at Dirty Dick's in one of my wife's dresses and a bit of lipstick. It felt a bit weird at first – it's the first time I haven't gigged in a suit for eight years – but everyone was very friendly, swapping make-up tips in the men's loos ('Blend! Blend!') and complimenting each other's outfits. The male comics (that is to say, female comics) were a bit more standoffish; but you can't blame them for wanting revenge.
And revenge they got. There was a running gag during the night that every female comic (ie male comic) was patronised, and every male comic began his (that is, her) set by claiming to be a feminist, before saying something incredibly misogynistic. I was introduced on stage by the MC – the very funny Charley Harrison with a wispy beard drawn on with marker pen – with the traditional words, 'Our next comic – is a woman. No, really! But don't worry, she's not doing very long.'
Now I'd written a few bits and pieces from the point of view of a woman – some stuff about my dress, and boys, and stuff – but I hadn't got enough; so to pad the set out I thought I'd resurrect the bit about going on three dates to prove you're not a slut, but this time from the woman's viewpoint. 'You know what it's like when you sleep with a guy on the first date, by accident…'
And it worked. All of it. Even the Harold Pinter line. I'm not saying it got big laughs – it was still very new material – most of it didn't get laughs at all; but the point was, I had permission to talk about it. From the moment I started, I could see the women in the front few rows of the audience nodding and smiling in recognition. And that's a start. I do think that, if I did a whole bunch more gigs in a dress, I could hone that material and work it up into a reasonable routine.
I found it fascinating that there are some observations that audiences won't take from a man but they will from a woman – even a not-terribly-convincing woman. (A more professional female impersonator might have considered either wearing a less low-cut dress or shaving his chest hair.) That was the only thing that I had changed: I was doing exactly the same set, and controlled all other variables: although it is fair to say that, much to my surprise, I am a whole bunch more sassy as a woman than I am as a man.
And I thought I ought to let people know this as a public service: if you want to do misogynistic material, you can't just tell audiences that you're a feminist. They're on to that one. Instead, just wear a frock. You can get away with anything.
This could be Dapper Laugh's next, or indeed first, character.
Published: 4 Dec 2014
What do you think?