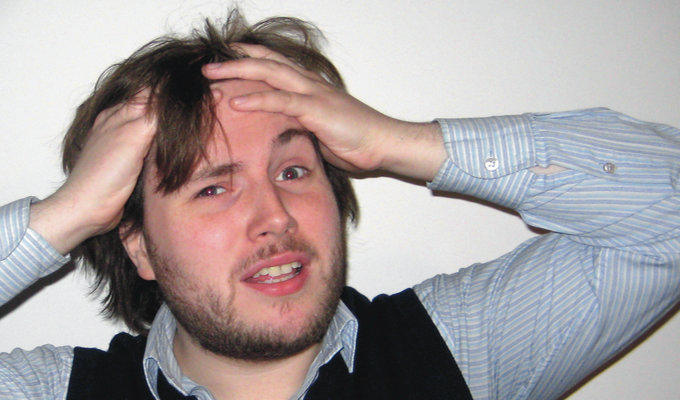 Comedy and wrestling make great tag-team partners
When I was six years old two different stories greatly affected the rest of my life. The first one was when my best friend recited Jasper Carrott's 'nutter on the bus' routine and caused my cheeks to ache from laughter.
Soon enough I was obsessed with my fellow Brummie comic; a man who rarely gets the credit he deserves for paving the way for the alternative comedy scene of the late 70s. I taped, watched and re-watched his TV shows. I recorded my stepfather's vinyls onto cassette and listened to them as I fell asleep. I eventually moved beyond my first comedy hero to dive deeper and deeper into a world that I've since then never wished to leave.
The second story was narrated by my cousin Matthew, the closest I came to having an older brother (apart from my older brother, but that's not important right now). He recounted – move-for-move, blow-for-blow, preposterous-gesture-for-preposterous-gesture –the legendary WrestleMania VI main event clash between Hulk Hogan and The Ultimate Warrior. From that day to now I have been fascinated with the unique, bizarre and operatic world of professional wrestling.
In 2010, I wrote and performed a comedy show in the 30-seat function room of a pub on Leith Walk during the Edinburgh Fringe called Confessions of a 'Smart' Wrestling Fan.
As far as I'm aware, that was the first time a full solo comedy show had been performed at the Fringe that was completely themed around pro wrestling. That's not to say it wasn't the first time wrestling and comedy had interacted. The brilliant Wil Hodgson had used his past life as a grappler as a source for some of his wonderful anecdotes.
Reports of retired wrestlers in the US turning up to the occasional comedy show in the States had started to surface on wrestling websites. Andy Kaufman had famously inserted himself into the hotbed of Memphis wrestling when he was one of the biggest stars in Hollywood. Current WWE poster boy John Cena had recently starred in the future classic Fred: The Movie.
Nevertheless, I was still sure that this was going to be a pretty unusual offering in a festival of more than 1,000 shows. Sure enough, I received interest beyond what I should have expected for a debut show with little to no marketing.
In the years that have followed my show, Max Oleskar has organised two amazing wrestling and comedy spectacles at the enormous Pleasance Grand that were the hottest tickets going both years – and which makes its debut at the Melbourne Comedy Festival later this month..
Brendon Burns spent every late night of last year's Fringe hanging out in the packed Stand with fellow stand-ups and cult comedy wrestler Colt Cabana, watching rubbish wrestling matches and providing Mystery Science Theatre-style commentary to the even-more-ridiculous-than-usual exploits taking place in the ring.
Long-time wrestling fan and top comedian Chris Brooker has booked a number of hit stand-up/one man shows with various wrestling legends as the headline acts, such as hardcore wrestling icon Mick Foley, British hero William Regal and play-by-play commentary legend Jim Ross, with plenty more planned for the future.
I'm not saying I'm directly responsible for those events. In fact, I'm absolutely certain of that fact. However, if I do reach my goal of touring the original 'Confessions' show, I intend to market myself as 'the John the Baptist of wrestling-based comedy'.
As I found out more about my twin obsessions I realised that professional wrestlers are probably the closest comedians have to kindred spirits in entertainment. They are both art forms that were founded in the US: stand-up was born in lounge and jazz clubs, whereas wrestling came from the travelling carnivals.
In many ways they're performance art at its purest – a stand-up is usually just a person on a raised stage with a microphone; wrestling is on a different kind of raised stage where the performers use their bodies to communicate to the audience. They both rely on exaggerated facial expressions and heightened emotional conflict. Those that are truly dedicated to these respective crafts will often travel hundreds of miles to spend no more than a few minutes performing in front of small numbers of potentially indifferent punters because of the passion they have in their oft-derided art forms.
Perhaps what would most interest uninitiated comedians is when wrestlers talk about their use of 'crowd psychology'. It's not all about what you say or do, but when and how it's said and done. When wrestlers talk about the artistry behind their matches and performances they talk of how they wish to take the audience on an emotional journey by telling them a story.
A wrestler either wants to make an audience angry (if they're a 'heel') or sympathetic (if they're a 'face'). There are issues of status shifts, similar to those employed by a Stewart Lee or a Nick Helm, as the match progresses. Confidence becomes cockiness becomes comeuppance for the heel. Excitement becomes adversity becomes resilience for the face. A wrestling match will usually end on a 'finisher', the most spectacular or devastating looking move in the match. It's the equivalent of the comedian making sure to end on their best joke.
Where wrestling deviates from stand-up is in the requirement of two or more performers. In that instance it shares a lot in common with improvisational and sketch comedy. That's no surprise since, contrary to the beliefs of many that know little about wrestling, wrestlers rarely know everything that will happen when they start the match.
They work out a structure beforehand, but adapt when in the ring based on how the audience responds and where they are performing. If a wrestler is in front of the notoriously fickle fans of Philadelphia or Chicago they may need to up the aggression and violence. If a comedian is in Glasgow or Liverpool they may need to do the same.
In improv it's important to always 'accept the offer'; when a performer opens a scene by saying 'what a lovely day to be at the beach', the other performer should not respond with 'No, we're on the moon!' If a wrestler hits his opponent with a body slam they need their opponent to 'sell' by clutching their back and screaming in pain. If the victim just laughs and spins around on their bum then the illusion is shattered and nothing means anything. If they do that to the wrong wrestler then they may soon be screaming in genuine pain.
The most successful wrestlers, from Hulk Hogan to 'Stone Cold' Steve Austin, nearly always attribute the moment they hit the winning formula to when they became themselves 'with the volume turned up'. That is nearly exactly what all successful comedians are as well, except they may suggest it's them 'with a couple of pints in the system' instead.
The most common traits of wrestlers and comedians, though, are when a wrestler has to grab the microphone and 'cut a promo'. They need to engage, entertain and explain their situation, and maybe drop in some quick catchphrases or funny lines to keep the crowd interested. They need to sell themselves and their upcoming match to the audience to get the desired response. They need to engage with hecklers and not stumble over their words. The big stars need to do this in arenas of 20,000 on a weekly basis and in front of millions of people across the world. They usually have to do it in one take.
So, if there are aspiring comedians looking for inspiration from outside the normal spheres of your Kitsons, Pryors and Davidsons, may I suggest a quick YouTube search for some top quality monologues from the likes of CM Punk, Chris Jericho, Ric Flair, Roddy Piper, Paul Heyman, Jim Cornette and 'Macho Man' Randy Savage. You could venture to one of the many pubs or comedy clubs that are screening WrestleMania XXX (that's the Roman numeral for thirty, no a pornographic parody). If all you're looking for is a chuckle then just search for some 'Colt Cabana', 'Chikara funny' or 'Botchamania'.
Or you could buy my book. Just a suggestion.
• Lorcan Mullan's book Confessions Of A 'Smart' Wrestling Fan is available on Kindle from Amazon.
Published: 3 Apr 2014
What do you think?