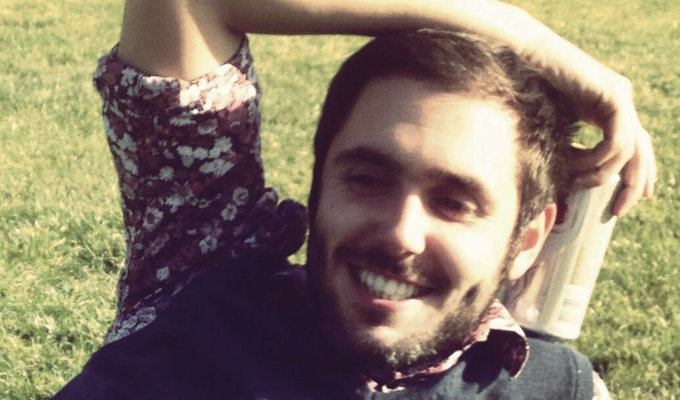 Hey comedians – don't make me laugh
There's a fine line between a stupid comedian and a brave one. If you're on the right side of that line, the restraint you've shown in holding off on a series of cheap laughs for the sake of a bigger laugh is laudable. If you've held off on a series of cheap laughs to take the audience on a journey of thought, well in my opinion, that deserves an even bigger tip of the hat.
I haven't got anything against knob gags and puerile humour. In fact, I quite like them. But my point is that comedians don't always have to make you laugh to be funny, and comedy doesn't have to make you laugh to be funny either.
Take the TV series Louis; one of comedy's biggest showing that the best comedy writing is that which incorporates life, even if it's weird, silly, touching, sad, and ultimately tragic in parts. That's life - a wonderful, ludicrous, pathetic, joyous and sorrowful fucking farce.
What about comedians? Well, I've seen hours of George Carlin specials but I've probably only ever laughed out loud a handful of times. That doesn't mean that I don't think he's funny. That doesn't mean that I don't think his work is comedy. It just means that comedy doesn't always have to make you laugh.
Watching George Carlin is like watching a though provoking essay being performed: philosophy, language, literature, politics, love, war, death. Good comedy can be light – a simple (or complex) pun of which Tim Vine and Lee Mack are masterful proponents. But it can also make you change how you think about serious subjects. It can open new doors of consciousness that you didn't even know existed, much like good writing.
Doug Stanhope, who seems to have had as much or perhaps more appreciation in the UK than he does in the US, is a fine example of this. I've seen him perform in person found it hilarious, but there are plenty of his shows before and since when I've just been happy taking a back seat to see where his libertarian rambles are going. There was no feeling of awkwardness or disappointment that I wasn't laughing. As far as I'm concerned, thinking is just as much about comedy as laughing is.
It's no secret that comedians are often good writers. The process and outcomes are similar. The mindset and ethos are aligned. They are often well-read and inquisitive about the world. It's also no secret that good comedians are often shit writers too. But hell, to paraphrase TS Eliot, so are most writers!
Good comics, much like good writers, are capable of writing brilliantly perceptive or surreal material which takes you on a journey you'd never even imagined. On the writers' side, think Sartre or Kafka. Great comedians and writers are capable of making you really think, often framing something perfectly in a way that you couldn't quite do yourself or hadn't even considered to do. On the comedians' side, Stewart Lee is a brilliant example of this. Richard Herring is also a great example (but throw in a few more cock jokes).
Significantly, the best comedians, much like the best writers, tend to deliberate over that perfect word, sentence or structure so that the end result is something that works perfectly. Before Catch-22 was published, Joseph Heller and his publishers toyed with various numbers to put the title, eventually deciding on Catch-22 because it had the same digits (giving it an allusion to frequent repetition within the novel and the concept of déjà vu), featured alliteration, and most importantly, it was a funnier number than the other viable options.
When Jerry Seinfeld composed a joke about the surname of taxi drivers in New York, it wasn't just a stab in the dark. It was a process involving getting a copy of the periodic table and looking for the funniest element, Boron.
It's hard to quantify why Boron is a funnier element than Aluminium, just as it's hard to quantify why the number 22 is funnier than the number 14, but they are. And it's only through meticulous preparation that we find this. This is how the worlds of writers and comedians align. A great comedian, like a great writer, has honed their instincts and done their research until what they do is as good as it gets.
The distinction between what makes good comedy and what makes good writing has never been so blurred. For me, that's potential for a refreshing change to the stifling and stuffy boredom of the majority of literary magazines currently available.
At The Alarmist, a 'literary' magazine I co-edit, we champion the blurring. We set out with the goal to try and bring together the funny, the dark (and light – we're not racist), and the straight-up weird, and have made great efforts to get comedians involved, often writing outside their comfort zone.
Comedy Knights owner Bobby Carroll realised that he's actually the post-modern Henry James. Alistair Green delved into personal non-fiction with a tale of life in the low-pay sectors. Nick Sun was just, well, Nick Sun - everything is his comfort zone. Chortle Award nominee, Barry Ferns, graces our next issue with a bizarre story/sketch about his legs.
If you've ever cursed your artistic side for writing an entire bit that flows brilliantly but will never work in a tight ten, think of us. If it absolutely does work in a tight ten, don't rule us out.
The comedian's flirtation with the written word doesn't have to end at Twitter.


• Issue 4 of The Alarmist comes out on March 21, and is available at more than 200 stores in over 12 countries, as well as online. It is now open for submissions for Issue 5 via Submittable. We might even get to a point where we can eventually pay our contributors....
Published: 6 Mar 2014
What do you think?