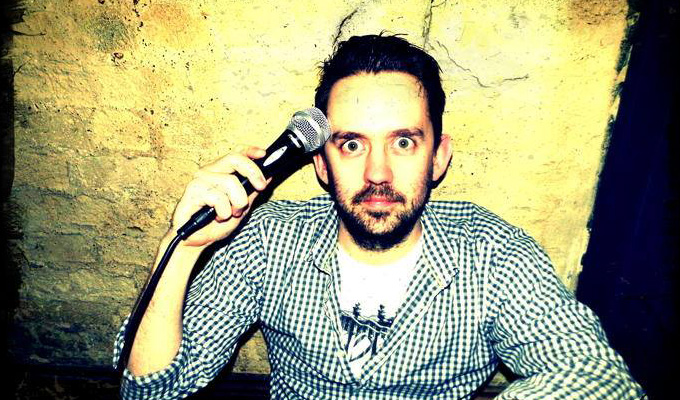 The internet will always steal your jokes. Use that to your advantage
I read Dave Bussell's recent piece about online leeching – people stealing your work and re-publishing with no financial or creative credit afforded to the original author. And I found myself bemused. While I understand his frustration at seemingly a missed opportunity to make a fat wedge of cash, it would appear to be, at best, misguided, and at worst, baffling.
'It's a hell of a thing to wake up one morning and find out something you made has become an internet success,' he says. I can only imagine. I am one of the numbers of comedians, striving on my lunch-break, writing, tweeting, sharing; all in the hope that just one of my self-amusing, 140-character moans will end up being re-tweeted sufficiently that I amass a following and convert them all to ticket sales.
There are thousands of us like me. Each hashtag a hope that another 10,000 might see it and RT. I guess in David Bussell's case, ticket sales become the number of books sold. But it's the same story ultimately: put stuff online, try to get paid.
I've recorded gigs, tagged them on YouTube, I've shared flyers, one-liners, hoping maybe someone somewhere will see it, share it, and I can be the latest happy passenger aboard this veritable New Media Express; It seems not a week goes by where I'm not reading about how some bright spark used the internet to find their success.
Because via social networks, we can open up the doors for artists to share their work with the masses. No longer are they restricted by what suited producers want to see distributed. And though those doors have yet to truly open for me, acts like Dapper Laughs have proven that the internet, when used correctly, can catapult writers/performers to stardom in exactly that manner.
What's confusing is that you would trash a medium or the pages within it, that's making success in that way so much easier? The net has truly liberated artistry. Bands can get their music heard by entire populations in every corner of the globe. They don't need to spend three years touring Australia to build up a following. Now their music can be sent to Sydney in seconds.
Equally, comedians can get their content uploaded and seen, they can exploit the opportunities that that can open up. And while it's true that having your one-liner retweeted may exhaust a joke if you try and use it live, if your followers increase to 1,000 or 5,000 as a result, a percentage of those individuals will buy into your name. So it really just comes down to a mix of perseverance (doesn't it always?) and care on where you leave your work lying around.
It's always interesting to me, how people adore the freedom of the internet when that means them being able to find pictures quickly, sharing and connecting with old friends, researching facts and figures off Wikipedia that were no doubt lifted from published articles and books from earlier decades. Yet we're so quick to haul the internet into the headmaster's office as soon as we think 'progress' is costing us money personally, or recognition in some way.
A great example of avoiding that approach and responding to change was a bookshop in Richmond, I visited at Christmas. I wandered in, had a mooch about, bought a coffee from their resident barista, had a chat about a singer-songwriter they had playing on their speakers; I left the shop having bought a £3 latte, a £9 CD and a book that would've been £4.79 on Amazon for £12.99. And I'm glad that I did. They evolved with the challenges of the High Street and created a new experience. They deserve the extra money.
At the end of the day, you put things on the internet at your own risk. It's as famous for its illegal content and file-sharing as it is for its lawlessness.
Technology is not going to stop progressing. Your next knock-knock joke, if good, will be re-tweeted, exhausted and die. When you next tell it to someone after that, they will accuse you of stealing jokes off the internet - and this will frustrate you. It's not easy but I'm not sure there's much we can do.
But it's worth truly considering that bookshops example. They're in fierce competition with Amazon, so they create a new experience and adapt to the change. When I had a one-liner stolen two years ago I decided to move into storytelling and observational stand-up instead, figuring it was harder to pinch an entire routine like that. I run a comedy night (The Panda Riot) that isn't going to make me rich because as soon as I start charging an optimum ticket price, there are 12 other nights in London that are immediately cheaper – so I adapted the format. I latte-and-CD'd the proposition. In the music industry, singers adapted to a loss in record sales by branching out to fragrances, clothing ranges and cinema concert movies.
I would strongly advise anyone who's looking to make money or get a name for themselves to consider what ways they can use the internet or other channels that are open to them, to make their mark. Because unfortunately the world we live in thrives on computers and that isn't going to change any time soon. In fact, it'll get worse.
In the next two years, there'll be wearable technology where you merely have to gesture like you're pinching something and it'll be displayed on your retinas, I'm sure. Reddit and Buzzfeed accounts are unlikely to be managed by middle-aged, conservative types that adhere to all the rules, so much as an 18 year old from Ohio with no disposable income and lots of free time to find ways to hack you.
Bearing the aforementioned in mind, I'd suggest any writers, comedians, singers or whatever, to respond to change positively, exploit the new platforms, guard your images with watermarks and keep writing new jokes. Because although there is a time and a place for banging your fists and bitching about the internet, it's probably at a Metallica concert…
…in 2002.
This article may absolutely not be copied, pasted, re-posted, shared or re-tweeted without express permission © Aid Thompsin
• Aid Thompsin tweets at @AidThompsin.
Published: 26 Feb 2014
What do you think?