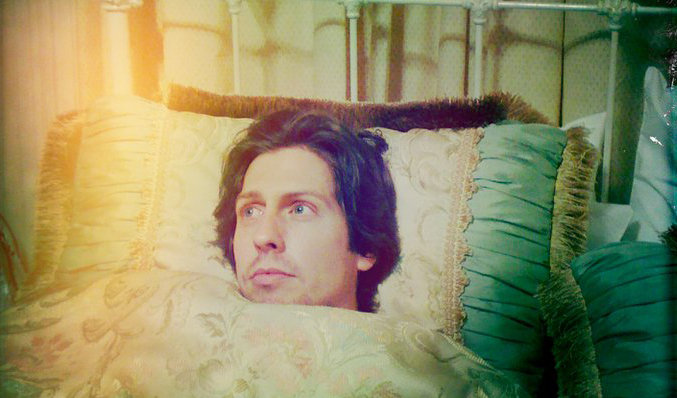 Your Jaw Will Literally Hit The Floor When You See What This Comedian Has to Say About Viral Content Websites Robbing His Work!
OMG did you see that article on BuzzFeed/Upworthy/ClickBite/FunHub/DrollDose/LOLBlizzard/all-the-other-worthless-hyperbole-spouting-websites-that-show-up-in-your-newsfeed-every-bastard-day?!
Hello. I recently put a couple of things online that went viral. Maybe you saw them? One was a collection of Hotel Graffiti photos, the other was a hijacked knock knock joke that did the rounds.
It's a hell of a thing to wake up one morning and find out something you made has become an internet success. Anyone who creates (whether it be comedy, poetry or naked paintings of Pat Butcher) knows how hard it is to build an audience. I know it. Like all comedians, I've played to crowds that barely stretch to double digits. Those two links up there though - those have seen a combined audience of millions.
The trouble is that very few of those millions of hits showed up where the content was originally posted, meaning my website. Instead, the lion's share of traffic went to pluckily titled viral content sites, the likes of which I mentioned above.
'Oh, boo hoo!' I hear you say. 'At least they paid you, you whinging swine!'
First of all, you've got some real neck, you know that? Because I didn't get paid. Not one bit. And I don't want to get all 'they're stealing food from my baby's mouth!' about that, but the fact is there are monies being made. I don't know what kind of ad revenue a site makes from all that traffic, but I do know I haven't seen penny one of it.
'Yeah well, that's the way the internet works! You got your name out there! Deal with it!'
Again, take it down a notch, tough guy. For your information, in almost every instance, I did not get credit. In fact, the only reason I knew my work was featuring all those places was because friends messaged me to say so.
I had to fight to get my name attached to all those articles, which is a fool's errand given that by the time they got around to complying, audiences had already moved onto the next thing. Probably a Vine of a turtle humping a beach ball.
That wouldn't be a problem if I had the profile of, say, David Thorne – the guy who tried paying an overdue account with a drawing of a spider. When his work shows up without credit, which it does often, his fan-base takes to comments boards kicking up a stink and linking to his site, which translates to book sales. Good for him. Except I don't have his profile, which means I get my family posting work I made to my Facebook timeline saying 'check this out, you'll love it!'
One of the problems is that people don't really care about the way things are made, just so long as they enjoy the end product. That's understandable so long as we're talking about sausages, but writing comedy is tough, painful work (at least the way I do it). Is it too much to ask to be compensated for that? Especially when you're ripping off material I'm about to publish in book form? (PLEASE don't skip the next part just to find out how you can buy my book for the low low price of £7.99!)
Of course I don't expect audiences to jump up and down about the finer points of intellectual property. There are bigger things to worry about in this world, namely Creationists, people who use the word 'methinks' and the very existence of 2 Broke Girls.
The real blame lies with the parasitic websites leeching the content in the first place. They know they're only a Google search away from the name of the author they're pilfering from, they just don't give a piss. They take what's given second-hand or they skim Reddit and swipe what's already proved popular.
There's no skill to what they do. No artistry. They're like wasps –they create nothing, they get everywhere, and I wish they'd just fuck off.
• David's book, But… You're a Horse, contains less complaining and more Knock Knock Hijacks. It is available here.
Published: 20 Feb 2014
What do you think?