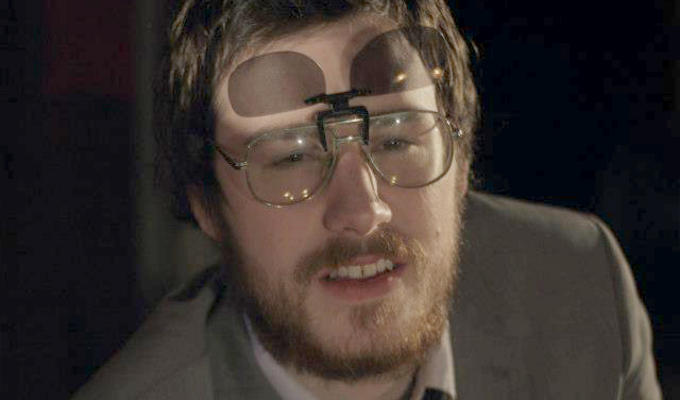 Comedy's brave new world
The year is 2167 and the stand-up comedian's function in society is questionable. Gender specific comedy has perished and sexual ambiguity now reigns as the sole paradigm, each individual displaying purely androgynous qualities. Racial and cultural divides have also disappeared due to the homogeneity of globalisation. Now the young mixed race comic can no longer coast on 'My mum's from Nigeria and my dad's from Italy', for the punch line will involve them both speaking in the same accent about how they like McTestTube burgers.
Comics like Michael McIntyre were already beginning to struggle by the year 2025 as information accelerated at an exponential rate, getting faster and faster, and reference points became so disparate that it was impossible to notice the same thing as anyone else. Nowadays, a different story exists for in the monoculture of 2167 where everyone knows everything; observational comedy has all but died as no one can be bothered to drone on about pointless nostalgia. The only place where it manages to persist is on the hugely unsuccessful Android Comedy Roadshow. Featuring such antics as the 'the tin man drawer' and the classic bit 'Have you ever noticed the 101011011101? What's the deal with that?'
The open mic circuit evidently reached over-saturation point, collapsing under its own weight by 2040 as everyone in Britain became freaking hilarious thanks to Nootropics, a type of designer drug. For this reason, the concept of a new 'comedian' no longer exists. Ricky Gervais successfully made the transition from award winning comedy actor and ubiquitous slightly annoying Twitter presence to global despot.
However, in 2167, some of the old stalwarts from the alternative circuit remain. A now 200-year-old Richard Herring, who due to stem cell research, still lives on, continuing to obsessively document everything he has ever done, competes for your view of augmented reality, with the simulacra inside Google contact lenses: Offering 24-hour picture-in-picture of clever nob gags and his unfettered bowel movements complete with witty commentary, all spoken through his genetically enhanced talking penis.
The same fate unfortunately cannot be said of his old double-act partner Stewart Lee. As art became increasingly pluralised, thanks to the freedom of the internet, the concept of a mainstream began to dissipate. Lee, whose act defined itself against the mainstream, drawing parallels to Freidrich Nietzsche's concept of Ressentiment and coincidently operating like the playing out of Eternal Recurrence, had no Master to rail against.
The act grew increasingly self-reflective to the point where his set itself became a singularity. During one Edinburgh stint, the laws of jokes completely broke down and Lee imploded under his own depth, dragging all laughter that tried to escape into an infinitesimal black hole of comedy. In 2167 they still hold an annual memorial for his victims, unable to break free from the event horizon.
Now that everyone is hilarious, other comics from the 21st century live on as ironic novelty figures. A holographic projection of Peter Kay continues to amuse a sold out, now 25 million seater, O2 Arena which has overtaken the South East of England. Naturally the arena is completely devoid of any real human observers, but actually contains the avatars of a now overweight population sat on their couches chanting 'garlic silicone' and other such brilliant catchphrases, beamed into their neurochips, which they shout out Pavlovian style, where the pauses for laughs used to be.
Mind uploading is the latest fad, where the individual's consciousness is transferred neuron by neuron into an artificial body. This allows the splitting of the original consciousness into new duplicates, like an amoeba. Russell Brand, who thanks to transcendental meditation, was able to sit still for long enough to transcend death, uses the technology to split himself into 22 billion different models so that he can sleep with each and every one of the planets inhabitants. Following them around like a lascivious demon he offers his own personal stand-up set, complete with verbose quips about his winky.
Sometime around 2018, Jim Davidson, as a result of a feminist terrorist attack, died after eating a nuclear bomb disguised as a sandwich. His brain was cryogenically frozen by ex-colleague John Virgo. This year he is set to be reconstituted into the body of a black lesbian disabled woman and is expected to tour his new act in 2169. Jim Davidson holds much interest as a figure from the past as comedy scholars attempt to ascertain the only existing record of an Australopithecus who had the ability to tell 'jokes'.
For almost a century the mapping of the human genome looked like a tedious dictionary that no one had any use for but by the early 2100s a group ofmMolecular geneticists, funded by a desperate BBC comedy programmer, took up the project of modifying a volunteer's DNA to create the perfect Saturday night comedian / entertainer / game show host.
By 2145 the results were ready to be tested with a studio audience in a BBC live prime time slot, with an expected viewing audience of 12 – a 50-year high. Out came the perfect act, a young man in his 20s with a trendy T-shirt, trainers and three heads each containing an increasingly ludicrous haircut. The plan was to have a three man improv group all functioning from the same brain to increase inter-group chemistry and comic timing.
Unable to increase brain power with the BBC's modest funding, the scientists decided to split the improv group into the three parts of Sigmund Freud's unconscious. As the show progressed, the first head began to flirt outrageously with the front row and was doing well until the second head began to interrupt, harshly chastising the first head as being an awful comedian. The third head jeered at them both continually, worried about what the audience would say.
Things took a turn for the worse as the second and third heads attempted to decapitate themselves from the conjoined body while the first head, crazed with polymorphous perversity, racked up lines of cocaine live on stage. After three minutes the show was abandoned and the enterprise of genetically manipulating comedians has since lost steam.
In this perfect world where disease, famine and neurological defects have all been eradicated it is only the clone of Ross Noble who is able to provide any kind of value for the punters. His whimsical stream of consciousness style proves fruitful as audiences are able to directly interface with his brain through carbon nanotubes, exploring a virtual reality encompassed by Nobles subconscious mind.
However, this proves to be a short lived show as an ultra-rationalist (the most prevalent religion) is bought along by a friend's recommendation. Not enjoying it she offers a telepathic heckle in binary code. Confused by the fanciful response about pixie faeces, she emits a huge surge resulting from a neural overload into the virtual reality device, exploding Noble's mind and sending scores of nano-monkeys and self-replicating sub-molecular owls streaming out into the external world where they consume all matter on earth in a surreal grey goo attack, inadvertently causing the apocalypse.
Back to the present now, the only place where this ridiculous article could really have been written and I would like to offer a word of warning. If the transhumanists seeking to create a heaven on eart) really do succeed, the Brave New World will not contain any comedy at all. Humanity will be driven to such shallow distraction on their hedonic treadmill that laughter will only arise in the immediate format of a microchip that regularly stimulates the frontal lobe of the brain.
My alarmist and rather selfish hopes are that the futurist's predictions are revealed as hubristic nonsense and the future world we create remains an almost hellish place, in some ways a dystopia – but one with absolutely no technology.
For there, live comedy will thrive. So do all you can, next time you see someone with an iPad immediately punch them in the face. Through negative reinforcement we'll compel them to respect the Luddite way and we can keep our comedy in the status quo: laughing at despair, progressing nowhere except up its own backside.
If this doesn't work out then I hope my future robot self fully supports the commissioning of The Humanish Comedy Experience curated by Stewart Lee's great-grandson Ian Lee and featuring the clones of Josie Long and Simon Munnery railing against the boring utopian post-human mainstream in a late-night slot on an obscure holographic brain frequency.
For the time being, here's to now, comedy fans.
Published: 15 Jul 2013
What do you think?