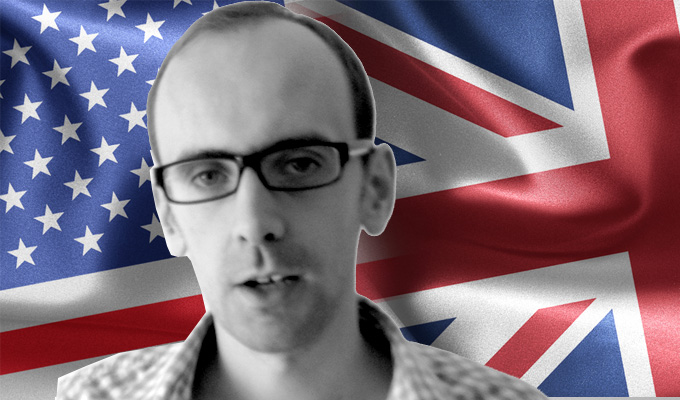 American comedy rules!
I grew up on a diet of British comedy that consisted mostly of BBC Two and Channel 4 shows such as Red Dwarf, Bottom, Father Ted, Spaced and Black Books. This created a love of comedy that remains with me to this day. But something hit me the other day as I looked across at my DVD shelf: I can't remember the last time I purchased a British comedy show.
Also my weekly viewing of comedy on TV is almost exclusively American, with shows like Louie, Parks & Recreation, The Daily Show and repeats of Seinfeld taking up the biggest chunk.
So when and how did the UK get this far behind America when it comes to comedy on the box?
The usual argument is that the Americans just have more money than us and can afford teams of writers to work on multiple scripts at a time. This, plus the fact most shows have 20-odd episodes a season so more time and effort can be spent on building an audience/characters/narratives etc…..
I think it's more than just that, though. For example, something like the sublime Louie would simply never get made in this country.  There's just no way a comedian would be given the freedom to go away and make whatever show they want, edit it how they want and then simply hand it back to the network for them to broadcast.
You can see this in the fact that Jim Jefferies has gone to America to make his first television show called Legit. I imagine a multitude of British TV people have seen his shows in Edinburgh over the years and left saying: 'He's brilliant but we can't have him on our network, imagine the complaints and difficulty getting advertisers involved, Middle England would explode!' (They may not have said the last bit but you get my point)
Stephen Merchant is also making a new show in America based on his successful stand-up tour Hello, Ladies. His love of American TV comedy is well known and he more than anyone will know that on the other side of the pond the talent, resources and freedom to take risks that is essential in comedy will all be greater.
The general trend on British broadcasting since the Russell Brand and Jonathan Ross incident seems to be that we need to return to a safer more mainstream, family-friendly type sitcom such as Miranda and Mrs Brown's Boys. I'm not one to slag off those types of shows –  in particular Miranda, she's just filling a gap that the Great British public have been demanding since Only Fools And Horses ended.
But even when it comes to mainstream, family-friendly shows, give me Modern Family or even Everybody Loves Raymond over any British equivalent, which usually involves Will Mellor pulling a face and then shouting out his lines very loudly.
In fact, it has recently been announced that Lee Mack and Catherine Tate are to star in a new BBC sitcom called The Smiths (love to have been in the BBC focus group that came up with that name) based on the Everybody Loves Raymond format. That speaks volumes: Rather than invest time and effort in new British talent, they have simply brought the rights to a very successful American show that ended eight years ago.
Those American shows, however, are beautifully written, perfectly played and have moments of genuine pathos. The same cannot be said of things like The Wright Way, a show so outdated, poorly written and badly acted it makes you question how everyone involved in putting that show on TV can justifiable carry on in their career in comedy.
American comedy actors and performers also seem to have greater ability and comedic range, too. British comedy acting appears stuck with just two options: Option 1 is to perform the show like it's a pantomime, overact and overemphasise every word, shouting all the lines because the louder something is, the funnier it is! Option 2 is'The Gervais': Essentially the actor pulls a 'Gervais Face', then a knowing look to the camera as if to say, 'God this is all very clever and meta, isn't it?'
It's not just sitcom either; I would also suggest that America is doing satire better than us. The Daily Show with Jon Stewart is one of my favourite shows, despite the fact I know next to nothing about American politics. It's a perfectly executed show, which doesn't talk down to its audience, isn't afraid to make serious points and express genuine feeling and emotion about how its country is being run.
What do we get in the UK? A watered-down, not-as-good-as-it-used-to-be-before-Angus-was -sacked Have I Got News For You. In which the guest host reads some gags written by Kevin Day from an autocue that nine times out of ten causes the studio audience to groan. Then Ian Hislop will go on a rant about some politician he probably went to school with, Paul Merton will say something silly, the MP that's on there to show they have a great sense of humour will read out some jokes that someone in their staff has written for them and before you know it the credits are rolling.
Even worse that this is 10 O Clock Live, which is clearly a rip-off of The Daily Show.  Individually I'm a fan of all the performers on the show, although I did prefer Lauren Laverne when she was in Kenickie. But in terms of satirical content it's extremely poor and has no clear vision of what and how it's satirising the news.
I don't know when and how the UK got this far behind America. We gave the world Monty Python, The Goons, Peter Cook & Dudley Moore, Peter Sellers, Ricky Gervais, Sacha Baron Cohen, Simon Pegg – but now we seem to have lost our way. Until that changes, I will be watching and laughing at our American cousins. 
• Dave Bailey will be performing his Edinburgh Fringe show, Dave Bailey and Friends Comedy Hour, at 10.15pm at Paradise in the Vault during the festival.
Tweet
Follow @chortle
Published: 17 Jun 2013
Recent Opinions
What do you think?